Having to let go of your flagship product after years of development is not easy. Nor is fundraising for another product after a major partner backs out — a challenge that Angela Hildreth had to confront when she joined the British company Futura Medical as Finance Director last year. 
Angela Hildreth had never worked in pharma until she became Finance Director — and the first employee — of Shield Therapeutics in 2011. All her previous experience was focused on corporate finance. "In fact, when I first started working at Shield Therapeutics, I didn't fully understand what pharma did," Hildreth admitted. 
During her time at Shield, Hildreth oversaw the whole development, approval and commercialization cycle of a treatment for anemia — a condition she knows from personal experience. "As cliché as it sounds, it is amazing knowing that what you're doing is ultimately going to make a difference in somebody's life," Hildreth told me.
Eighteen months ago she joined Futura Medical. Based in Surrey, UK, the company was in the process of shifting its strategy as it became clear its flagship product — a condom to treat erectile dysfunction — was unlikely to succeed in the market. 
While the product had been approved, two major partners had walked out of partnerships to commercialize it for strategic reasons. One was Durex, the other its competitor Church & Dwight. 
"If you have the two biggest condom brands in the world kind of doing a deal with you and then handing you the rights back, where do you go from there?" Hildreth pointed out. "When you invest a lot of time and effort into something, it's very hard to come to the realization that without that big brand behind you all you're going to do is disappoint."
Futura Medical had to turn its attention to another treatment for erectile dysfunction, this time in the form of a gel. The company signed a deal with GSK. However, the pharma ended dropping the project as it didn't fit its priorities. At the moment, the company was strongly promoting its anti-retroviral drugs. 
Still, the company did not give up and took on the development of the gel on its own. When Hildreth joined, Futura Medical had promising phase II data but not enough money to continue development beyond that point. But she and her team were determined to run a phase III trial to demonstrate the whole potential of the treatment.

Its active ingredient is nitroglycerin, a vasodilator drug that is used to treat angina. Using a skin delivery technology developed by Futura Medical, the company was able to make the absorption of the drug fast enough to see results within just 5 to 10 minutes, without severe side effects. 
"Viagra and Cialis have been around for 15 years now. There's been no innovation at all in the space of erectile dysfunction since then," explained Hildreth. "A lot of patients discontinue the use of Viagra after a year, either because they take an hour or two to work, or because the side effects have become intolerable."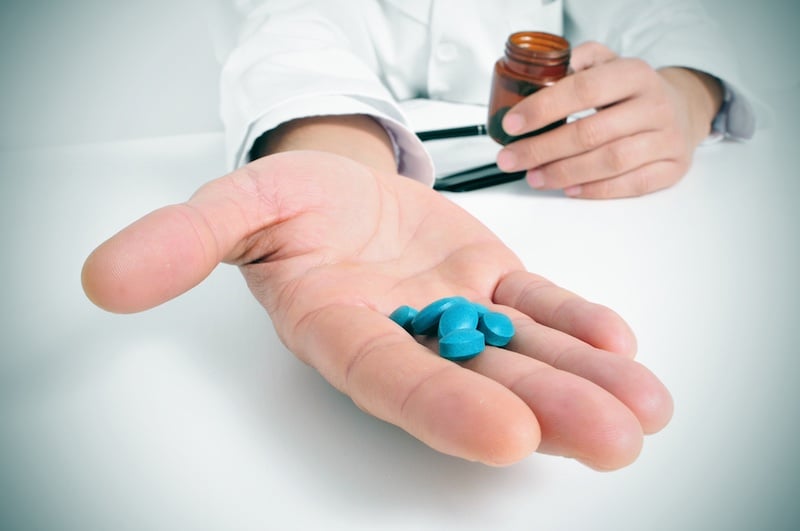 Confident in the potential of the drug, Hildreth set out on the arduous task of raising funds for a company that was struggling with a legacy of losing partners as well as not being able to monetize its first product. 
"It was an incredibly painful fundraising, but we managed to raise just under £6 million, which was enough to get us to fund the first phase III study," Hildreth recalled. "We had to do it at a huge discount and there was a lot of dilution for long-term shareholders. At the time, it definitely didn't feel like we should be celebrating anything, but we were able to take the development forward… In hindsight, it was the right thing to do."

The drug is now being tested in a 1,000-patient phase III trial testing three different doses. It was important for the company to run a large trial that would gather data solid enough to compete with the likes of Viagra. So far, around 600 have completed the treatment; 80% of them have volunteered to be included in a non-paid follow-up study to keep testing the drug. 
But the inflection point will be in December, when the company expects to have the results of the trial its team has worked so hard to get. That data will be critical for the company to secure funding for a second, smaller phase III trial that could lead to the approval of the treatment. 
"When approved, this product won't be coming to the market as a 'me-too,'" said Hildreth.  It's highly differentiated because of its speed of action."

Other companies have tried to develop similar products in the past. Most of the work has focused on using harsh permeation enhancers to aid the absorption of a drug through the skin. However, they damage the skin and cause strong irritation — which is a particularly big problem when treating delicate areas.
Futura Medical is already exploring other areas where its delivery technology could make a difference. One of its research programs focuses on pain relief, for which the delivery could be tailored to get a slow release of the active ingredient. Another program is looking into what could potentially be the first topical formulation of cannabidiol to be backed with solid scientific data.   
In the short-term, however, the fate of the company will be largely determined by the upcoming phase III results expected in December. "It's been a bit of a rollercoaster for the last 18 months," said Hildreth. "It's been challenging, but fun. To be given a lot of freedom to operate is one of the selling points of small companies for me. Seeing the company progressing and the strategy working is quite rewarding."