Mariola Söhngen, CEO of Mologen, discusses biotech entrepreneurship in Germany and her company's unique immunotherapy against both cancer and HIV.
Mariola Söhngen has an outstanding track record as an entrepreneur and leader in biotech and pharma. In 1998, after 10 years working with big pharma, she founded her first company, Bootcamp, to help young professionals for a career in the healthcare industry. Two years later, she founded PAION, a biotech in Aachen that wants to modernize the field of anesthetics, where drugs from 30 years ago are still used.
Söhngen had worked with PAION for 15 years when she decided to make a change and move into immuno-oncology, a field she feels passionate about. In 2015, she joined as CEO of Mologen, a Berlin-based company targeting two big therapeutic areas, cancer and HIV, using a single drug made of DNA.
The drug, called lefitolimod, is currently in Phase III trials as a treatment for metastatic colorectal cancer and could be ready to file for approval as soon as 2019. I was very impressed by the possibilities that such a drug could open, as well as by Söhngen's experience. So I talked to her directly to get her expert view on the field of immunotherapies and some advice for those that want to follow her steps as a biotech leader.
What motivated you to create your own companies?
After approximately 15 years of working with established pharma, I had learned how the pharma industry ticks and what is necessary to successfully develop a drug and bring it to market.  I felt that the time was right for me to do something on my own, and establish my own influence.
Also looking back through the generations there have been many entrepreneurs in my family. Not in the biotech industry, but in other businesses. Growing up in this big family, I always saw many people around me that were self-employed, successful and happy with it. Knowing it can be done was a big push.
Why did you decide then to move on and start working as the CEO of Mologen?
After 15 years with PAION, having established many development projects, I asked myself: do I want to continue for many more years to come, or do I want a change? It was not at all that my learning curve was flattening off, but I thought that I could try something new.
For many years I was very, very interested in oncology. You could see, every day, new companies being formed in this area. I could see how breakthroughs like checkpoint inhibitors came to the market and revolutionized cancer treatment.
So I started to look around, and after quite a short time I got the opportunity to have a look into what Mologen was doing, and I found the company fascinating. After a very thorough due diligence, I saw that it was absolutely worthwhile to join it – and I did.
What potential do you see in this field of cancer immunotherapy?
Immunotherapies, and checkpoint inhibitors in particular, were the first type of therapy that could truly transform cancer patients into long-term survivors. While other therapies, including chemotherapy, prolonged survival a couple of months, a certain percentage of patients treated with checkpoint inhibitors, in the order of 10-20%, live on for years.

Now, the next step is: how would you increase the number of patients that benefit from it? And the answer was quite clear. Everybody is trying to combine immunotherapy treatments to enhance the effect, and it works. Currently, there are hundreds of combination trials ongoing worldwide.
Then, if you look at the complexity of the immune system, there are so many targets that you can trigger. Many are still there to be explored. And the whole medical community is learning so much about how to treat cancer, how to tackle it. With every year, we are coming closer and closer to making many cancer indications manageable diseases. The number of patients that survive cancer today is much, much bigger than compared to the past.
As you say, there are a lot of companies in the immuno-oncology area. What makes Mologen stand out?
We are one of the few immuno-oncology companies that have a late-stage, Phase 3 product. Most companies are in a much earlier stage of clinical development, many even in pre-clinical development.
We have also developed our products from scratch; we didn't license them in, they are proprietary products that our scientists have invented. They are completely owned by us, no strings attached. And, at a late stage of development, this is something very special.
Now, looking more closely into the indications that we are active in, many companies in the field are going wild for melanoma or blood cancers. We are one of the few attacking metastatic colorectal cancer, which has a huge medical need. This is a cancer that is rising in incidence due to, in a large extent to our nutrition, and also due to the aging population.
Then, when we look more narrowly into companies dealing with TLR-9 agonists, we regard our lead compound as the best in class. It has the best molecular qualities, and it's the least toxic of all these compounds.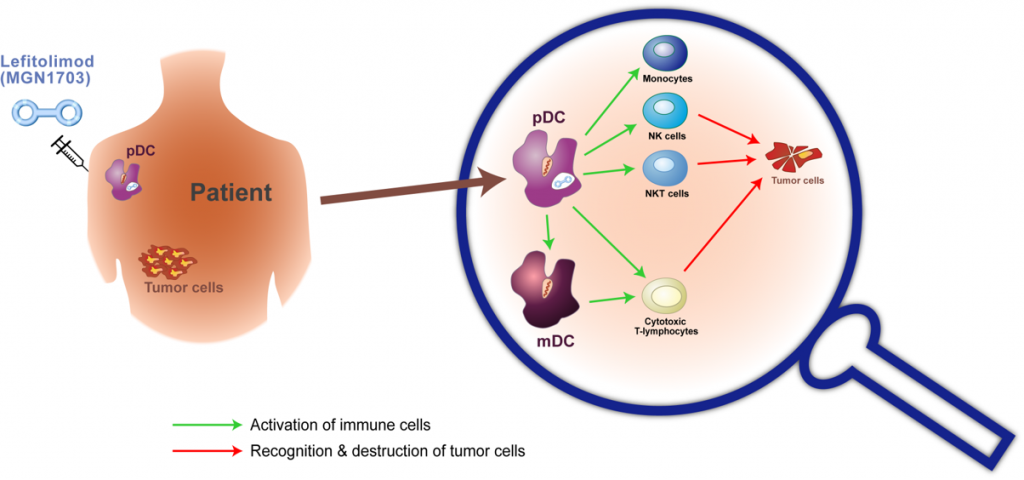 You don't just work in oncology: your lead candidate is also in late-stage development to treat HIV. How can a single therapy treat both cancer and AIDS?
Well, in a healthy person, the immune system is able to fight cancer cells that are developing, every minute of our lives, as well as intruding bacteria or viruses. However, the immune system loses this ability when patients develop cancer or severe infectious diseases.
Lefitolimod is a molecule of non-coding DNA with special regions called CG motifs that resemble certain parts of bacterial or viral DNA. When our molecule binds to the TLR-9 receptor, it triggers a signal that a bacterium or virus has entered the system. We're basically fooling the receptor with a danger signal that activates the immune system.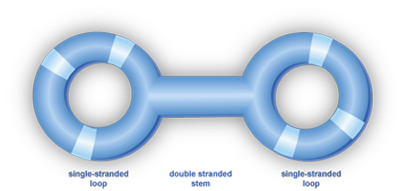 In the case of HIV, we were approached by the University of Aarhus, asking for a trial with Lefitolimod to test a process called "kick and kill." HIV hides in the immune system, so the cells that should attack the virus are actually the infected cells. And since HIV is a dormant virus, the cell does not appear to be infected. When Lefitolimod is being given to HIV patients, the virus will be "kicked" and starts to replicate. Then the infected cell will be detected and "killed." The aim is to eradicate the virus from the system.
Gilead has given our partners at the University of Aarhus a special grant for a continuation trial that we'll start that next year. Then, lefitolimod will be combined with a virus-neutralizing antibody from Rockefeller University.
As a German entrepreneur yourself, what's your view on entrepreneurship in Europe as compared to the US?
We have great science on both sides of the Atlantic. And though there is just more funding on the US, there are many good initiatives to support startups here in Europe. But the perception is very different. In the US, the attitude is saying: "What is the upside? What is in it for me?" And on the EU side, it is more: "What are the risks? How can I protect myself against them?"
You have a completely different motivational level if you are looking for the upside rather than always looking for what could go wrong. I think that is something that is probably inherent in the culture, in how children and young adults are being brought up.
How is your personal experience as an entrepreneur and a leader? What advice would you give young entrepreneurs?
For me it was and is fun. It's the most stimulating thing. It's a lot of fighting as well, we don't have wonderful successes every day, at all. It's a little bit like playing three-dimensional chess, you really have to use your brain to find a solution.
It's also not a 9-5 job. If you are looking for a more structured and "normal" life, if you will, a biotechnology company is maybe not the place to be. You also need an excellent self-management. You really have to know yourself very well, and ensure that you stay motivated and ready to face challenges every day, often quite under pressure.
I always tell young entrepreneurs: "Don't be afraid to do it." In Europe, and especially in Germany, everybody is very afraid of failure. There is absolutely no downside to failure. If you have tried hard and it didn't work out, it's OK. It's very, very rewarding, and a lot of fun. I couldn't imagine a better place to be.
---
Images via Mologen