Neuroimaging artist duo DiMa takes the popular saying "beauty is inside" to another level by transforming complex visualizations of the brain into art.
Diana Roettger and Matthew Rowe, who work together under the artistic name DiMa, are two imaging scientists that create art directly from scientific research. Originally from Germany and the UK, respectively, both hold PhDs in computational neuroimaging and their work focuses on measuring and visualizing the huge complexity of the human brain.
DiMa's NeuroAesthetic Project aims to transform this complexity into art with the aid of Magnetic Resonance Imaging (MRI), a non-invasive imaging technique routinely used by doctors to diagnose a wide range of injuries and conditions. The artists analyze the output of the MRI scans using advanced computational algorithms that render beautiful 3D images representing the workings of the human brain.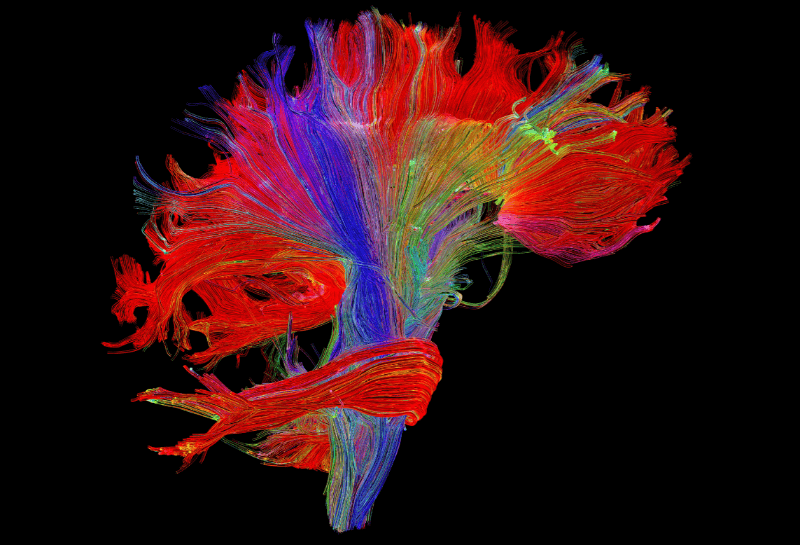 In the piece Pathways, DiMa reconstructs the major fiber pathways of the brain. Blue is used to represent those belonging to the pyramidal tract, which is essential for motor control of the body, while red depicts the fibers that connect the two brain hemispheres and are essential to coordinate motor control, vision, auditory perception, decision making and speech.
Everything our brain does is thanks to communications between the over 100 billion neurons it contains. Each neuron has 1,000 synapses with which it connects to other neurons, resulting in 100 trillion interconnections, each with specific roles and functions.
This is an extremely difficult concept to grasp, but its visualization can help scientists make sense of what's going on inside our heads and translate it into real-life applications. "The line visualisations are used by neurosurgeons to plan neurosurgical procedures such as brain tumour resection," explains Roettger.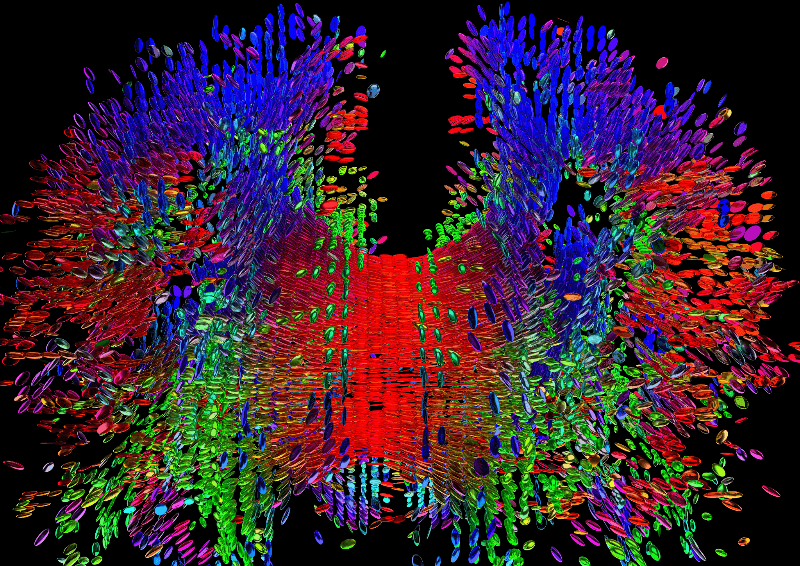 In The brain in cubes, the artists used Diffusion Tensor Imaging (DTI), an MRI technique that can estimate both the location and orientation of neuronal fibers, and represented the results using individual, 3D pixels called glyphs whose color and shape indicate their orientation, helping the onlooker discern the myriad of connections present.
"The image is a 2D projection, it is generated from a 3D computer model. In reality, on the computer, we look at it and move it around, [which] makes the spatial understanding and perception of depth even better," says Roettger.
Thanks to these representations, the enormous complexity of the brain can be translated into terms our own brain can understand.  "Our human perception of the glyphs forms lines if a couple of glyphs are oriented in the same direction, similar to a pearl necklace. Our brain recreates the fibers as one can say visually."
To create these beautifully complex images, which can be ordered as prints here, the artists have scanned their own brains. Now, they're looking forward to creating personalized pieces of art that represent the unique brain of the person carrying it. Would you turn your own brain into art?
---
All images by DiMa