Neurokinins are under investigation for a range of conditions from women's health to pain. NeRRe gets a boost for its programs.
Neurotransmitting peptides just got a cash injection from Forbion, Fountain Healthcare Partners, Advent Life Sciences, Novo A/S, and Orbimed. NeRRe Therapeutics, a UK-based spinout of GSK, nailed down a €27M (£23M) Series B round. Helmed by Mary Kerr, former SVP and Global Franchise lead at the pharma, NeRRe is developing a portfolio of treatments for neuronal hypersensitivity that can be applied to opioid drug abuse, chronic cough, and women's health.
The new funding will support the development of its neurokinin receptor antagonists, some of which are currently in Phase II these conditions. It was previously investigated as an antidepressant, but development was abandoned after it failed to meet efficacy endpoints.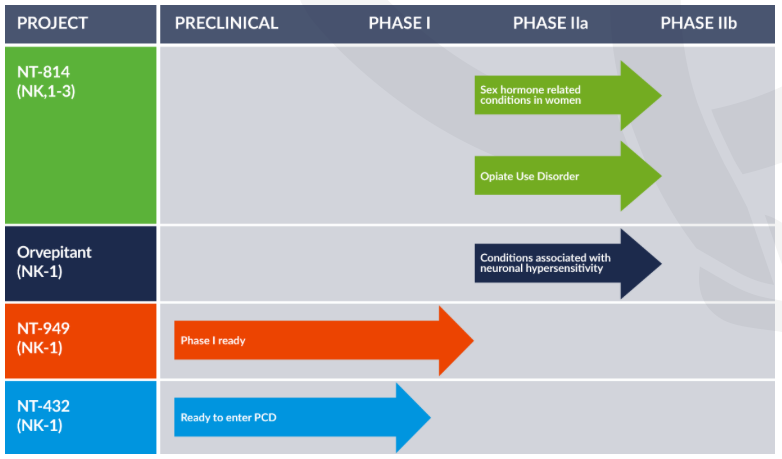 Neurokinin receptors, also known as Substance P Receptors, are GPCRs found in the central and peripheral nervous systems that modulate core body temperature, sexual hormones and pain sensitivity.  This final property makes antagonists attractive treatments for pain in light of the American opioid epidemic.
While NeRRe is investigating uses in this area, the company's main focus is women's health and nonhormonal treatment of their hormone-related conditions. Hormone regulation, whether for birth control or menopause, is largely managed with the application of more hormones, a brute force approach that usually comes with nasty side effects. Modulating the system with NK1 antagonists presents a valuable alternative as one with fewer of these effects.
Perhaps as a consequence of gender imbalance in biotech, women's health beyond breast cancer receives less attention than other areas; but given that women account for half the world's population and nearly all of them grapple with hormones at some point in their lives, the potential market size should be enough to banish any squeamishness about female sexuality. Indeed, the likes of these investors have all jumped on the opportunity for a share.
---
Images from okskaz / shutterstock.com and NeRRe Therapeutics