This week, we're in Barcelona, Spain, to visit Leukos Biotech, whose goal is to develop new treatments and diagnostic tools for Leukaemia.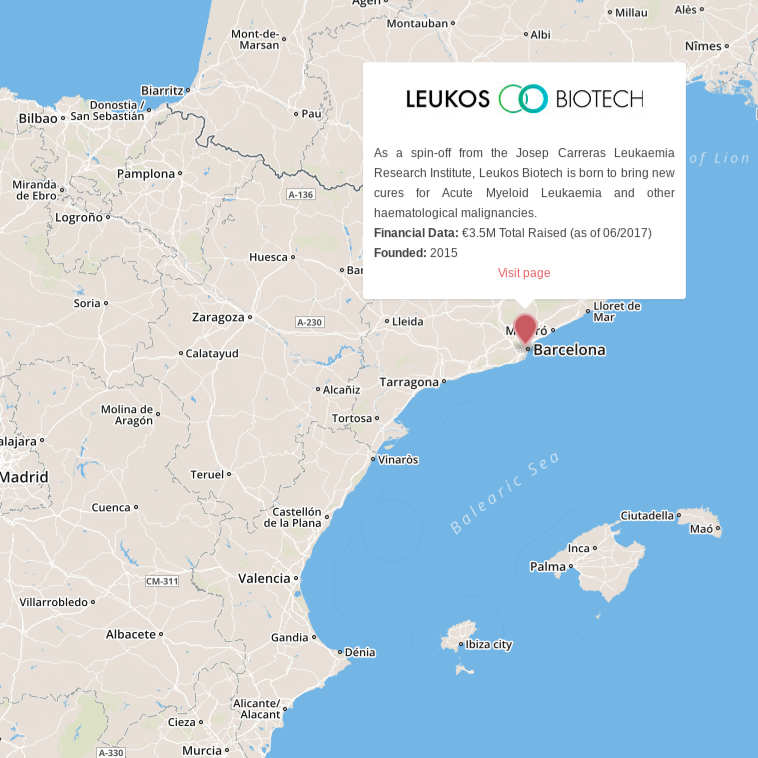 Mission: Founded in 2015 as a spin-off from the Josep Carreras Leukaemia Research Institute (IJC), Leukos Biotech has raised €3.5M in funding and has identified a new therapeutic target against leukemic stem cells in acute myeloid leukemia (AML). The company plans to validate the target in a Phase II clinical trial.
Furthermore, Leukos Biotech holds a license for proprietary use of a family of drugs, developed at IJC that could be used towards the diagnosis and treatment AML patients and assessing their further prognosis.
Leukos' lead project is a diagnosis kit based on Phase IIa data. Additional projects in the pipeline target other blood cancers.
Comment: AML has a high unmet patient need. Leukos' approach could bring significant advances to patients and its regenerative technology has broad potential. I was surprised to learn that although remission rates for AML patients after chemotherapy range from 50-85%, the majority of patients will relapse and succumb to the disease within 5 years. The chemoresistance of certain leukemia stem cells may be responsible for the observed maintainance and reinitiation of the disease. Leukos' endeavors highlight the potential of regenerative medicine has in a variety of applications.