Ablynx, the Alpaca Nanobody Biotech from Belgium, has completed target enrollment of the first-in-infant Phase I/IIa study with its anti-Respiratory Syncytial virus, which is linked to 3,000-8,500 infant deaths each year.
ALX-0171 is a wholly-owned Nanobody drug candidate administered through inhalation (nebulisation), for the treatment of respiratory syncytial virus (RSV) infection in infants.  The candidate is also a trivalent Nanobody (one anti-body, 3 sites of anti-RSV acting nanobodies) which inhibits RSV replication and which neutralises RSV activity by blocking virus uptake into cells.
RSV infects up to 64 million annually, most of which are infants within their first year, the elderly and the immuno-compromised. As a member of the Pneumovirinae subfamily, RSV often leads to hospitalization (in 2-3% of infants under 5 in the US), contributing to risk of developing asthma in later childhood, exacerbating COPD and even causing fatal pneumonia.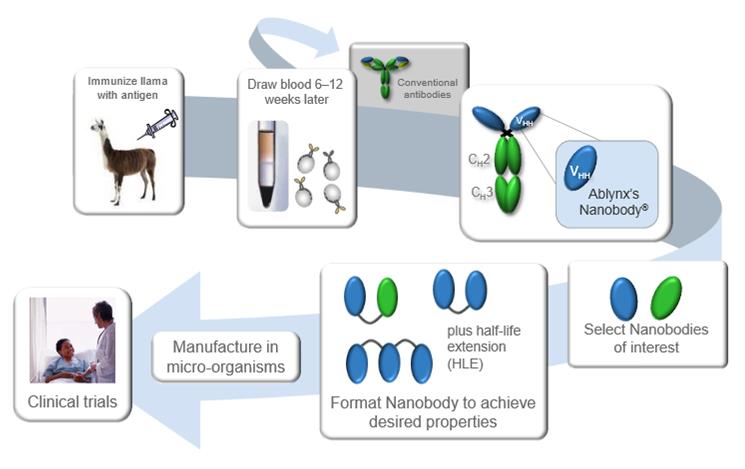 Ablynx's candidate has therefore been granted permission to lower the age requirement for infants in the trial down from 3 months to 1 month old following positive data in the 15 infant size placebo part of the phase I/IIa study. They will launch an expansion cohort enrolling younger infants aged 1-5 months during the remaining RSV season in Northern Europe.
Given its high incidence and global ubiquity, it is not surprising that an RSV vaccine has also been priority of several major biotechs, including AstraZeneca's MedImmune subsidiary, Germany based CureVac and US-Swedish NovaVax. There is also ReViral in London (UK) which secured an €18.5M series A investment into its pre-clinical pipeline in September.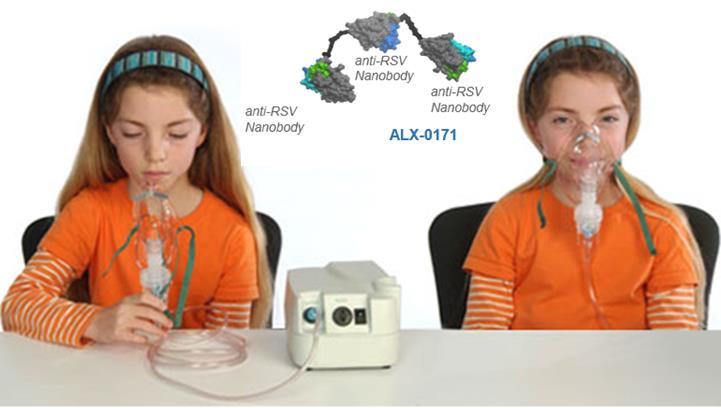 MedImmune on the other hand is approaching RSV vaccination through a humanised monoclonal antibody (mAb) therapy branded Synagis, which will be delivered to high-risk infants by monthly injections during peak RSV season. With an efficacy of around 45-55% reduction of risk, palivizumab (Synagis) is already in its phase III clinical trials after being fast-tracked during April by the EMA.
However, the real advantage of Ablynx's candidate compared to Synagis is the lack of need for injections, which is always an attractive feature in pediatric medicine…I personally think it's quite crazy you can aerosolize anti-bodies in medicine now.
Perhaps the robust nature of Ablynx's candidate (and resulting administration by a Nebulizer) will be what ultimately pulls their mAb to the forefront of Infant RSV therapies, should these phase I/IIa trials go well.
---
Feature Image: We were advised against featuring an a Llama coughing or spitting by Ablynx (which is exactly what I had in mind!) so instead here is their logo and a graphic on Infant RSV + Bronchiolitis (Source: Ablynx)