The Belgium-based company is leading more than 20 pre-clinical and clinical programmes with several partners to put the Nanobody technology on the market. Companies such as AbbVie, Boehringer Ingelheim, Eddingpharm, Merck & Co, Merck Serono and Novartis are part of Ablynx's dream team.
Ablynx is a biotech company developing Nanobodies. Nanobody technology was originally developed after discovering that Camelidae (like camels and llamas) possess fully functional antibodies that only consist of heavy chains and, therefore, lack in light chains. These heavy-chain antibodies contain a single variable domain and two constant domains. The single variable domains have full antigen binding capacity (like our own antibodies) and are very stable, forming the basis of a new generation of therapeutic molecules which Ablynx has named "Nanobodies".
Ablynx's flagship, its wholly-owned product caplacizumab expects to go through a Phase III by mid-2015 and hopes to be approved by the EU in 2017. Ablynx' technology has also attracted a lot of Big Pharma companies as its impressive portfolio shows: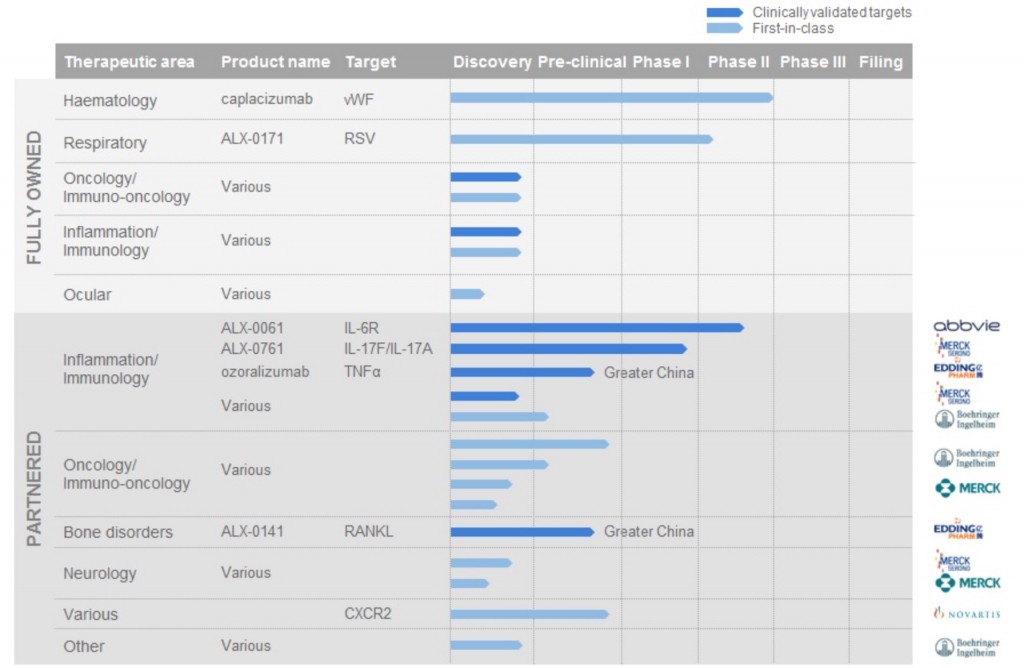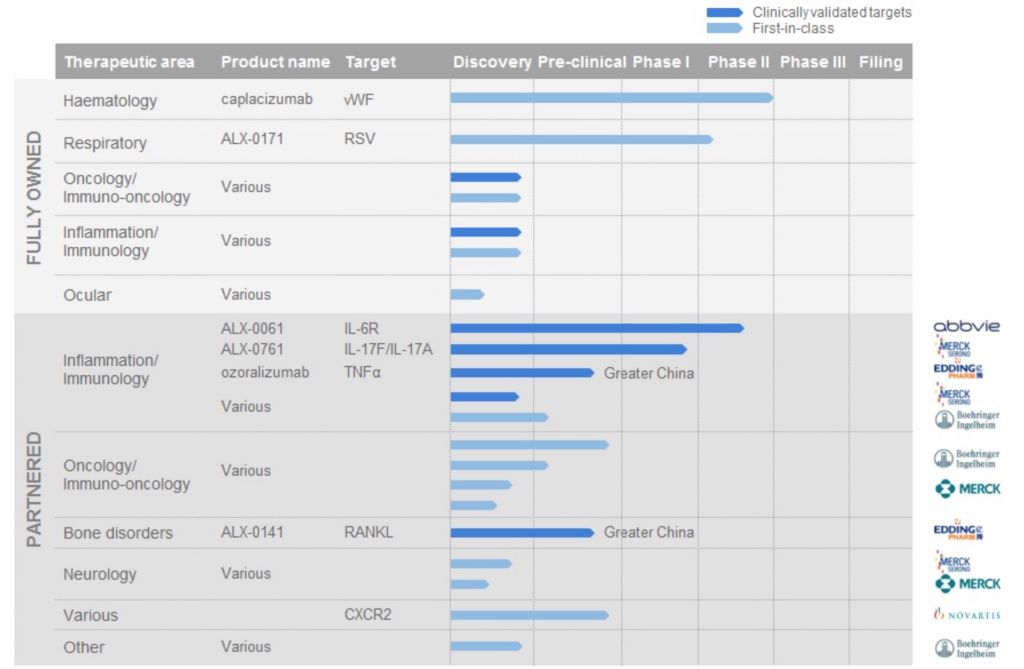 Amongst them, deals with Merck Serono seem to be a thorn in the flesh of the Belgium biotech.
Merck Serono and Ablynx signed four programs in 2008, 2010, 2011 and 2013. The most advanced is in Phase Ib clinical development for psoriasis patients, and expects to be completed later this year. In February 2015, it was announced that the last collaboration with Merck Serono, signed in September 2013, might not proceed beyond the end of its second year.
However, both parties have, since then, mutually agreed to reduce the terms of the collaboration and salvaged two particular bi-specific Nanobody programmes. Ablynx will, at no cost, regain full ownership of three other pre-clinical programmes which have been generated under this agreement in various therapeutic areas, including immuno-oncology.
Merck Serono has provided full financial support for this strategy, after having delivered €11.5M in non-refundable cash to Ablynx so far with approximately €1M to be paid still before the end of 2015. In addition, Ablynx is eligible to receive future milestone payments and royalties related to the two specific programmes being pursued in this partnership.
Merck Serono has also decided to extend one of the programmes in osteoarthritis, under the agreement signed back in November 2011, to include a tri-specific Nanobody, resulting in a €1M fee for Ablynx to be paid before the end of this year.
With all these trials in progress, the cash burn of the company for 2015 is expected to reach €80M. Ablynx is now clearly depending on Big Pharmas' milestone payments. The strategy of diversification of its partners is a wise move and could decrease risks in cases of failure. This complex strategy is also a way for Ablynx to secure development of its late stage pipeline that can cover the high expenses of its early candidates once on the market. Let's see whether the company will stay tangled up with partners or if it will leave the nest as soon as possible.