Adaptimmune has had exciting results regarding the ongoing battle with Synovial Sarcoma. GSK looks to further invest in the expansion of the clinical trial to include two further cohorts.
Adaptimmune, with a research base in Oxford (UK) and clinical base in Philadelphia (US), has overcome a milestone in their first cohort for clinical stage I/II  T-cell therapy. They have developed a program for T-cell therapeutic candidates engineering various different T-cell receptors (TCR) for a range of cancers including lung, breast and hematologic types.
Their approach works by targeting TCRs of tumor cells that express the NY-ESO-1 antigen. For these, they engineer an artificial T-cell 'platform,' which increases the tumor antigen's sensitivity to the TCR. In doing so, the aim is to restore the efficacy of first line cancer drugs such as ifosfamide alongside (and/or) doxorubicin, which in many patients have been shown to be ineffective. Synovial sarcoma, characterized by tumors forming in the soft connective tissues of joints, expresses the NY-ESO-1 antigen in around 60-70% of cases.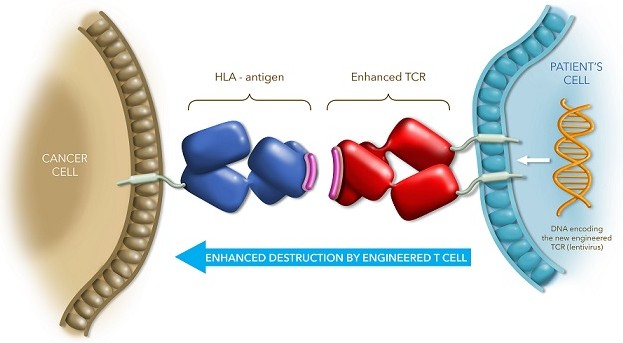 GSK had cottoned on to the potentially life-altering effects of targeting TCRs for NY-ESO therapy back in June 2014 when they signed a partnership with Adaptimmune to invest in the program. According to the June press release, Adaptimmune's CEO James Noble detailed this deal has a 7-year growth potential and, on condition of certain pipeline milestones being met, would warrant further investment by GSK amounting an excess of €311M.
Axel Hoos, VP of Oncology R&D and Head of Immuno-Oncology at GSK, said they believed this form of TCR engineering would "leverage our existing expertise in autologous cell gene therapy". It's truly remarkable that by this slight tinkering with the already existing immuno-tools our body has made, we are able to resurrect old drugs we thought were long-outdated in the world of sarcoma.
Indeed, in the first cohort of 10 patients with synovial sarcoma, evidence of anti-tumor activity was shown in 6 patients, 1 of which exhibited a complete response. This sort of response is very encouraging given that the survival rate is as low as 20 percent for patients surviving past 2 years following diagnosis. Around 70% of sufferers are below 40, with a third of cases occurring in children and in the majority of metastatic cases, synovial sarcoma is incurable.
From here, Dr. Rafael Amado (CMO of Adaptimmune) announces the plans to go ahead with 2 additional cohorts, with candidates having both low and high levels of NY-ESO-1 expression respectively and being treated with the same chemotherapies used in cohort one. Both are currently open for enrollment.