Apogenix' partner AbbVie has started the first clinical trial for an immuno-oncology candidate with the potential to outperform antibody therapy.
The German biotech Apogenix has announced that its partner AbbVie has initiated a Phase I trial testing its next-generation immuno-oncology technology in patients suffering from solid tumors, non-Hodgkin's lymphoma (NHL) and acute myeloid leukemia (AML).
The candidate tested during this trial is ABBV-621, an engineered protein composed of a TRAIL-receptor agonist fused to the Fc domain of an IgG1 antibody. This molecule binds to TRAIL receptors on tumor cells and induces their death, and the team seems confident the specific traits of the candidate will make it better than conventional antibody therapies for cancer.
Apogenix specializes in creating hexavalent TNF superfamily receptor agonists (HERA). While traditional antibodies can only bind two receptors of the TNF superfamily simultaneously and require secondary cross-linking with Fcγ receptors, the HERA platform yields molecules that alone can cluster multiple receptors, resulting in a stronger intracellular signal.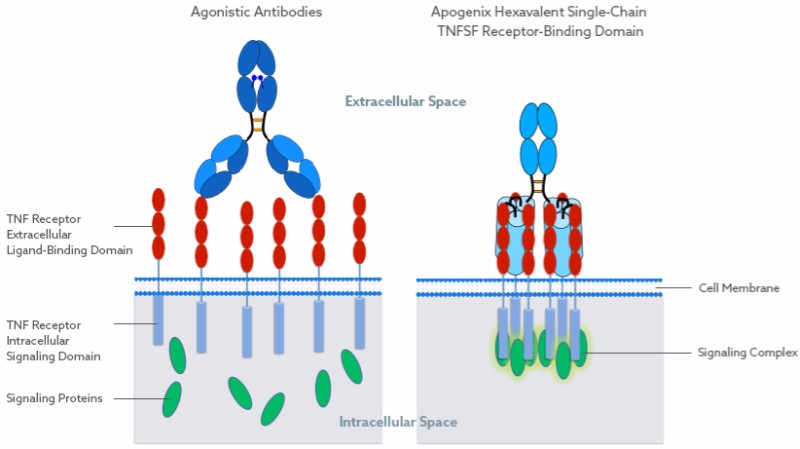 The technology seemed so promising to the giant drugmaker AbbVie that it decided to acquire the worldwide rights for all TRAIL-receptor agonists developed by Apogenix through its HERA platform. Now the big pharma is dealing with the preclinical and clinical development of these candidates.
Apogenix has a second collaboration with CANbridge Life Sciences, which has the rights to its lead candidate in several Asian countries.  The drug in question is Asunercept (APG101), a CD95 ligand inhibitor to treat gliobastoma and myelodysplastic syndromes that is already in Phase II.
Meanwhile, Apogenix keeps developing new candidates using the HERA platform directed against other receptors involved in cancer, with programs against 6 targets currently in the preclinical stage. Remarkably, all of them are directed to solid tumors, which are notably difficult to target using immuno-oncology approaches.
---
Images from Christoph Burgstedt /Shutterstock; Apogenix