Bayer and CRISPR Therapeutics have invested $373M in a joint venture, Casebia, as the latest effort to bring the revolutionary gene editing technology to the medical market. This brainchild represents a huge leap of faith, since no preliminary results have been revealed. The Boston launch may accelerate its progress through clinical trials and produce the first approved CRISPR therapy.
First announced in December 2015, Casebia has entered the fray to bring CRISPR to clinical trials and is the newest installation in the biotech hub of Cambridge, MA. CRISPR missed the Nobel Prize last year, but with its enormous potential to cure genetic diseases, we're sure it will win it at some point. Maybe the honors of the Nobel Prize and Inventor of the First CRISPR Therapy will go to Casebia's scientists!
Since this joint venture between Bayer and CRISPR Therapeutics was finalized in the first quarter of this year, Casebia has hired 80 employees and signed a lease for research space in Kendall Square, Boston. Though the company is officially a British one, it currently operates in Cologne, Germany, and Mission Bay, San Francisco. Casebia's expansion into Boston may be critical to its growth.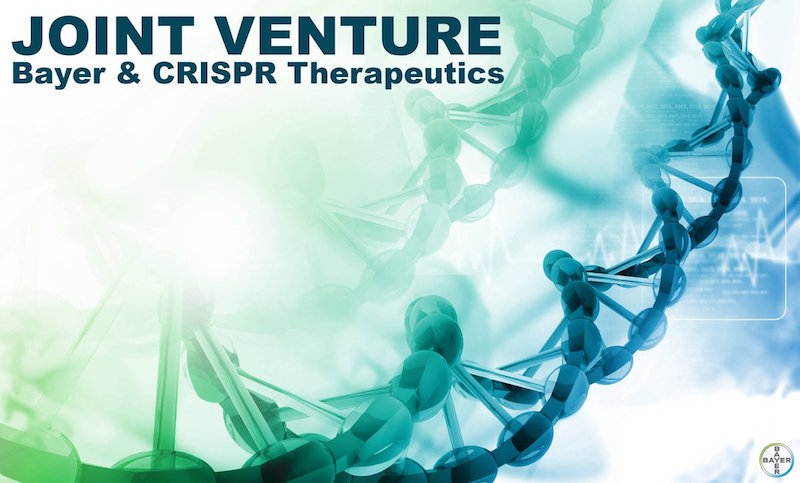 Casebia will target the high-risk high-reward areas of blood disorders, blindness, and congenital heart disease. CRISPR Therapeutics has invested $38M and will contribute its title technology; their innovations have been hailed by Axel Bouchon, the head of Bayer Life Science Center, as
the most promising gene-editing technology on the market."
For its part, Bayer has invested $335M and will share its expertise in the three disease fields and protein engineering. Each parent company claims ownership of 50% of Casebia.
As Casebia's interim CEO, Bouchon says his immediate goal is to scale up the company via the Cambridge division as quickly as possible with the aim of bringing its programs to clinical trials in the next five years. Casebia is among a number of companies competing to bring CRISPR all the way through clinical trials to the market. A bit shockingly, neither it nor its parent companies currently have any preliminary results predicting clinical viability, never mind success in clinical trials.
Casebia's entrance into the Boston biotech scene comes in the middle of the latest battle in the protracted CRISPR patent war, which shows no signs of dying anytime soon. We've chronicled the major battles thus far in a handy infographic to help you navigate the labyrinth of claims.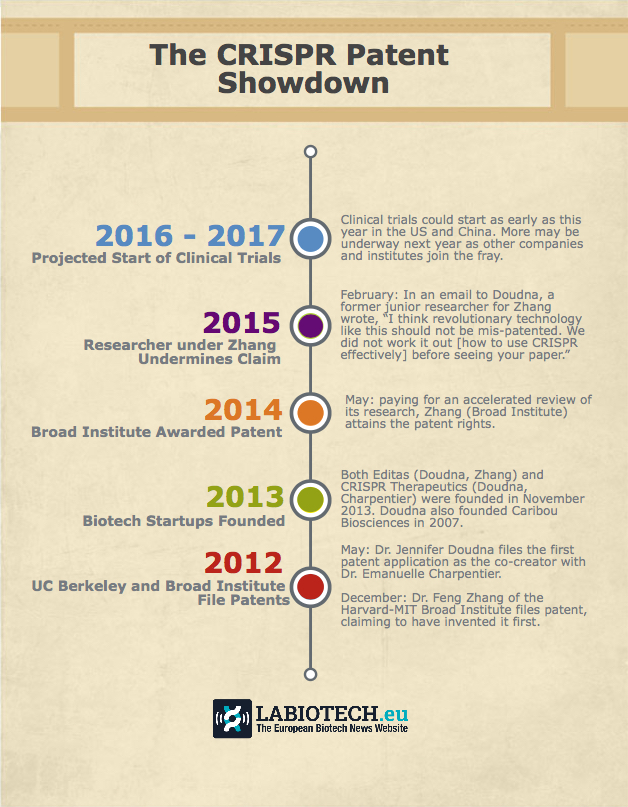 On one side of the arena is Jennifer Doudna of the University of California, who co-created CRISPR and subsequently co-founded CRISPR Therapeutics with Emmanuelle Charpentier of the Max Planck Society. You can hear more about the company in our interview with a third co-founder, Rodger Novak, at Refresh last May!
On the other side of the ring is Feng Zhang of the Harvard-MIT Broad Institute, who cofounded Editas with Doudna in 2013 before their dispute ignited in 2014. Charpentier is apparently staying out of it. Don't expect any new entries to the ring: all scientists with intellectual property claims to CRISPR have picked champions, thereby blocking any opportunists.
Stay tuned for more drama, folks.
---
Images: Golden Boston Evening (CC2.0, Tom Sackton/Flickr); Bayer AG
---