Joana Ricou has been dwelling on the frontier of biology and science since she enrolled an Art&Biology programme at Carnegie Mellon (US). Her BioArt works explore the perception of our bodies and the multitudes inside each of us – with a rather scientific approach.
We have covered a small part of Ricou's on our event coverage of Berlin's 'Nonhuman Subjectivities' BioArt exhibition, for which she contributed to the microbiome theme with art pieces from her 'Other Selves' series.
In this project, Ricou took samples from parts of her body and from the environment and grew them in the traditional Petri dish. She was originally interested on how the microbiome, our 'fellow travellers', was derived from the air we breathe, the food we eat and the spaces we move through.

Her main discovery? There's not much overlap between the cultures. As it turns out, most of our microbiome (and this part of our identity) is not connected with our interaction with the world. It mostly comes from our mothers, inherited by passing through the birth canal.
To explore this half-endearing, half-disturbing scientific insight, Ricou created a series of 'Bellybutton Portraits' – beautiful photographies of microbial cultures that illustrate a mother-offspring connection.

But agar and Petri dishes are far from being the only artistic tools for Ricou's BioArt. In 'Multitudes', she did oil paintings of the body, inspired by her science-based understanding. This work would even go to make the cover of Nature, one of the best-known scientific publications in the world.
With a growing research in the microbiome, biology is supporting the artist's experience (as well as most of us) of having many sides to our 'self' – in the words of Walter Whitman, 'I contain multitudes'. Ricou explains it as:
We are made of many parts, and many types of parts, that work concurrently, redundantly and sometimes in opposition – we are the result of this vibrant cacophony."
On a curious side note, other literature figure that explored multiple identities was well-known Portuguese poet, Fernando Pessoa (along with his 81 heteronyms). Pessoa is almost an omnipresent figure of Lisbon's culture, where Ricou first studied Biological Engineering (maybe sharing the same country and degree is what makes me like her works so much?).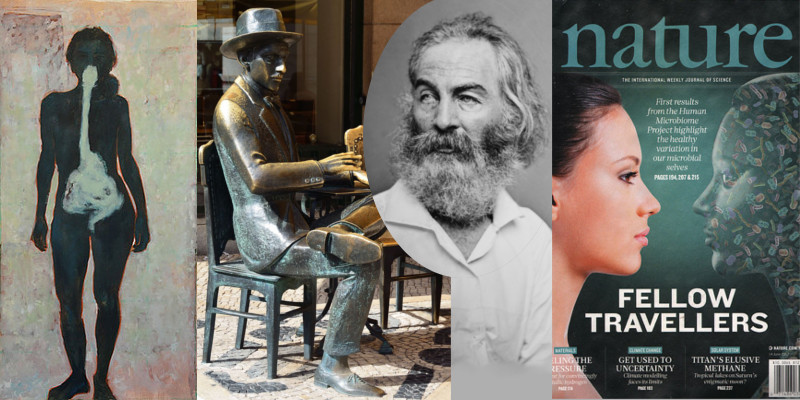 Ricou further explored this idea of multitudes with some less usual mediums. In 'Magic Mirror', she set up a wall projection that acted as a mirror, but slightly delayed – barely detectable but enough to create an unnerving feeling of disconnection.
And for a final scientific note, there is '60 Kilos', where she simply exhibited a certain mass of chemical compounds – more precisely, what would be the result of decomposing her 60-kg body in atomic elements.

The work of Joana Ricou is certainly a fascinating take on how we see ourselves.
---
Joana discussing her 'Multitudes' exhibition and what's it like to study biology and art:
Joana Ricou from Arte Institute on Vimeo.
---
Featured image credit: Joana Ricou holding 'Our Self Portrait: The Human Microbiome' (Joana Ricou Website)
Figure 1 credit: Other self-portrait and Non self-portrait (Joana Ricou Website)
Figure 2 credit: Bellybutton Portraits – EP005 Eleri, EP008 Chris, EP012 Allison (Microbial Art, Joana Ricou)
Figure 3 credit: 'Tube' painting and Nature Cover inspired on Ricou's work (Joana Ricou Website). Café a Brasileira (CC 3.0 Lrocha). Walt Whitman (Public Domain, US Library of Congress).
Figure 4 credit: 'Magic Mirror' and '60 kg' installation at EdgeArts, Lisbon (2013) (Joana Ricou Website)