Berlin is hotspot which is always attracting companies in the Biotech field (including us :p). Molecular Health is a 150-strong Bioinformatic company from Heidelberg (Germany) which has also decided to open an office in the capital, to profit from its proximity to the political system.

The opening took place in the new office, which was filled with (some very nice) iMacs and fancy dressed people. I must admit, I've rarely seen so many suits in Berlin… (it's way more casual here, closer in spirit to San Francisco). Part of the audience included key opinion leaders from the Medical community (e.g. a Professor from Charité – the largest teaching hospital in Northern Europe) and some important politicians (including Senators).
The opening talk was a formal welcoming, in which Labiotech was also mentioned (and how proud I was :p)…
The CEO of Molecular Health, Lutz Voelker, then gave a talk. Molecular Health is a bioinformatics company willing to exploit all the data available in the literature (otherwise known as 'data-mining'), to make it available and therefore actionable to clinicians/Healthcare systems. This data-mining tool is a core mission for Molecular Health, which it has been chasing after for over 10 years.
The company now has one of the most advanced technology worldwide, called Engineus, which is even used by the american FDA to monitor existing drugs on the market. It was one of the pioneer in using big data to improve the health system. Now, its competitors are Google and IBM (hum, easy competition).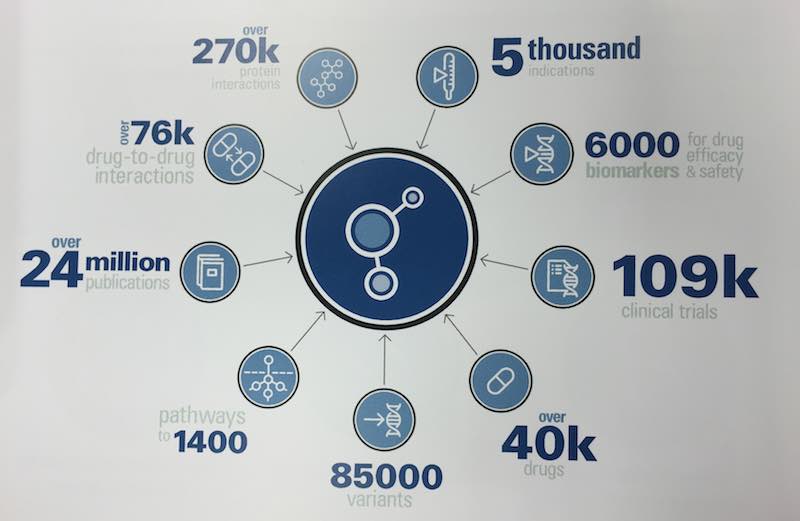 One scenario of how data-mining could be applied in Healthcare definitely put the value of data-mining tools into perspective…
If a physician would like to read all the papers published in the Oncology field during 2014, at a frequency of two papers per day for 365 days a year…it would take him 10 whole years. With Molecular Health' software, it would gave him the information he needs so much faster, so he could make a timely and informed decision that is appropriately backed up by the literature as well.

This Berlin opening is therefore important for Molecular Health to bring its tool on the market, especially after so many years of 'tweaking' in its development. The goal here is to reach out to clinicians and politicians in particular, to showcase the benefits of its technology and to try and obtain reimbursements.
The closing of the opening was done by Friedrich von Bohlen (and you can watch our exclusive interview with Bohlen here), who represents the major investor Dievini Biotech. Dievini is an investment fund sprouting from the billionaire SAP founder Dietmar Hopp – also known as the German Bill Gates.
Bohlen explained how Molecular Health's approach creates an accessible overview for the mountains of data in Medicine, which for him, is akin to how the microscope permitted to look through the glass. In a nutshell, he thinks this kind of tool will essentially modernise Medicine.
The question is not to know if Medicine will be digital or not, because there are no other choices. There is way too much information to treat."
The main question remaining is whether Molecular Health will be the next champion of the data-mining category, as SAP did for information technology. Or, if its (American) competitors will overtake it?