A new round of this young startup competition is underway! What is this Oxford-based competition, and who competes? We talked to previous participants.
BioStars is a flagship startups booster run by a group of PhDs, MBA and post-docs, who dedicate their spare time to enabling bio-entrepreneurs to turn their scientific ideas into actual products. Brought together by Mina Bekheet and now known as Panacea Innovation, the team aims to bridge the gap between research and scientific innovation with the aim of creating an ecosystem to for scientists to translate academic research into companies.
 I'm now convinced that what really makes successful entrepreneurs is pure persistence. A true entrepreneur not only dreams big, but executes even bigger. So why do we do it? Because we could now clearly see how BioStars is filling in the gaps in between the academia/industry/investment triple-helix and maximising the translation of the undervalued assets, and since we are impact-driven, we decided to roll our sleeves-up and dive all in with our start-ups." Mina Bekheet, Panacea Innovation
In two years, Panacea is succeeding by making the most of the Oxford network in which it's embedded. Forbes recognised Bekheet as one of its 30 Under 30 in Healthcare & Science and Dorm Room Founders after he drove Panacea Innovation from a student-led network to a hands-on multi-armed organisation. In 2015, it launched BioStars as an accelerator program for young entrepreneurial scientists — this year marks the second edition!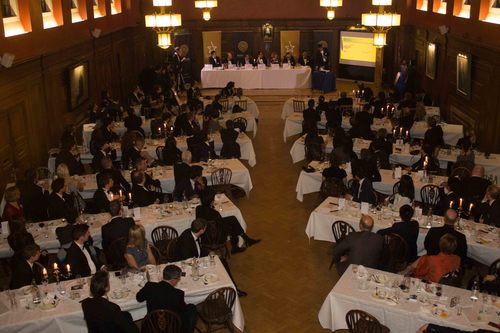 This year's round is in high gear, as teams prepare to submit business plans. The Grand Finale will take place at the end of next month, and a winner will be chosen. The lucky team will take home £30K (€35K) to further develop their concepts to the next stage. (If you're interested in competing next year, applications will open next October!)
When I spoke to last year's participants, most of whom have taken part in several accelerators competitions, they said what really set Biostars apart is the quality of the network and the mentoring available though the program. Mentors are well matched to teams, as many pairs continue to work together closely after a year. As a mentor, what I find most striking is the enthusiasm and dedication of these entrepreneurs.
Here's what last year's participants have to say about BioStars!
VisusNano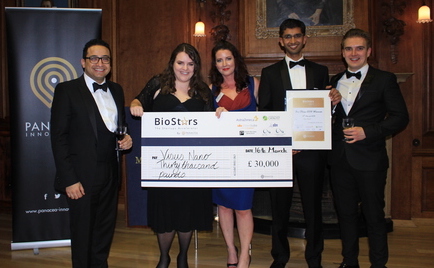 Last year's winner, VisusNano, develops a drug-eluting intraocular lens for cataract replacements. Elodie Siney, COO and co-founder, says her team of 4 is grateful to BioStars for giving them the confidence in their ability to move from science to commercialization. "The mentors were fantastic and the entrepreneurship courses we were able to attend as part of Biostars were the perfect complement for us novice entrepreneurs," she says.
With the prize, the team set up the company, established a strategy and developed the prototype using laboratory space at Stevenage Biocatalyst (SBC) as another part of the BioStars prize. Validation work will soon be underway. The next step for VisusNano is early stage funding to take it to the next level and find industrial partners. For the VisusNano team, Biostars was the start of their entrepreneurial journey.
I get my inspiration from the feeling of independence I get and the ability do to something that benefits human healthcare." Elodie Siney, VisusNano.
DJS Antibodies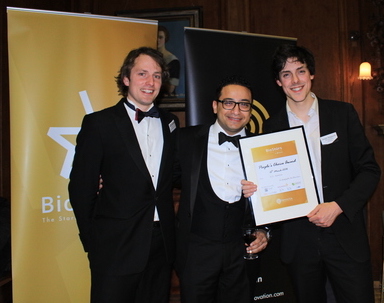 For DJS Antibodies, Biostars People's Choice Award winner, the main attraction BioStars was for the mentorship and networking, as the company had already been running for one year. The team developed a close relationship with its mentor at AstraZeneca, which is ongoing.
DJS Antibodies has developed a novel platform to isolate high-quality antibodies against proteins. David Llewellyn, CEO and co-founder, told us they secured seed funding for 12 months in September 2016 and took on board three discovery programs to validate their technology. The team of 2 is currently working hard on both lab work and business development, aiming for Series A fundraising later this year.
I love coming up with ideas and then figuring out how to turn them into opportunities. It is great to be able to both set the agenda and take an active role in executing it." David Llewellyn, DJS Antibodies
BioMe Oxford
BioMe Oxford, who develops a small ingestible gut-sampling device that can sample any part of the intestines in a non-invasive manner, was a mature team when they embarked on BioStars. When it joined the programme, the team was looking for seed funding for the proof-of-concept and to widen their network.
Looking back, Søren Thomsen, CEO and co-founder of BioMe Oxford, reflects that the main benefit of the Biostars accelerator was the expansion their network. They have worked with their mentor, patent attorney from JA Kemp, to file the patent in September 2016. BioMe Oxford has also achieved raising seed funding of £50K (€59K) and is now preparing for Series A. The team of 6 is currently 3D printing the α-prototype and waiting to hear on their patent application in spring 2017.
Working in academia, my entrepreneurial driving force is to know that we are developing a world-changing technology that would impact how things are done today." Søren Thomsen, BioMe Oxford.

---
Watch the competition for new disruptive technologies in therapeutics, medtech, digital health, and diagnostics! The most promising teams from the first two editions will be able to participate in the BioStars Elevator program later to give them a leg up towards their next milestones. Stay Tuned!
---
Jeanne-Françoise Williamson is a biotech facilitator who helps entrepreneurs take their businesses to the next level. Also a keen capoeirista, she helps them plan, develop and execute their next moves. Currently working with start-ups, research institutes, academics and  SMEs in life sciences, Medtech, Bioinformatics and Pharma.
---
Images from holbox / shutterstock.com, BioStars.co