Pierre Fabre and Array BioPharma's combination therapy for colorectal cancer has improved progression-free survival in a Phase III trial.
French pharma Pierre Fabre and American biopharma Array BioPharma, has carried out an initial safety lead-in study for a Phase 3 trial evaluating a triple combination therapy for the treatment of metastatic colorectal cancer patients.  The therapy was able to improve progression-free survival in patients whose disease had continued to get worse after one or two previous treatment regimens.
The combination therapy includes three drugs. Encorafenib inhibits mutant BRAF kinase, an enzyme that sends signals that stimulate cell growth. Binimetinib, a MEK inhibitor, brings mutated proteins back under control to regulate proliferation. Finally, cetuximab is an antibody that binds epidermal growth factor receptor (EGFR), a protein that causes uncontrolled cell division.
The improvement of progression-free survival sees the combination outperform other treatments targeting advanced colorectal cancer patients. Scott Kopetz, Associate Professor at the University of Texas, explained: "The observed median progression-free survival of 8 months exceeds historical benchmarks of approximately 2 months for median progression-free survival, and 4 to 6 months for median overall survival, with current standards of care in this patient population."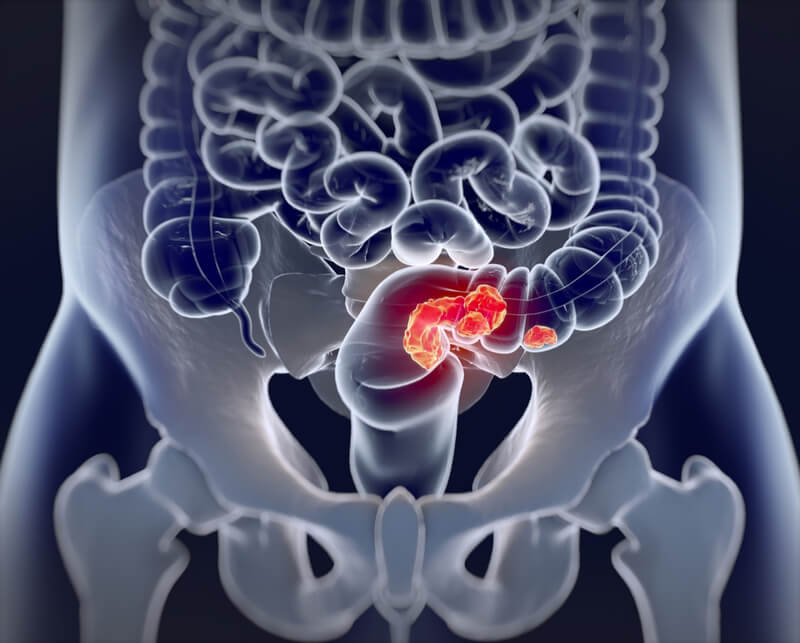 The 30-patient study also found that colorectal cancer patients with a mutation in the BRAF gene responded well to the treatment, achieving an overall response rate – the proportion of patients with a reduction in tumor size – of 48%. In addition, 3 patients experience a complete response to treatment, meaning that all signs of cancer had disappeared. Although this is encouraging, it is a shame that the study did not provide information for the overall survival of patients, which is the best possible indicator of a treatment's efficacy.
Colorectal cancer is the 4th most common cancer in the UK, with around 41,300 people diagnosed each year. Just 60-70% of patients survive the disease, making it a particularly deadly form of cancer so highlighting the need for new and improved treatments.
Combination therapies are just one way that biotech and pharma companies are investigating to improve the treatment of colorectal cancer. Elsewhere, Celyad and Targoxax are developing a CAR-T therapy and a peptide vaccine, respectively. Meanwhile, Cancer Research UK has found that the anti-malaria drug, atovaquone, could be repurposed as a cancer therapy on the back of promising preclinical studies.
---
Images – sciencepics / shutterstock.com; Anatomy Insider / shutterstock.com