Affimed from Heidelberg had a 'formative year' (hmm) in 2015. Major highlights include raising of €52.6M, expanding to the US and advances in the development of its next-generation antibodies for immuno-oncology.

Affimed is a Biopharma focused on discovering and developing highly targeted cancer immunotherapies. It is also one of our trendiest NASDAQ-listed European Biotechs (and the only one from Germany).
The company closed 2015 with €76.7M – enough money to fund its pipeline until the beginning of 2018 (or at least this is the plan). Key fundraising events were the follow-on offering on the NASDAQ (after a troublesome IPO in 2014), which was brought in €33.5M. Aeris, a long-standing shareholder, also put in an additional €19.1M in October 2015.

From the operations side, Affimed made a strategic move in its expansion towards the US in June, illustrated by some key hirings. These include Caroline Stewart, former Wall Street executive, Oscar Kashala, experienced in oncology development, and Andrew Curtis, seasoned biotechnology executive.
Affimed currently has 2 candidates in clinical development, derived from its TandAbs platform. TandAbs are bi-specific antibodies that recognize tumour cells and recruit white blood cells to attack the cancer (you can read more about these strategies in our review of cancer treatments with a Biotech streak).
AFM13 is a TandAb that recruits NK-cells (an alternative also explored in Biotech, but not as popular as using T-cells).
In 2015, Affimed started a phase IIa trial with this antibody for relapsed/refractory Hodgkin Lymphoma. It also designed an additional phase Ib trial to evaluate AFM13's effect in combination with Merck's checkpoint inhibitor Keytruda.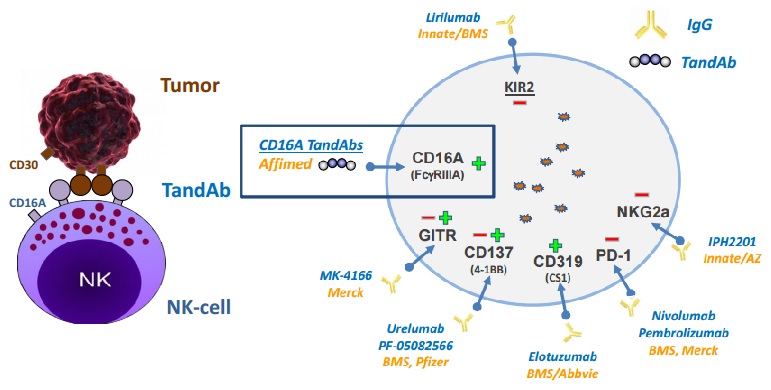 For AFM11, a TandAb that recruits T-cells, Affimed has changed the design of its ongoing phase I trial for Non-Hodgkin Lymphoma to use less frequent dosage – which should speed up overall development. Application in Acute Lymphocytic Leukemia is also being investigated – a phase I trial should start in 2016.
Affimed seems to be in good shape to make its way in the immuno-oncology field. It will be worth to watch its progress through more advanced trials.
---
Featured image credit: Affimed