Since we interviewed Karus Therapeutics last year, the company has come quite a way! The Oxford-based biotech has just sent its first drug to the clinic. 
We first met Karus Therapeutics a year ago to talk about their small molecule therapies for cancer and inflammatory disease. The company has entered the immuno-oncology fray and is developing a PI3K-p110β/δ inhibitor to inhibit cancer cell growth and metastasis: its drug, KA2237, has just begun a Phase I clinical trial.
KA2237 is a potential first-in-class small molecule inhibitor that selectively targets both β and δ variants of PI3K-p110, a phosphoinositide 3-kinase that plays a role in tumor development.
The drug attacks p110β, an oncogenic target driving cancer cell growth and metastasis, and p110δ, its haematological counterpart that also plays a role in governing regulatory T-cell function. Inhibition of p110δ triggers an immune response that in turn inhibits tumor cell proliferation.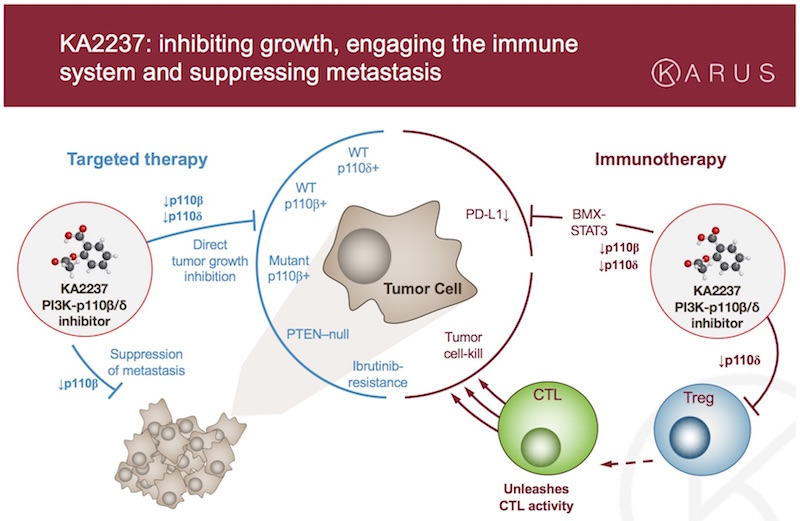 The combined inhibitor brought forth by Karus has the potential to treat both haematological and solid tumors, and it is currently being tested as a treatment for relapsing and treatment-resistant B cell lymphoma. It is the first of the company's candidates to enter clinical trials.
KA2237 represents an entirely different approach to the field of immuno-oncology that has so far had mixed results. The trend in immuno-oncology is towards developing monoclonal antibodies as checkpoint inhibitors via PD1/PD-L1, Program-Death Ligand 1, and competition in this arena is stiff.
Ablynx has famously been using llama antibodies as the basis for their candidates; Roche attained the first-ever FDA approval for its antibody earlier this year, which has continued to do well in Phase III. Perhaps Karus's unique approach to immuno-oncology will give it a leg up in the race!
---
Featured Image: Keith Barnes/shutterstock.com
Figure 1: Provided by Karus Therapeutics
---