The annual celebration of biotech has started! From today through this Sunday, October 2nd, a continent-wide festival, Biotech Week, is happening as part of a larger global affair. Check out the event program and Invest Europe's infographic on what's up in Europe!
EuropaBio has kicked off the European instalment of global Biotech Week, a week-long series of events celebrating the industry and research efforts to cure, feed and fuel the world. This is the fourth edition since European Biotech Week was first started in 2013, and the event has since expanded to welcome Austria, Norway, and Sweden to its roster of participants.
This year we are thrilled to see the Biotech Week concept go global. Global Biotech Week represents an important opportunity to show that biotechnology has no boundaries and delivers solutions to society's grand challenges the world over" Nathalie Moll, EuropaBio Secretary General.
To see what's happening in your area, check out the event website for programming information.
Biotech has also been buzzing with VC interest (over one third of all they industry's expenditures went to life sciences!), and a number of companies like Micromet and Stentys have made splashy exits in the last year. Invest Europe compiled data on VC-backed exits from its Life Sciences Taskforce to paint a picture of Europe's biotech hotspots. The top three places to be on the continent are France, the UK and Switzerland. Check out the rest below!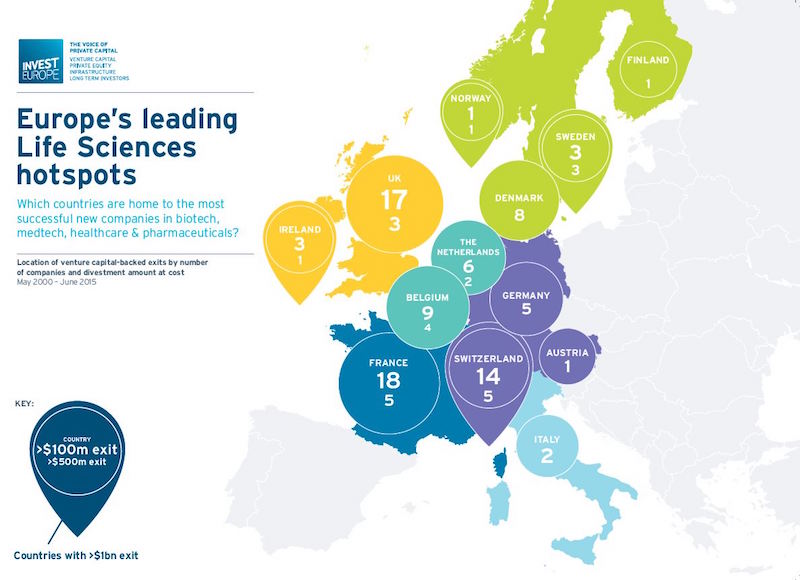 ---
Featured Image: Brazzik/shutterstock.com
---