What happens when you mix Internet of Things and Medical Devices? That's what the French Startup, Instent, and its co-founder, Franz Bozsak, intend to find out. I had a chat with him after he won the EY prize of the Best Parisian Entrepreneur of the Year for his startup.
My first question was which language should we speak? Bozsak is German, lived in the US and has been in Paris since he started his PhD at the prestigious Ecole Polytechnique in 2010. We stayed in neutral territory and went for English …
The vision of the startup is to make Medical devices smarter. Today, devices like stents are implanted in the body but don't give any feedback on what's going on or how it's interacting with the surrounding tissues. The only way to give doctors access to this info is through imaging. However, the images don't reveal the type of tissue, a significant drawback for a procedure that is both invasive and a significant financial burden.
"We want to solve that problem by using a sensor directly built into the device itself". Imagine a sensor technology that is so small that it can be used in many devices.
But as for any startup, to tackle a huge healthcare problem, you need to start small with one specific indication or niche. "We needed to find an entrance to the market and demonstrate the potential of our technology".
Bozsak and his team decided to move on Ischemic stroke, which represents 87% of all strokes. The first line treatment today for a third of all these patients is to mechanically remove the blood clot with a stent-like device. But 20% of patients don't respond to the treatment, most of the time because the nature of the clot is unknown.
"We are using our sensor technology to differentiate the clot and make the standard treatment more effective". This upgrade ultimately saves public money allocated to health systems, because it's cheaper to do this one procedure than several mechanical thrombectomies, and saves crucial time for the patient.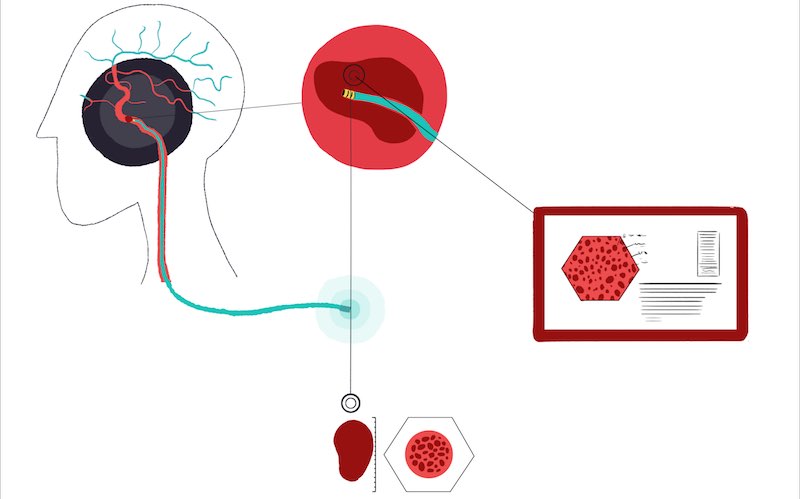 Instent is already on a great track. Besides getting awards and media attention, it raised €1.7M from private investors and obtained public funding from the French investment bank, the generous BPI France.
Behind the venture, there are 8 young and highly motivated people and an impressive board of advisors (including Sacha Loiseau, the founder of one of the most successful MedTech companies in France, Mauna Kea).
The next steps are to move the technology into humans by 2017 and onto the market by 2018. "Building an invasive device first is also a way for us to get this innovation to the patient more rapidly than with an implantable Medical device". The company is raising a new round of €5M by the end of the year to sustain these developmental pushes.
"The potential of our platform is vast as it could be applied anywhere you need to identify a tissue, for example in coronary stenting or even one day in cancer". A good conclusion for a very promising startup that is definitely worth watching.
---
All the images are courtesy of Instent