KaNDy Therapeutics has been launched as a spin-out of NeRRe Therapeutics to develop a new treatment for menopause that can address multiple symptoms at once.
NeRRe Therapeutics, a company built around targeting neurotransmitting peptides, has spun out a single-asset, virtual company named KaNDy Therapeutics that will focus on the development of a drug with potential to significantly improve the treatment of menopause. The launch has been backed by Advent Life Sciences, Fountain Healthcare Partners, Forbion Capital Partners and OrbiMed Advisors, all investors in the parent company.
The compound at the center of the new company, NT-814, is a neurokinin (NK)-1,3 receptor antagonist. "Neurokinin antagonists are really a breakthrough," Mary Kerr, CEO of NeRRe Therapeutics, told me. "Probably the first innovation in two decades in women's health."
NT-814 acts by targeting NK-1 and NK-3 receptors located on neurons of the kisspeptin-neurokinin B-dynorphin (KNDy) pathway that gives name to the new company. These neurons, located in the hypothalamus, control two major pathways involved in menopause: the thermoregulatory pathway, which controls heat dissipation, and the gonadotropin-releasing hormone (GnRH) pathway, which regulates the release of sex steroid hormones.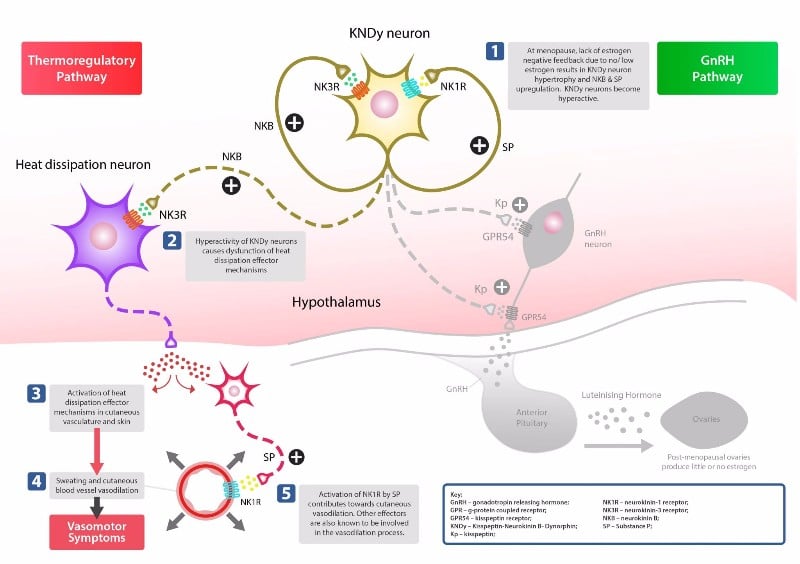 As an alternative to hormone replacement therapy, which comes with a long list of side effects and an increased risk of heart disease, stroke and breast cancer, NT-814 could bring a welcome improvement for the treatment of postmenopausal vasomotor symptoms (PMVMS), which are debilitating and significantly impact the quality of life of up to 75% of menopausal people.
The drug has already successfully completed a Phase IIa study. As Kerr explained to me, its once daily dosing regime is a key advantage given that KaNDy's main competitors in the space, Ogeda and Millendo, require dosing twice a day. In addition, besides improving hot flashes, the dual mechanism of the drug could also benefit sleep complications thanks to its NK-1 component, which is known to have benefits in sleep.
Mary Kerr will keep working on the development of NT-814 as the Managing Director of KaNDy Therapeutics. Her main goal in this role will be to progress the candidate into Phase IIb, as well as explore other indications linked to the GnRH pathways, such as endometriosis. "This asset represents a whole pipeline within a product," she explains.
Meanwhile, NeRRe will focus on its remaining candidates, including a lead program with orvepitant in Phase IIb for chronic refractory cough, an area where Kerr has seen a lot of interest given there's no approved medicine for the condition. Its development will be supported by Andrew Kay, who has been appointed Chairman. He will contribute with his extensive experience in the biotech world, including a role as CEO of Algeta, a company sold to Bayer for $2.9Bn in 2014.
---
Images via diy13 /Shutterstock; KaNDy Therapeutics