Kerecis exploits the natural properties of fish skin to manufacture wound dressings that help tissues repair much faster than before. 
From a small town in northern Iceland, Kerecis is revolutionizing the treatment of wounds with a local product, fish. The company has developed a method to turn their skin into wound dressings that promote cell growth and tissue repair. An in-depth feature on Bloomberg published today explores the story behind this unusual company, which has been making headlines since the FDA approved its fish skin wound dressings last year.
Using skin from mammals, and even human skin from cadavers is a common practice in wound healing. But Kerecis is the first to translate the concept into fish, and clinical trials run by the company seem to indicate it can do it much faster.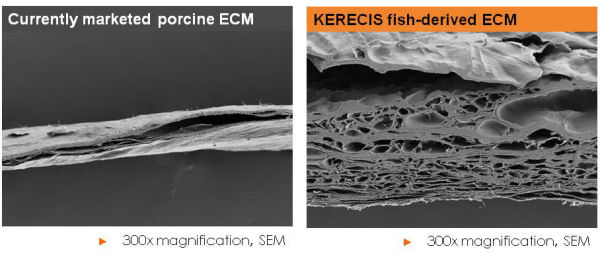 Kerecis highlights two main factors that make its wound dressings better. The first is the 3D structure of fish skin at the microscopic scale. Its pores provide an ideal scaffold for skin cells to infiltrate, grow and create blood vessels, ultimately regrowing native tissue. The second is a high omega-3 content, which has anti-inflammatory properties.
The material, approved not only for wounds, but also for burns, hernia repair, diabetic foot, breast reconstruction and the repair of spinal cord's dura mater, has attracted the attention of the US military, which has financed studies that proved the fish skin better than cadaver skin at healing speed, prevention of bacterial infections and reducing bleeding.
---
Images via Kerecis