Merck has signed a new agreement with Avillion for its nanobody against psoriasis. Avillion will advance the nanobody from Phase II through Phase III.
As part of several partnerships between Merck and the unbeaten nanobody biotech Ablynx, Merck recently cleared Phase Ib with its llama-inspired nanobody targeting the cytokines IL-17 A/F for the treatment of plaque psoriasis. The antibody is said to begin Phase II in 2017 and following a new deal with Avillion, the British drug development company will now take over clinical development of the nanobody through to Phase III.
While financial details were not disclosed, Avillion will finance the clinical program until regulatory submission. The company is likely to re-sell the drug to Merck after completion of the clinical development.
The respective nanobody is a trivalent molecule that targets both the cytokines IL-17 A and IL-17 F. These cytokines are produced by Th17 cells of the immune system, which are associated with the pathology of many human inflammatory diseases like psoriasis and rheumatoid arthritis. In addition, the nanobody binds to human serum albumin to increase its half-life in the bloodstream.
The biological was able to show off in Merck's recent Phase Ib trial, where it not only met safety and tolerability objectives, but also achieved a 75% or greater reduction in disease activity in all patients within the highest dose groups.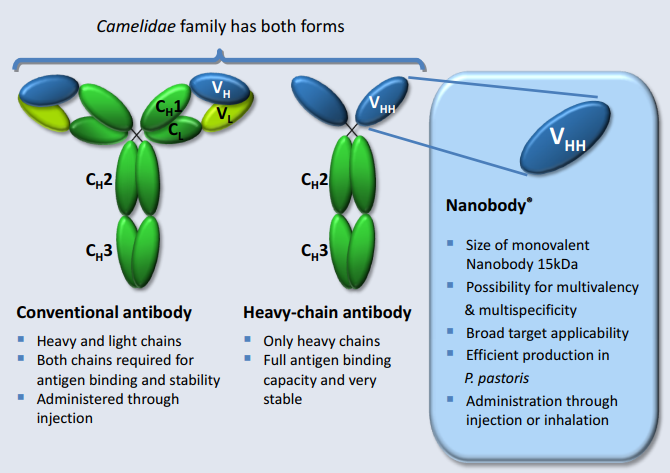 Psoriasis is a common, chronic autoimmune disorder characterized by itchy skin lesions. The disease affects between 1.5% and 5% of the population in developed countries and with the advent of expensive biologicals, the psoriasis market is expected to reach a massive €12B ($13B) by 2024.
However, as the market is growing, so is the competition. Currently, biologicals such as Humira and Enbrel, targeting the inflammatory cytokine TNF-alpha, are dominating the market — they were also part of the top selling biologicals in 2015. Newer approaches include targeting the IL-17 immune axis, which might be even more specific to autoimmune reactions than going for the more ubiquitous TNF-alpha cytokine.
Novartis was the first company to get its anti-IL-17 antibody for the treatment of psoriasis approved in both the EU and US, but other companies such as Eli Lilly have already followed. Merck is counting on the advantages of Ablynx' nanobodies, which due to their smaller size allow for more effective drug delivery and manufacturing.
It's definitely a crowded market, but Ablynx next-generation nanobody biologicals have already attracted a lot of big pharma companies leading to several impressive deals. It seems like Avillion, has decided to join the bet on the nanobody innovation. 
Images via KiltedArab / shutterstock.com and Ablynx.com