Avelumab, marketed as Bavencio by Pfizer and Merck, has failed to show better efficacy than chemotherapy in a Phase III trial with gastric cancer patients.
Merck (the German one) and Pfizer joined the checkpoint inhibitor club earlier this year with the approval of Bavencio (avelumab) in both the US and Europe. Looking to keep expanding the indications of this potential blockbuster, the team was running a Phase III trial in gastric cancer that, unfortunately, has failed to meet the primary endpoint of increasing overall survival when compared to the physician's choice of chemotherapy (paclitaxel or irinotecan monotherapy).
Checkpoint inhibitors are drugs that can block mechanisms that cancer cells use to inhibit the immune system response. A certain percentage of people treated with checkpoint inhibitors can actually survive deadly cancers in the long term. In particular, blocking PD-1 and its ligand PD-L1 is currently one of the most popular approaches, with currently over 1,500 trials testing different drugs and combinations against these targets. All major big pharma are developing their own PD-1 or PD-L1 inhibitors, with avelumab being the fourth to be approved.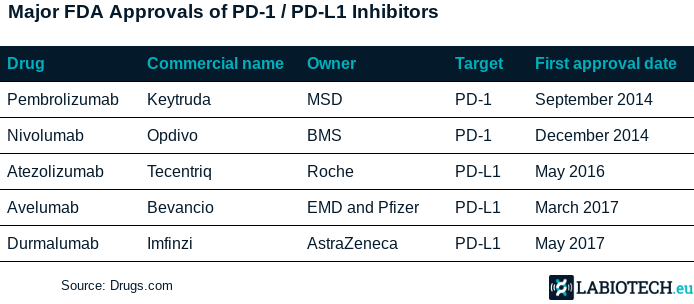 In defense of avelumab, Merck executive Luciano Rosetti declared that "gastric cancer in the third-line setting is a particularly hard-to-treat and heterogeneous disease, and importantly, this was the first trial conducted with a checkpoint inhibitor compared to an active chemotherapy comparator rather than placebo in a global patient population."
Well, if we're going to pay the extra price of checkpoint inhibitors, they had better be more effective than chemotherapy. Merck and Pfizer will be selling avelumab for $13,000 a month. And as combination regimens of two or more immunotherapy drugs start to be approved, these prices will skyrocket.
With all these drugs being fast-tracked by regulators, they are often approved without strong evidence of their efficacy. A recent study in the UK revealed that most of the cancer drugs entering the market did not show evidence of improving survival or quality of life in clinical trials. Knowing that all checkpoint inhibitors approved so far have just been tested against a placebo instead of existing treatments such as chemotherapy makes you doubt whether they are worth the billions big pharma are going to make out of them.
---
Image via Victorpr /Shutterstock