From microbial fashion to a fabric that changes colors in the presence of pathogens, Neffa is exploring the many benefits and applications of combining microbiology and textiles.
Aniela Hoitink is an artist based in Amsterdam that specializes in incorporating microbiology into textiles. Her trademark Neffa englobes a series of projects that seek to translate innovations in these areas to tangible results with a unique approach: "The name Neffa means 'net effe anders' in Dutch, wanting to do things just that bit differently".
Among her multiple projects, MycoTEX, clothing made out of mycelium textile has caught the attention of both the bioart and fashion public. The mycelium is a network of fungi that acts as the roots of mushrooms and have excellent insulating and water-absorption properties, which are exactly what most synthetic clothing textiles lack.
Aniela decided to explore how to control mycelium growth to obtain a material with the desired characteristics. With input from Maurizio Montalti, an Italian bioartist with expertise in growing fungal materials, Aniela created a biodegradable dress made out of lab-grown fabric.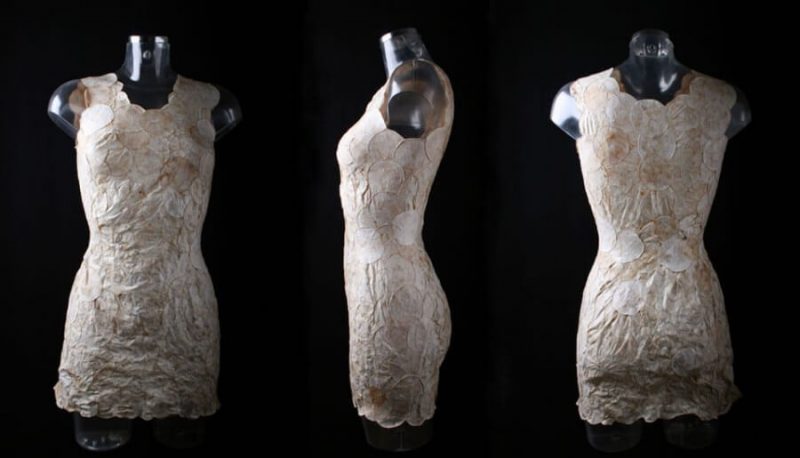 Current projects of the artist include Skin bacteria, an exploration of fabric as a medium to grow bacteria from our skin and objects in a room. She has received practical advice from Anna Anna Dumitriu, a British bioartist focused on microbiology, synthetic biology and science ethics, and so far the results look beautiful and incredibly original.
In her website, Aniela highlights the complexity of such a project due to the many variables in base materials, growth media and the great variety of microorganisms hiding in our environment.
Another work-in-progress that caught my attention, in this case for its big implications in healthcare, is Monitoring textile. Aniela envisions a fabric that could indicate the presence of microorganisms by changing colors.
In hospitals, beds made of such a material could offer continuous monitoring of pathogens, helping control outbreaks from the very onset. At home, the material could tell us when it's time to throw away or wash a dishcloth, since according to research, we don't do it often enough.
To create such a useful material, the artist plans to incorporate specific receptors into the material that can detect a microorganism and start a cascade reaction that changes the fabric's color according to the specific microbe. The material is still only a concept, but if it sees the light it could change lives and help fight microbial resistance, one of the most pressing challenges in healthcare.

It's always delightful to see how artists are driving innovation in science. Aniela is not the only one exploring the multiple applications of microbes in textiles and fashion; Tina Gorjanc, in the UK, is growing leather with a famous designer's DNA to highlight legal shortcomings in bioengineering.
The role of the bioartist nowadays is becoming essential in science, from educating the public to envisioning the most futuristic innovations. In addition, many artists have taken up the role of opening the discussion on any ethical conflicts that might arise during our journey towards a better tomorrow. Neffa is just another great example of the impact that art can have on the development of science.
---
All images from Neffa