Prokarium has raised $10M (€8M) from Saudi, Swedish and Korean investors to support the clinical development of its oral vaccines for infectious diseases like typhoid.
Since its foundation in 2012, Prokarium has been working on oral vaccines and it has developed a delivery platform that can be applied to any antigen used for vaccination. The biotech has completed a $10M (€8M) fundraising from a group of international investors, including Flerie Invest in Sweden and Riyadh Valley Company from Saudia Arabia, that will allow the clinical development of its vaccines for enteric fevers like typhoid. In addition, the money will help the company to expand its R&D team looking at cancer vaccines.
Prokarium's platform, Vaxonella, delivers oral vaccines that stimulate the body's mucosal and cellular immunity. Other major advantages over injectable vaccines include the delivery of the vaccine to remote locations in the body and the improved access of underserved groups like the elderly.
The biotech's lead vaccine targets enteric fevers like typhoid, a condition characterized by fever and stomach pains caused by consuming contaminated food or water. The vaccine uses an attenuated strain of Salmonella enterica that is genetically engineered to express antigens from the Salmonella Typhi strain, ZH9. Once ingested, the bacteria reach the lymphatic system through the small intestine to trigger a strong immune response. So far, the vaccine has been safely administered to 471 people, including 101 children, during Phase I and II trials.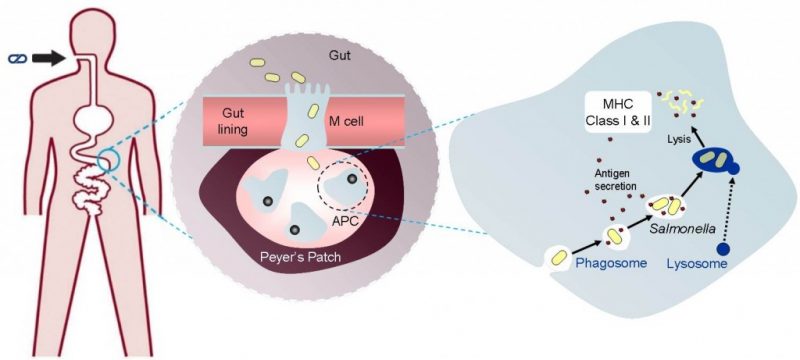 Together, Salmonella Typhi and Paratyphi cause around 28 million cases of enteric fever and over 200,000 deaths each year. As a result, Prokarium wants to develop a new dual typhoid-paratyphoid vaccine and plans to find a partner that will aid its development. Prokarium's CEO, Ted Fjallman, commented: "We look forward to generating the clinical data for our current vaccines and working with our investors to find new opportunities to partner our technologies globally."
Prokarium joins a busy vaccines field that is desperate to get ahead of infectious disease epidemics before they take hold. In the wake of devastating outbreaks of tropical diseases like Ebola and Zika, Austrian biotech Themis has reported promising early Phase II results for its virus against what could be the next big outbreak: chikungunya fever. Prokarium is looking at stepping into the cancer vaccines field too, and Hookipa, led by Jörn Aldag who spoke at our recent Refresh event, is sitting pretty having raised $60M (€50M) from Gilead, Takeda, and Boehringer Ingelheim.
Prokarium's platform is already proven to be safe so let's hope we see the biotech find the partner it needs to bring its technology to the market as quickly as possible. Keep an eye out for the company tackling other infections like chlamydia, C.difficile, and Yersinia pestis now that it has some more money to play with.
---
Images – Kim Britten / shutterstock.com; Prokarium