Investment will allow Peptomyc to continue the development of their peptide cancer therapy with reduced side effects.
Peptomyc gained €4.2M from a group of investors led by Alta Life Sciences at Series A of fundraising. Peptomyc is part of the growing biotech hub in Barcelona, Spain. A spin-out was formed following research carried out at the Vall d'Hebron Institute of Oncology and the Catalan Institution for Research and Advanced Studies.
The investment will cover the necessary capital to improve the manufacture of their product. This will help them to progress through non-clinical studies, validating the efficacy and safety of this exciting therapeutic. Peptomyc hopes that this approach will overcome issues with treatment efficacy and resistance that limit the utility of current approaches.
The peptide targets the Myc oncogene, which is implicated in the majority of cancers. In normal cells, Myc is involved in the control of cell cycle and its overexpression sensitizes the cell to death. In cancer cells, Myc is overexpressed but allows the cell to continue growing. Peptomyc's anti-Myc peptide, Omomyc, penetrates into cancer cells and blocks the activity of Myc, stopping cancer growth and killing cancer cells. The role of Myc in cancers is crucial, making resistance very unlikely.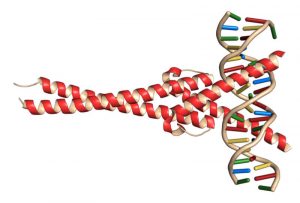 Binding of Myc to DNA during transcription.
There are around 14.1 million new cases of cancer and over 8 million deaths each year. The ability of Omomyc to acts specifically on cancer cells due to their overexpression of Myc could reduce the adverse effects often associated with cancer treatments.
But Peptomyc is not alone in this area. Amcure is also using peptides to treat cancer by blocking angiogenesis, and Oncopeptides is developing a cytotoxic drug that targets cancer cells expressing high levels of peptidase enzymes.
Peptomyc will hope that this cash injection gives it the boost it needs to overcome the competition. In July, a panel of experts selected Peptomyc as a potential unicorn (a start-up valued at $1B). If Peptomyc can live up to expectations, we are excited to see what is to come.
Images – jovan vitanovski / shutterstock.com; molekuul_b / shutterstock.com