Oxfordshire based PsiOxus will team up with the Immuno-Oncology Giant, Bristol-Myers Squibb, to test the combinatorial effect of their blockbuster drug with an Oncolytic viral therapy in late-stage cancer patients.
Together they will evaluate the safety, tolerability, and preliminary efficacy of PsiOxus' Enadenotucirev, a systemically administered oncolytic adenovirus therapeutic, in combination with Bristol-Myers Squibb's Opdivo blockbuster (nivolumab), which is projected to make €6.3Bn in annual sales by 2020.
Enadenotucirev is designed to have immune stimulating effects. On the other hand, Opdivo is designed to alleviate immune suppression as a PD-1 immune checkpoint inhibitor for metastatic non-small cell lung cancer (NSCLC), for renal cell carcinoma (RCC), classical Hodgkin's Lymphoma and unresectable or metastatic melanoma as a mono- or combination therapy.

Solid tumors are a significant challenge in Immuno-Oncology, given that the internalised cancer cells in the mass are not easily exposed to therapies to attack. This means multiple rounds of treatments are needed, which can lose efficacy over time – or a more invasive method of attacking the tumor cells.
This is why Oncolytic viral therapies are so exciting, and PsiOxus' enadenotucirev is an oncolytic group B adenovirus therapeutic that is given intravenously.
Viruses like Enadenotucirev promote anti-tumor responses through a dual mechanism of action: selective tumor cell killing (as it only replicates in tumor cells and not normal cells) and the induction of systemic anti-tumor immunity. It is currently in Phase I trials for multiple solid tumor types, including Ovarian.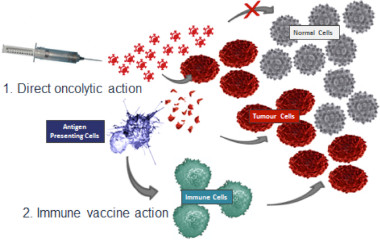 BMS will make a one-time payment of around €9M ($10M) to PsiOxus, which will be responsible for running the Phase I trial (due to start in Q3 of this year), although development costs of the combination therapy will be shared.
In addition, the two will team up to investigate further on anti-PD-1/PD-L1 antagonist antibody and enadenotucirev combination regimens. So generally, although not a lot of money is changing hands, PD-1 and PD-L1 is a very hype area of Immuno-Oncology, and having a leader like BMS (with their exhaustive resources in Oncology and industrial clout) is a big deal for PsiOxus.
However, perhaps this isn't so surprising, given  PsiOxus itself has some serious connections, including a strong team which includes the former president of GSK's Oncology department (Paolo Paoletti) and the company's intrinsic links to Oxford University.
This follows a similar deal between Merck (MSD) and US-based Moderna, to combine the famous Keytruda with an mRNA drug for an upfront payment of €180M ($200M).
---
The mechanism of action of PsiOxus' Oncolytic virus drug for cancer…

---
Feature Image Credit: Bristol-Myers Squibb Media Center
---