Synimmune has hit the clinic with a first-in-human study of its Fc-optimized antibody FlySyn to treat patients with acute myeloid leukemia (AML).
The German biotech Synimmune is developing next-generation anti-cancer antibodies to treat rare blood cancers. Its lead asset, FlySyn, is an antibody directed against the human fms-like tyrosine kinase 3 (FLT3) for the treatment of patients with AML. Now, the biotech has started its first clinical trial with FlySyn to see if the antibody proves itself safe and to assess preliminary effects in AML patients with minimal residual disease (MDR).
AML is a deadly disease with a 5-year survival rate of 27%. While most AML patients achieve complete remission with regular chemotherapy, the majority of patients relapse within several months, requiring additional chemo or stem cell transplantation.  "Our antibody is intended to delay or even prevent such relapse. We therefore believe that, if proven safe and effective, FlySyn could become an attractive treatment option for many AML patients," explained Martin Steiner, CEO of Synimmune in a press release.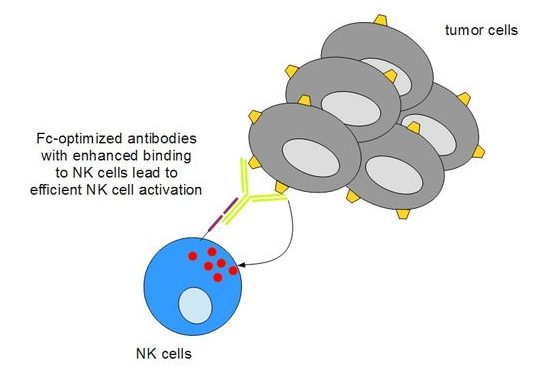 FLT3 is a surface receptor that is found in high levels on leukemic cells in 70-100% of AML patients, while only small amounts of the molecule are found on monocytes and progenitor stem cells. Apart from specifically recognizing cancer cells, FlySyn has been upgraded to effectively bind to Fc receptors found on natural killer (NK) cells, thereby promoting antibody-mediated killing of cancer cells.
Synimmune's early-stage pipeline also includes a second FLT3-directed immunotherapy candidate, TacSyn, to treat patients at a stage of existing disease of AML as well as acute lymphoblastic leukemia (ALL). This bispecific antibody contains an anti-CD3 domain, which is able to recruit and activate tumor-killing T cells.
The young German biotech is all set to enter a crowded immuno-oncology space, where it will have to take on some fierce competition. Belgian Argenx is also in Phase I trials to treat AML with its llama-inspired antibody against CD70, while German Apogenix, together with AbbVie, recently initiated Phase I with another immuno-oncology candidate targeting the TRAIL-receptor.
Apart from that, CAR-T pioneers such as Cellectis and Celyad or Juno are racing to treat leukemia including AML or ALL using their engineered killer T cells and Celyad recently presented with first positive data from a Phase I trial in AML.
Images via shutterstock.com /  David Litman and synimmune.de