Adocia's rapid-action insulin outperforms Novo Nordisk's market approved treatment for type 1 diabetes during a Phase I study.
Adocia specializes in new formulations of therapeutic proteins, particularly for the treatment of diabetes. Just last week, Adocia's glucagon treatment for hypoglycemia was proved to be safe in a Phase I study. Today, the biotech has announced that its same Biochaperone technology is effective in delivering insulin to type 1 diabetics, during the first direct comparison of two "ultra-rapid" action insulin formulations. The study saw Adocia's candidate outperform the only EMA- and FDA-approved rapid action insulin formulation.
Type 1 diabetes is an autoimmune disease which sees the body's immune system attack insulin-producing beta cells in the pancreas. This impairs the regulation of blood glucose, which can cause complications including loss of vision, kidney failure, and cardiovascular disease. Patients currently require daily injections, so a new, less traumatic approach would be popular in a market predicted to be worth up to $26B (€22B) by 2024. Insulin pumps, which were used in the study, may help as they remain connected to the body, delivering insulin directly into the fat layer just below the skin.
The BioChaperone platform forms a complex with insulin, protecting it from degradation and boosting its performance. The BioChaperone-insulin complex forms spontaneously in water, without the need for heating or an organic solvent, making it very quick and easy to prepare. This has a number of advantages, including accelerated and customizable duration of action, enhanced bioavailability and reduced required dose and frequency of administration.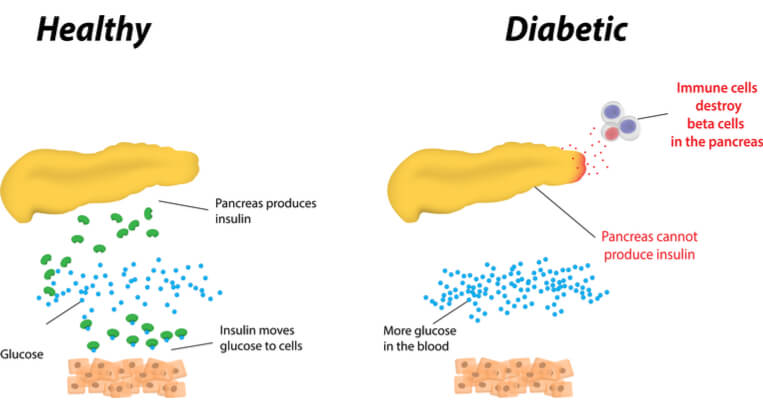 Adocia's technology was compared with Novolog and Fiasp, two rapid-action insulin aspart treatments by Novo Nordisk. BioChaperone Lispro caused a statistically significant 63% increase in metabolic effect during the first hour in comparison with Novolog, supporting the results of previous trials during which it outperformed Eli Lilly's Humalog.
Ideally, the aim is to correct the disease and replace the damaged cells, and biotech giants, Evotec and Sanofi, are investigating cell therapy to do this. The first milestone of their project has been hit, which saw Evotec receive €3M for demonstrating preclinical proof-of-concept. An alternative approach is to try and bring the malfunctioning immune system back under control, and Imcyse has attempted this with its Imotopes, peptides that tell CD4+ T cells to kill other immune cells that are attacking the pancreas.
It appears that Adocia is attempting to take this area of the metabolic diseases field by storm, and so far it is succeeding. Olivier Soula, Direction of R&D at Adocia believes that the company's rapid-action insulin has an important part to play in the quickly moving diabetes field:
With major diabetes players actively pursuing an integrated model to exploit synergies between therapeutics, smart devices and connected care, we are convinced that ultra-rapid insulin will be a critical component in delivering better outcomes for people with diabetes.
---
Images –  Magnus Binnerstam / shutterstock.com; Joshya / shutterstock.com