UCB has presented positive Phase IIb results for its psoriasis drug, bimekizumab, and outlined the Phase III testing of Cimzia for the condition at the American Academy of Dermatology's annual meeting.
Belgian biopharma, UCB, develops medicines for people suffering from severe diseases of the immune or central nervous systems. The company is developing a number of candidates for moderate-to-severe chronic plaque psoriasis, which are undergoing Phase IIb and III trials. The progress being made was presented at this year's American Academy of Dermatology's (AAD) meeting.
Plaque psoriasis is the most common form of the autoimmune disease that affects the skin. It is characterized by raised, red patches covered by a build-up of dead skin cells. The plaques, which are often itchy and painful, tend to affect skin on the scalp, knees, elbows and lower back. Current therapies include creams to slow skin cell growth and reduce inflammation, phototherapy, and biologics delivered systemically.
UCB's bimekizumab is a humanized monoclonal IgG1 antibody that neutralizes both IL-17A and IL-17F, two key inflammatory cytokines. In preclinical studies, the drug was better at reducing skin inflammation than the inhibition of IL-17A or IL-17F alone. During UCB's Phase IIb study, it achieved 90% skin clearance in over three-quarters of study participants and complete skin clearance in around 60%.
The company's anti-TNFɑ drug, Cimzia, inhibits the pathophysiological effects of the inflammatory cytokine and has already been approved for rheumatoid arthritis, psoriatic arthritis, and axial spondyloarthritis in Europe. Its potential to be used to treat psoriasis is now being investigated in three Phase III studies, CIMPASI-1, CIMPASI-2, and CIMPACT.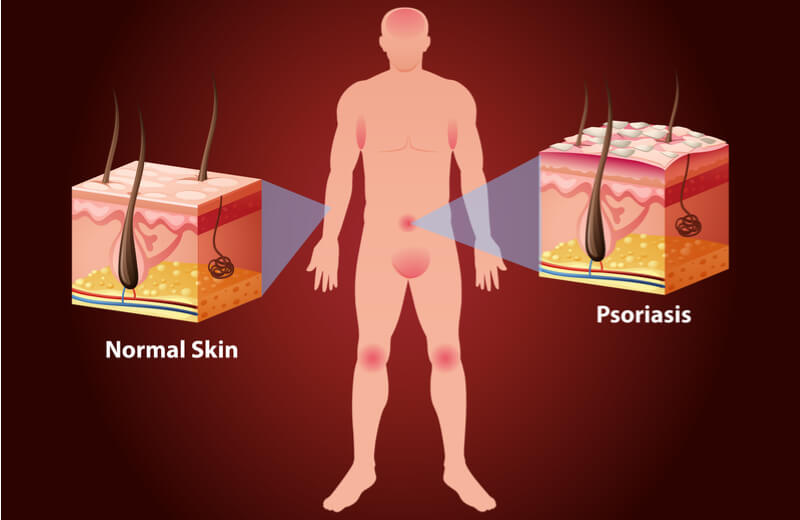 Emmanuel Caeymaex, Head of Immunology and Executive Vice President at UCB, commented: "People living with psoriasis often face a heavy disease burden and may experience significant physical discomfort. The studies presented this week explore the potential value of CIMZIA for psoriasis patient subpopulations, as well as the development of new approaches to treating inflammation associated with psoriasis."
With the suffering of patients needing to be addressed and the global psoriasis market expected to be worth $12B (€10B) by 2024, many biotech and pharma companies are competing for a place in the field. UCB is one of many companies to be targeting IL-17, including Leo Pharma, which had its antibody approved by the European Commission despite concerns over suicidal behavior and Merck, which outsourced the development of a nanobody to Avillion. Meanwhile, MorphoSys' and Janssen' monoclonal antibody targeting IL-23, guselkumab, recently got the European Commission's approval.
With Abbvie's Humira dominating the market and raking in up to $5B (€4B) a year, the news of its patent coming to an end provides a big opportunity for UCB and the rest of the companies battling it out in the psoriasis field.
---
Images – 2Ban / shutterstock.com; BlueRingMedia / shutterstock.com