To help you enjoy the summer, here is a list of book suggestions for you to take with you on your travels, as recommended by our readers.   
We asked the Labiotech team what they liked to read last year and we had a great response to the article from our online community. This year we wanted to give you all a chance to tell us what you like to read when you have a chance to relax.
If you haven't been away on holiday yet, then why not check out the books below and maybe even take one to the beach with you? Or, if you just want to grab a few hours of peace and quiet in what remains of the sun at home, here is the list.
1. What Is Life? with Mind and Matter and Autobiographical Sketches by Erwin Schrödinger
Recommended by Saurabh Tak, @100rabhTak, Institute of Genetics and Molecular and Cellular Biology, Strasbourg.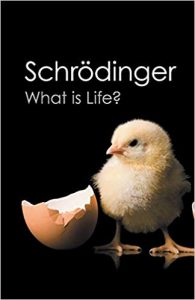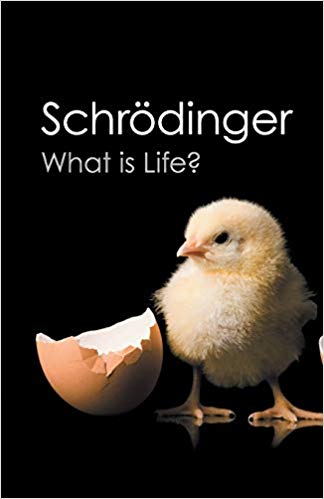 "Schrödinger's "What is Life?" is a beautiful book. He gave the concept that genetic information is coded as covalent bonds in a molecule before DNA's structure and its role were discovered. With a foreword by mathematician Roger Penrose,  this book marks the advent of a modern physicist into biology. It explores order, disorder and entropy in living matter and dared to ask the question if life is based on the laws of physics. A must read for people interested in knowing the answer to the question 'What is Life'?"
This book was written in 1944 by the Austrian physicist Erwin Schrödinger, who won the Nobel Prize for Physics and is well known for his thought experiment involving cats. It is aimed at the lay person, but was influential in the development of molecular biology. It includes two famous essays 'What is Life?' and 'Mind and Matter', which discuss the origins of life and the role of consciousness in evolution, as well as some autobiographical background about the scientist. 
2. Bad Blood: Secrets and Lies in a Silicon Valley Startup by John Carreyrou
Recommended by Manel Mateus (investor relations firm) and Emma Markham @GeneticCuckoo (BBSRC), both based in the UK.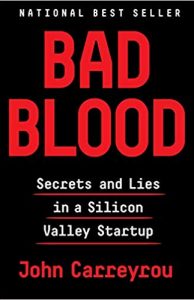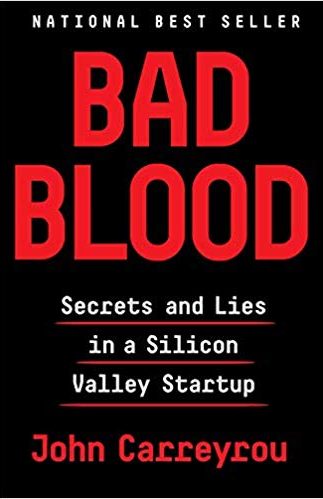 Manel Mateus: "What I liked about Bad Blood is how reflective it is of the (recent) zeitgeist. It's an extremely well-written account of how the present funding system in biotech enabled the misuse of science.
I sometimes feel however that the focus is too strong on Elizabeth Holmes and her failures in character. I don't like the female villain vibe cast over her. What is for me far more interesting is how the system allowed someone without data to thrive in a sector so reliant on (good) data. How the system of top US universities, politicians, financiers and media created a myth when there was no hero or heroine."
Emma Markham: "Bad Blood is an incredible story which I could not put down and cannot highly recommend it enough. It was a whirlwind of chaos and I had no idea what was going to happen next, because the founder's actions seem completely disconnected from reality. It is a fascinating look at the world behind a start-up which promised too much and decided to 'fake it till you make it', and the fact it's healthcare and they were playing with people's lives did not seem to matter to the founder. You have to read it to believe it." 
Written by award-winning journalist John Carreyrou, Bad Blood tells the story of CEO Elizabeth Holmes and the rise and fall of her company Theranos. The US biotech claimed to have developed a new, fast kind of blood test, a technology later revealed to be fraudulent. The book tells the story of how Theranos went from being valued at almost $10B to nothing in just a few years, with both Holmes and the company president Ramesh Balwani now awaiting trial for fraud.
3. How to Win Friends and Influence People by Dale Carnegie
Recommended by Christian Soschner, CS Life Science Invest, Austria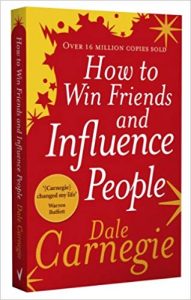 "Because soft skills matter … also in deep tech :-)"
An old one, but a good one, this book is a classic published in 1936 that is still as relevant today as it was when it was written.
Packed full of useful advice on ways to make people like you, win them around to your way of thinking and change people without making them hate you, it has been a go-to guide for success in business for many years. 
4. This is Going to Hurt: Secret Diaries of a Junior Doctor by Adam Kay
Recommended by Emma Markham, @GeneticCuckoo – BBSRC, UK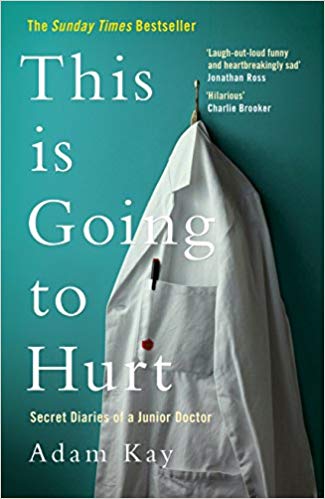 "As soon as I knew 'This Is Going To Hurt' was coming out I have been excitedly waiting to read it. The author is witty and the stories are both heartbreaking and amusing in equal measure. It is a wonderful book featuring diary entries from the first few years of a junior doctor's life, the incredibly long hours and unforgiving work, but also the joy and hilarity of things doctors see."
'This is Going to Hurt' is the diary of the author's time working as a junior doctor in the UK's National Health Service. An honest and funny account of what it is really like to work as a doctor in a modern hospital ward — long days, sleepless nights and everything in between.  
5. The Gene: An Intimate History by Siddhartha Mukherjee
Recommended by Mira Dela Rosa, @LookoftheRose – Academia Sinica, Taiwan.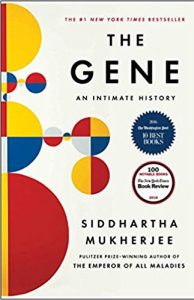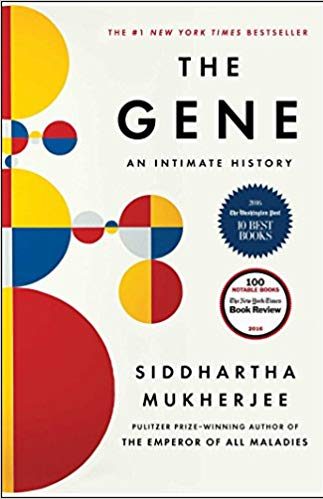 "An Intimate History is a brilliant work by Mukherjee, detailing the scientific discoveries involving nature's fundamental unit of heredity. Beyond the historical accounts, the author reminds us of the dangers of science and rapidly advancing technologies. With the emergence of gene editing technologies, the author casts light on the eugenics movement and Nazism, and exposes the perversions of science. This book offers a gentle reminder of the social responsibility of science and how scientists should remain within ethical boundaries."
Siddartha Mukherjee is an Indian-American physician and author, who is probably best known for his 2010 book 'The Emperor of All Maladies: A Biography of Cancer'. 'The Gene' tells the story of genetics from the experiments of Gregor Mendel in 1856 to the advanced technologies of today, set against the backdrop of the author's family history.
6. A Brief History of Medicine by Paul Strathern
Recommended by Nadia Tuada @mutantwada from Indonesia.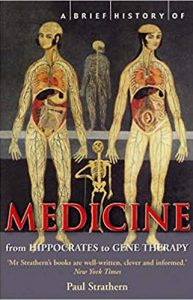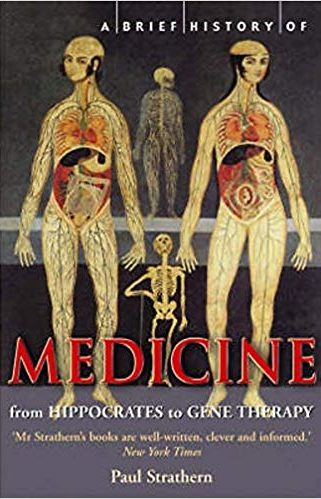 "From the book, I realize that failure isn't always a dead end. It can give clues to the next observer. By the next time, we will find the right remedy."
Paul Strathern charts the history of medicine by telling the life stories of some of its best known practitioners and discussing their successes (and failures) and how these influenced the medicine we know today. For example, that of Edward Jenner who discovered the smallpox vaccine, as well as many others who were very influential across different fields. 
7. Guns, Germs and Steel: A short history of everybody for the last 13,000 years by Jared Diamond
Recommended by Felicity Jones from Warraderry Consulting, Germany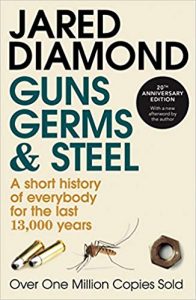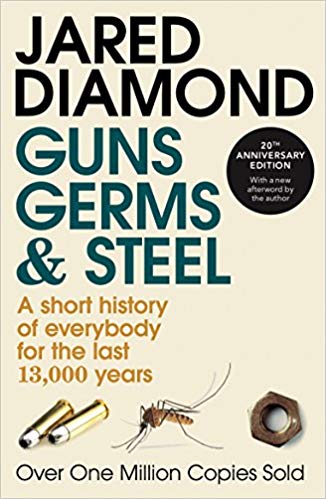 "A fascinating introduction to human societies and the way in which scientific advances impacted civilization."
Jared Diamond's ambitious and prize-winning book addresses the question of why human populations have evolved in very different ways around the world. He puts the case that factors such as geography and biogeography were the key influencers impacting the fates of populations around the world ranging from Europeans to Asians to aboriginal Australians. 
8. Corvus: A Life With Birds by Esther Woolfson 
Recommended by Elizabeth Bourne, LGC Genomics, Germany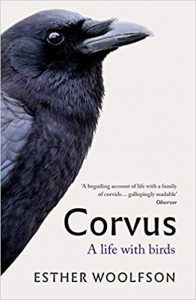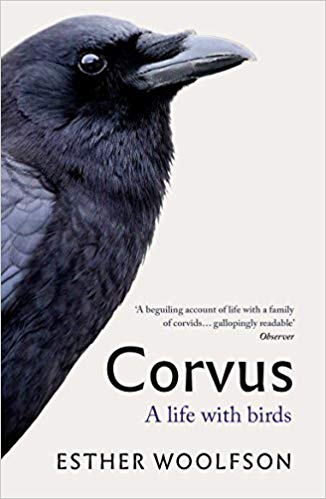 "A true story of a family who take in a fallen baby crow after it is discovered in a local park and bought home by the children. The crow becomes part of the family and reveals the intelligence and adaptability in the species, and is a fascinating read because of that and the connection built with the family." 
Many years ago the author's daughter rescued a baby rook, called Chicken, which became a much loved part of the family. Woolfson has combined a compelling autobiographical tale with everything you could want to know about birds from their personality and capacity for affection to the mechanics of flight.  
9. Ada Twist, Scientist by Andrea Beatty
Recommended by Mairi McGrath, European Federation of Immunological Societies, Berlin, this is one for those of you needing to entertain the children in your life!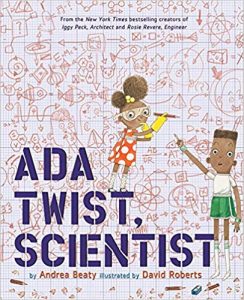 "I like that it normalizes how young kids can be different and turn small things in life into experiments."
Using real-life scientists and inventors Ada Lovelace and Marie Curie as inspiration, this book celebrates curiosity and innovation. The main character Ada Twist is a little girl who is always asking why and the story follows her various missions and scientific experiments to find out the answer to questions such as 'where does a bad smell come from?'. When things don't always go as planned in her experiments she learns the value of thinking through ideas and trying different pathways to solving a problem.
10. Sum: Forty Tales from the Afterlives by David Eagleman
Labiotech's Community Manager Intern Yi-Jen Chang wasn't here last year when we did our staff poll, she also helped to collect all the recommendations for this article so we thought it was only fair to give her the last slot.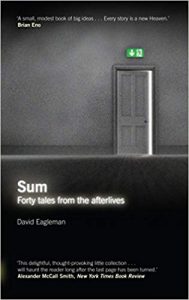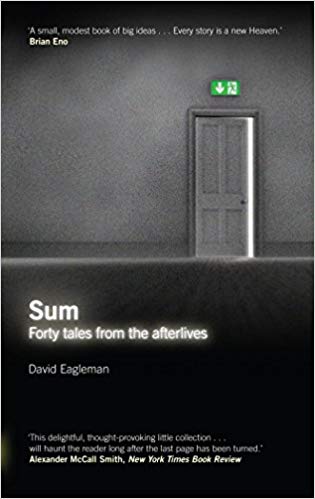 "The world is God's laboratory where everything is f*cked up! – 'Sum' is such a brilliant read! It's original, creative and emotional. It challenges the way we live and creates a possibility to reflect our lives with a unique angle and agile mind."
As a neuroscientist at Stanford University in the US with a research focus in the perception of time, David Eagleman dares to explore the unknown world of death. He tries to answer the toughest questions of life with 40 wonderfully imagined stories – all rooted in science, philosophy and a sense of humor. 
---
Hopefully this list will inspire you to read something new and will enrich the last few days of summer holiday you might have planned. We couldn't include every suggestion here, but a couple of others you might want to check out include Biopunk: Solving Biotech's Biggest Problems in Kitchens and Garages by Marcus Wohlsen and Frankenstein's Cat by Emily Anthies, as suggested by Jesus del Valle from Bayer. If there are any other biotech-related books you love (either fiction or nonfiction) that we have missed then don't hesitate to let us know. 
---
Community info collection courtesy of Yi-Jen Chang; cover image credit Elena Resko; and book cover pictures via Amazon.