The biotech ecosystem in Portugal is rapidly growing. Ricardo Perdigao, Investment Manager at Portugal Ventures, discusses the country's potential in this field.
Portugal has seen the number of life sciences startups triple between 2008 to 2015. A study by Portugal Ventures links this growth to a better funding environment and to researchers being more aware that they can start a successful business from scientific breakthroughs. In addition to Portugal Ventures, the largest life sciences investor in the country, several other VC investors including Caixa Capital, Hovione Capital and Pathena have been providing seed capital to bring promising projects from universities to the market.
Portugal's life sciences ecosystem is also garnering attention from international investors such as Vesalius Biocapital, which recently established a joint venture with the Portuguese National Promotional Bank.
Several promising companies have been rapidly advancing towards the market. In the diagnostics field, Biosurfit has developed a point-of-care diagnostics platform can make blood count, measure C-reactive protein to assess risk for heart disease and stroke, and quantify the diabetes marker HbA1c. Biosurfit is already selling across Europe and the Middle East while building a broader diagnostic capacity.
In the therapeutics field, Immunethep just completed pre-clinical studies on a broad-range anti-infective immunotherapy, while Lymphact has developed a leading allogeneic gamma-delta T-cell therapy for solid and liquid tumors. Last year, Luzitin claimed a phase I/IIa success with a new photodynamic therapy for cancer that has been granted orphan-drug status by the FDA and EMA.
Other companies are still at the preclinical phase but are rapidly progressing towards the clinic. BSIM2 is developing a new molecule for the treatment of neurodegenerative amyloid diseases. Stemmatters has been developing a new hydrogel for cartilage repair. And TREAT U has shown great promise in treating triple-negative breast cancer and mesothelioma by targeting a clinically unexplored tumor marker, with orphan-drug status by the EMA.
In the digital health space, there are several exciting Portuguese companies with products in the market: Coimbra Genomics with a clinical decision support system based on a patient's genome sequence, Perceive3D using computer vision to assist the surgeon during minimally invasive procedures, Peek Health  for 3D orthopedic surgical planning tools and Tonic App with a mobile app to securely connect and inform medical doctors.
Most life sciences startups in Portugal arise from disruptive technologies developed at local universities. And Portugal Ventures' study shows that biomedical research is growing at Portuguese Universities, where more than 400 principal investigators are leading biomedical research teams. Altogether, they have published over 19,000 peer-reviewed articles in the last 20 years, with the most active biomedical research areas being neuroscience, oncology and bioengineering.
Additionally, Portugal has been creating a highly-specialized life sciences workforce, trained at leading national and international universities. This training has been largely supported by the Portuguese National Science Foundation (FCT), which between 1994 and 2014 granted 6,000+ PhD fellowships to students in the natural and health sciences.
The life sciences sector in Portugal has grown spectacularly in the past few years and is beginning to draw the attention of foreign investors. Strengthening the Portuguese life sciences ecosystem will require hard work and dedication from everyone within, including startups, incubators, accelerators, universities, the government, and investors. There is still room for improvement to create significant economic value in Portugal and beyond. Startups in this field have a promising future ahead as part of Portugal's blooming economy.
Watch the video interview here!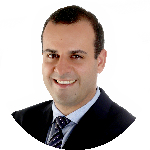 ---
Ricardo Perdigão Henriques is the Investment Manager at the Life Sciences Team of Portugal Ventures. After studying in Harvard and MIT, he went back to his homeland to help boost the life sciences ecosystem. 
---