A whole new therapeutic area is taking medical research by storm. In Cambridge, UK, the company Storm Therapeutics is leading the development of the first treatments to target a new layer of genetic information encoded in the RNA.
The term 'epitranscriptomics' did not exist a decade ago. It was coined in 2012, when scientists started to figure out that chemical modifications in the RNA play an essential role in gene expression.

There was already a whole research field built around chemical modifications of the DNA, or 'epigenetics.' Epigenetic drugs have already made it to the market, so could these parallel modifications in the RNA also be used to treat disease?
"There are many, many more types of modifications and there are many, many more species of RNA in the cell, so there are a lot more intervention points with RNA modifications than there are with DNA," Keith Blundy, CEO of Storm Therapeutics, told me. "The difference is we didn't know these RNA modifications were there until very recently." 
According to Blundy, the vast numbers of possible RNA modifications indicate that these are "very specific, fine-tuning control mechanisms. Therefore, if you can find a link between a modification and a disease, you should be able to have an effect on the disease by modulating the enzyme that makes the RNA modification." 
The company's scientific founders, Tony Kouzarides and Eric Miska, both of them professors at the University of Cambridge, realized early on the vast possibilities this discovery opened for health applications.
"Storm Therapeutics was the first company created in the space, and we believe it is the most advanced company in the epitranscriptomics space," Hakan Goker, Partner at the venture capital firm M Ventures, told me.
M Ventures helped set up Storm Therapeutics in 2015 with a seed investment. "When we came across the papers from Tony's lab in epitranscriptomics, we went into the field in more depth. It was quite obvious after looking into the space for a while that this kind of technology could open up a large basket of novel targets that one could aim at in disease." 
Since then, Storm has attracted plenty of attention. Earlier this year, the company closed a €34M Series A round — an impressive number for a company that is still in the preclinical stage.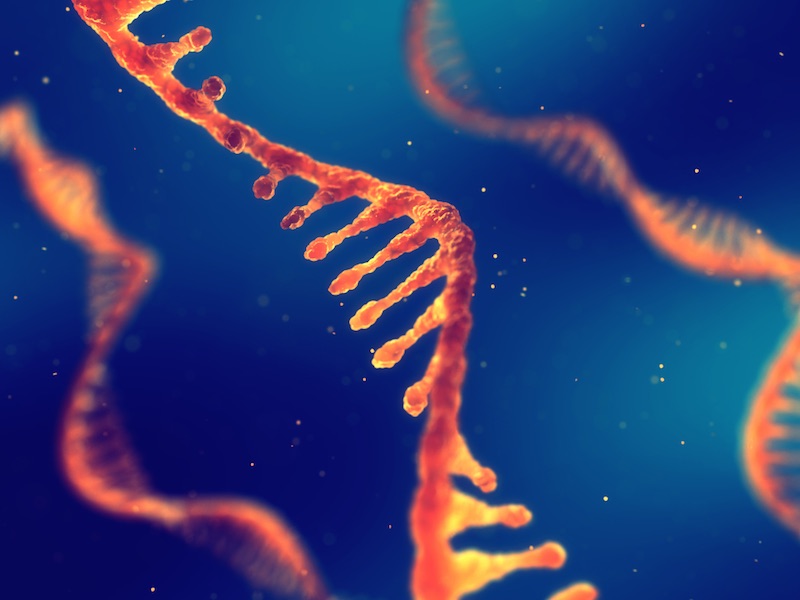 The field has also grown along with the company. "A year or two after setting up Storm, we saw similar companies coming up in the US with similar technologies, following different paths to the same problem," said Goker.  
Today, there are just five companies that have publicly announced they are working in the field of epitranscriptomics. Three of them are in the US — Accent Therapeutics, Gotham Therapeutics and Twentyeight-Seven Therapeutics — and two in Europe — Storm in the UK and Epics Therapeutics in Belgium.
These companies are attracting a lot of funding despite the fact that there is yet no data proving the epitranscriptomics approach works in humans. "The biology is very new. A lot of what we're doing here is still to be proven," explained Blundy. "We're going to have to decide which are the important modifications, which are the enzymes that make the modification, and then make drugs against them."
Storm Therapeutics has an ambitious plan to start two clinical trials in humans in 2021. That's only five years since the company was officially started in 2016. "We started everything from scratch. Yes, we have academic founders who bring biological understanding of targets, but in terms of any drug discovery activity or any of the tools, we had to do everything from scratch. To actually get to where we've got to in two and a half years is pretty good," Blundy said.
Everyone in the field seems to be quite secretive. "No one is really being very public about this or what stage they're at," Blundy explained. Still, he believes Storm is uniquely positioned to lead in this brand new field. First because of the close collaborations with the labs of its scientific founders. Second, because of the company's ability to measure RNA modifications.  
"Traditionally, people use things like antibodies or chemical sequencing techniques, but if you've got over 100 different modifications that you might want to look at, no one's got those tools," said Blundy. Being able to measure these modifications will prove essential to prove that epitranscriptomic drugs work.
"If I am going to give you an inhibitor which stops modification on a particular RNA molecule, I've got to be able to show what's happening. That's why you need a way to measure that all the way through your drug discovery program."
Over the last couple of years, Storm has invested in developing a technique based on mass spectrometry, which allows researchers to know where each RNA molecule is modified and how much of a modification there is in a sample. "No one else in the world can do that to the level we can," he emphasized.
Like all its peers, Storm will be focusing first on cancer. "The associations in oncology are stronger," explained Blundy. The expertise of the scientific founders is oncology, and in the short term cancer indications might be the fastest way for Storm to prove that its approach does work. "In oncology, one could get to clinical trials a little quicker than with other indications," corroborated Goker. 
In the long term, however, the possibilities extend to virtually any disease area. "There are absolutely going to be instances where these enzymes are modulating other diseases, like central nervous system diseases and immune diseases. There are already papers showing that," said Blundy. "We're just at the tip of the iceberg."