Riccardo Palmisano is CEO of MolMed, the most important Italian biotech, which focuses on gene and cell therapies. We chatted about the company, which hopes to give the cancer therapies field a boost.
You may have come across MolMed before, possibly in our recent piece on the top biotechs in Milan. The company was founded in 1996 to provide cell and gene therapy services to the San Raffaele Hospital in Milan. After five years, the company moved into cancer, with the goal of developing new anticancer therapies and it now has three flagship products.
Its lead candidate, Zalmoxis uses donor-derived T cells to support patients who have undergone haploidentical hematopoietic stem cell transplantation (haplo-HSCT). In August 2016, it received Conditional Marketing Authorization from the European Commission as an adjunctive treatment to haplo-HSCT for the treatment of severe hematological malignancies. MolMed is also working on a cancer immuno-gene therapy, CAR-CD44v6, and a fusion protein, NGR-hTNF, that targets the blood vessels feeding solid tumors.
Palmisano is clearly excited by the company's technology and is confident that Zalmoxis can make a big impact: "Bone marrow transplantation is the only available solution for a number of patients affected by severe hematological malignancy," he told me. The treatment should help patients to fight the cancer, rapidly restore their immune system and control Graft versus Host Disease (GvHD), resolving some of the main concerns associated with the procedure.
I had the pleasure of speaking with Palmisano who told me more about his company's exciting technology, and how he found himself at the helm of one of Italy's leading biotechs.
---
Zalmoxis, an ex vivo cell therapy that improves the safety of partially compatible bone marrow transplants, which account for between 1,200-1,500 procedures each year in Europe. Zalmoxis, MolMed's first patient-specific cell therapy, aims to overcome delayed immune-reconstitution and GvHD, which significantly affect the success of the procedure.
Palmisano explained that Zalmoxis does not change the current haplo-HSCT procedure: "The T cells of the donor are collected and sent to our facility, where we engineer the cells, including an inducible suicide gene. These cells are reinfused and provide patients with rapid immune reconstitution, anti-leukaemia effects and control of GvHD, overcoming some of the major problems affecting patients who cannot find a matching donor."
Crucially, the suicide gene, HSV-TK Mut2, acts as a backup that can be activated if a patient experiences an adverse reaction to the transplant – typically acute graft-versus-host disease. The antiviral drugs, ganciclovir or valganciclovir, activate the suicide gene to kill misbehaving cells, while leaving T cells fighting infections and leukaemia unaffected. As a result, Palmisano explained that the technology helps to avoid "severe side effects and the very high related costs," while significantly increasing overall survival and reducing non-relapse mortality.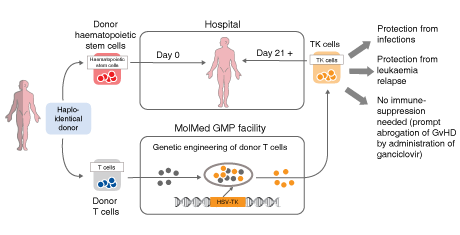 But MolMed's work does not end there, with the company working on two more candidates. "We are a company focused on cell and gene therapy," Palmisano told me, which brought us to CAR-CD44v6, an immuno-gene therapy that gives the company a way into the exciting field of CAR-T therapies.
The candidate targets CD44v6, a cell surface molecule that is implicated in some cancers and Palmisano believes that it could be a game changer for a variety of cancers: "We have started to work on both liquid tumors and solid tumors models… at present CD44v6 project is in late preclinical development, the first in man trial is expected to start in 2018."
Next, MolMed will settle concerns over CAR-CD44v6's safety, which erupted following patient deaths during CAR-T trials carried out by Juno Therapeutics and Cellectis. "We already performed very encouraging toxicology studies… We are very confident that we can prove it is not only effective but safe too," Palmisano told me. MolMed will continue investing in preclinical research and development, also investigating the candidate's efficacy against solid tumors and the possibility of including a suicide gene.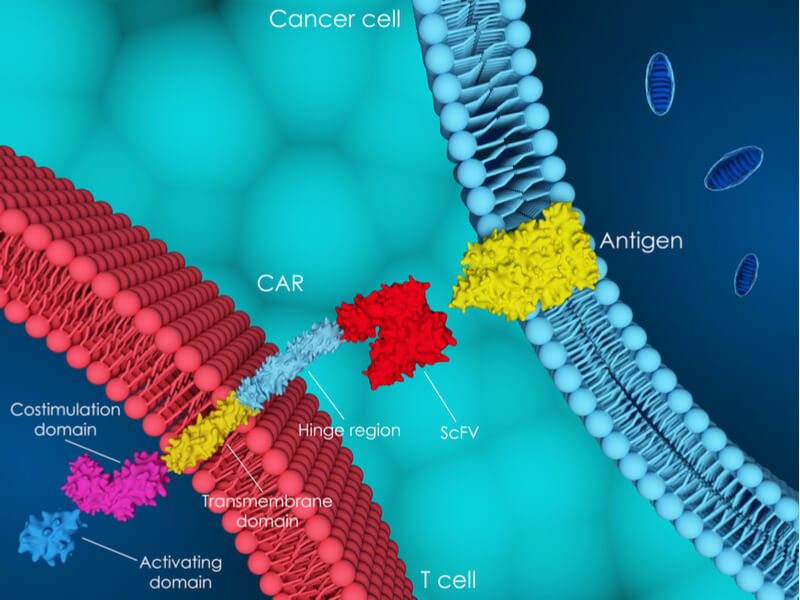 Finally, NGR-hTNF targets the blood vessels that feed tumors. It is a genetically engineered protein, built by fusing an NGR peptide to the human inflammatory cytokine, tumor necrosis factor-α (TNFα), which exerts significant anti-tumor and anti-vascular effects. The candidate is targeted at solid tumors, including ovarian cancer and small cell lung cancer, and has been tested in over 1,000 patients in Phase II and III clinical studies.
During the first Phase III trial, NGR-hTNF was tested as a second-line combination therapy in mesothelioma patients but over 200 patients did not reach the primary endpoint, although it did "significantly improve survival in 198 patients," Palmisano told me.
Many companies would have been crippled by this, but MolMed survived the setback thanks to its stable financial position and its other candidates progressing nicely. MolMed still believes in the candidate's untapped potential though: "We still believe that NGR-hTNF is a valuable anti-cancer therapy, and we remain committed to looking for a potential partner to support both clinical and industrial development of the product," Palmisano explained.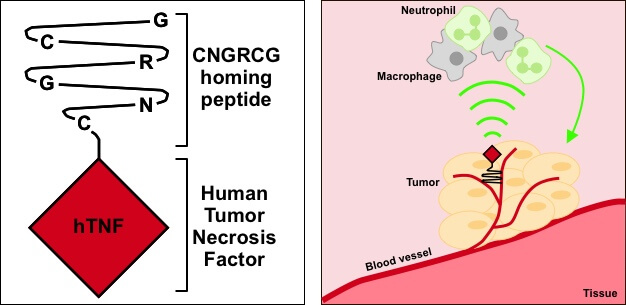 Looking across the cell and gene therapy field, universities and spin-outs have now demonstrated the efficacy of these therapeutic approaches and developed solid manufacturing processes. In addition, with the approval of the first two CAR-T therapies by the FDA and Gilead's acquisition of Kyte, big pharma will begin to invest more in the field, no doubt enticing more companies to fight for a place.
Cancer, a market that could be worth $161B (€140B) by 2021, initially attracted MolMed, but Palmisano wanted to make it clear that the company's technology is not limited to cell and gene therapies. "Oncology is a really promising field, but we can work on genetic diseases too. We have been partnering with Telethon and GSK to develop their pipeline for ultra-orphan pathologies… Also, we signed a GMP manufacturing agreement with Rocket Pharma, a New York-based startup this year, which targets rare genetic diseases."
Palmisano is also the President of Assobiotec, Italy's National Association for Biotechnology Development. He confirmed that the Italian biotech market is developing but that "the real stock market for biotech companies is still the US," which could explain his company looking across the Atlantic for support. But MolMed is not the only Italian biotech doing this, with Genenta partnering up with Amgen last year.
Missing out on becoming the new home of the EMA was disappointing, but Palmisano agrees that Milan could be the next biotech hub in Europe – replicating the likes of Barcelona, Berlin, and London. Progress is being made in Italy, including government investment in the Human Technopole project, new fiscal rules, and new initiatives like the Biovelocità accelerator program and ITAtech's seed fund.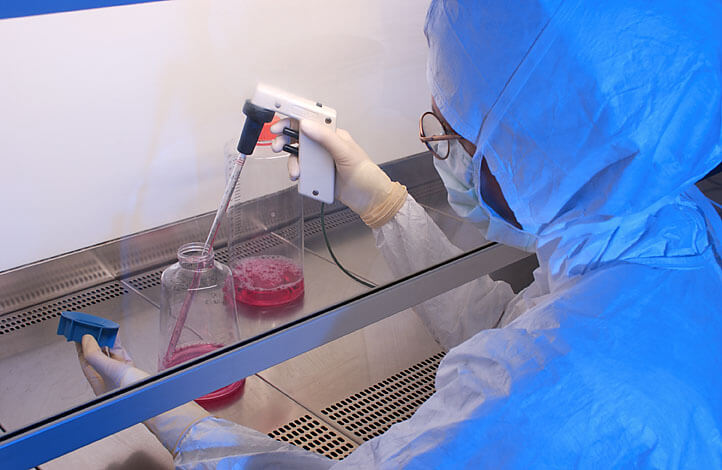 To finish up, I wanted to find out what it was like for Palmisano to swap big pharma for the smaller biotech scene. What struck me was how amazed Palmisano is by the passion of his team at MolMed. "You wouldn't believe the incredible sense of ownership, proudness, and passion that each member of our team feels. In a different environment, it is not easy to create this culture."
This appears to have helped the company to build just the right atmosphere to succeed. "The team spirit that we have is driven by wanting to help patients and develop really personalized therapies… That way, when we produce a treatment, we know it's been made to save lives," Palmisano explained.
Although we only spoke for a short amount of time, I get the impression that Palmisano will only help this sort of environment for his team to grow. I found him fun and easy to speak with, and I wouldn't be surprised if he guides MolMed and Italian biotech to new heights.
---
Images – MolMed; Meletios Verras / shutterstock.com; Image by Author; MolMed