After 25 years, MorphoSys finally got over the line in 2017 with the FDA approval of its first antibody. CEO Simon Moroney tells us how the company hopes to build on its recent success.
It may have started out as a tech provider, but MorphoSys now stands as one of the leading German biotechs, specializing in the development of monoclonal antibodies using its platforms. More than 100 antibodies have been generated using its platforms, with 27 undergoing testing in the clinic and its first finally getting FDA approved last September. However, it hasn't all been plain sailing, with plenty of ups and downs along the way. 
The company was founded in 1992 – making it a 'dinosaur' of the European biotech scene – and it has grown to boast over 300 employees and a market cap of €2.2B, making it the largest public biotech in Germany. Its 25th birthday culminated in the FDA approval of Tremfya, which was developed with J&J subsidiary Janssen for the treatment of psoriasis.
The company is now rethinking its strategy and moving towards a fully integrated in-house approach by looking to bring its compounds to market without the support of big pharma. Ideally, the biotech hopes to have another one of its own antibodies on the market as early as 2020.
Co-founder and CEO Simon Moroney has managed all of this while maintaining a well-renowned company culture. Employees are instructed to only use the informal German "du" and he is rumored to have canceled a meeting in order to greet new recruits when the company was first starting. "I'm a strong believer in culture because I think it helps with productivity. If you have a great environment where people want to come and work, then the company will be successful," he told us. 
So what else has been key to MorphoSys' success? I followed up Philip's previous interviews with Moroney and MorphoSys' first approval last fall and found out what we can look forward to seeing from MorphoSys in the coming years.
---
There was really only one place to start: Tremfya. The company's monoclonal antibody targets IL-23, a pro-inflammatory cytokine that has been observed at high levels in the skin of psoriasis patients. Moroney previously described it as "an amazing compound" at our Munich meetup in April, citing "[the] complete clearance of skin based on a single injection every 2 to 3 months."
The antibody comes from a partnership with Janssen that was signed in early 2000 to focus on multiple targets. One of the drug's big advantages over current treatments like corticosteroids creams is that it only needs to be delivered once every two or three months via a single subcutaneous injection.
The FDA's approval of the antibody has quickly been followed by more good news: "So we just received approval in the US last year, and now also from Canada and the EU," Moroney told us. This validates the company's original business plan, which looked to partner exciting drugs with pharma companies to see them over the line.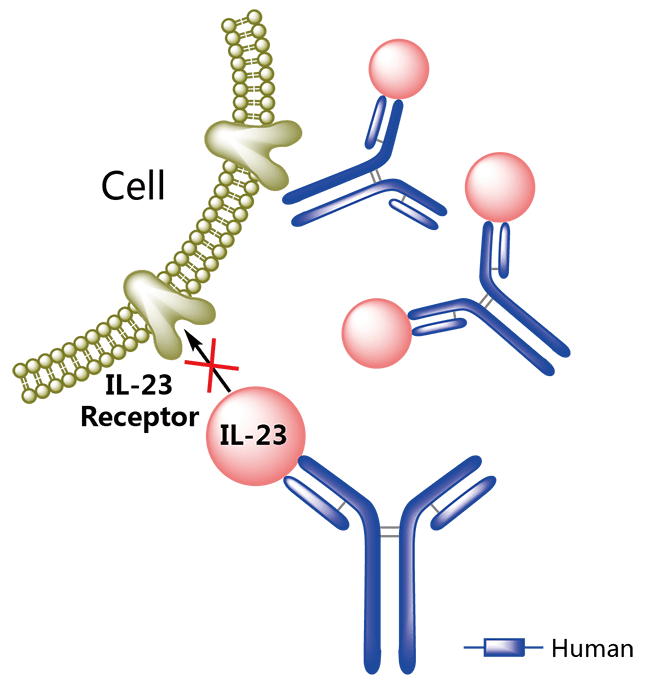 MorphoSys will hope that this serves as a good omen for the biotech's new strategy. "Hopefully, that's just the tip of the iceberg and the foundation of our proprietary portfolio, for which we'll be heavily involved in commercialization and transition to a fully integrated company," he commented.
The decision to move away from partnerships was something the company had been pondering for a while. "A few years ago, we wanted to start pursuing our own program… picking our own targets and taking them to the clinic. Of the 30 compounds we have in clinical trials, 27 are based on this proprietary platform, which really makes it fantastically productive; I can't think of a single platform that has produced so many candidates."
Although MorphoSys' secured partnerships with the likes of Novartis and Bayer, these have not yet proved as successful as the Janssen deal. One dip in the company's fortunes was the Phase III failure of bimagrumab. However, Moroney told Philip at our Munich Meetup that this was an opportunity to learn an important lesson: "Just because a lead indication fails, it doesn't mean that the program is dead… you have to be persistent in this business." The drug is now being tested in three new indications.
The switch from a platform company to all-in-one drug developer does not serve to undermine the importance of its origins. Moroney explained: "In the early 90s, there wasn't a lot of faith in drug development, particularly for antibodies. The mode of development at the time was very much to develop a platform and then partner it. We were part of that generation and went for it with antibodies."
"It is a logical transition… we started out as a technology provider, we added development, the next step is to commercialize those compounds," he continued. MorphoSys' first attempt at taking its own antibody to market will be with its blood cancer candidate, MOR208, a monoclonal antibody that targets CD19, which is often expressed on the surface non-Hodgkin's lymphomas like diffuse large B cell lymphoma (DLBCL).
MOR208 has been combined with lenalidomide – a first-line drug for lymphoma. Moroney feels that "antibodies and combinations have a great future." Looking at the oncology field, he continued: "it's almost impossible to find a treatment that's a single agent: it's typically an antibody and a small molecule." Promising results in preclinical and early clinical studies and Breakthrough Therapy Designation support this and could see it reach the market as soon as 2020.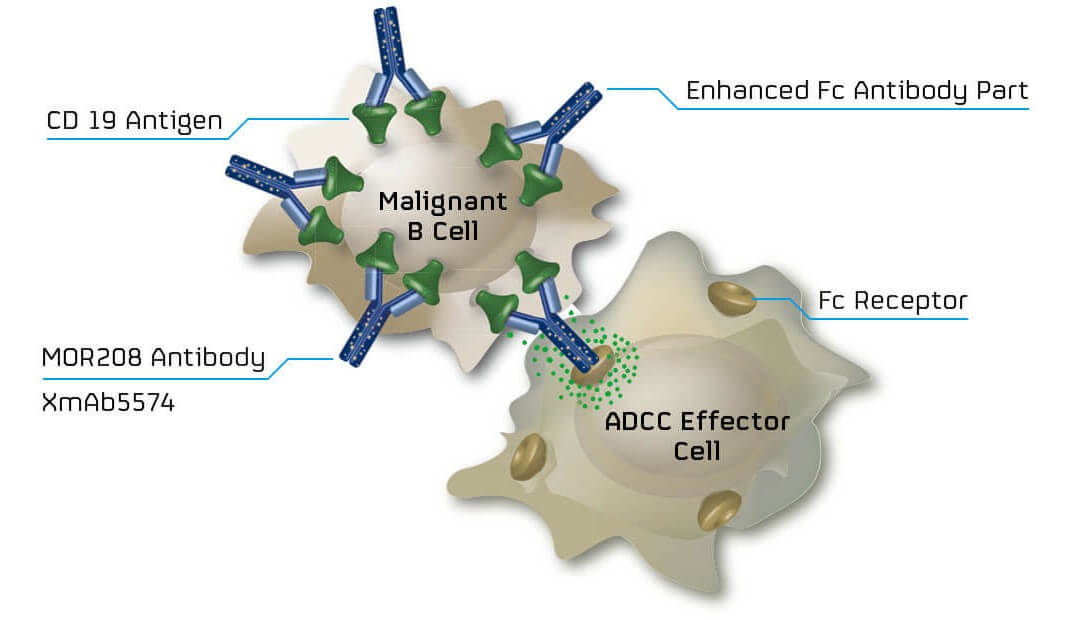 MorphoSys' model, which involved developing a platform then generating compounds was highly successful for them but Moroney would not necessarily recommend it to prospective biotechs. His advice was "don't rely on a platform model… very few can actually be the successful basis for a company, since very few work." Adding to that in our most recent chat, he highlighted that "the main driver of acquisitions is a single product, you have to make sure your platform works such that it will be the source of multiple products."
When quizzed on the immune-oncology field by Philip back in 2015, Moroney underlined the importance of immune checkpoint inhibitors on improving our understanding of how the immune system's capacity to fight cancer can be improved. "If you can tweak the immune system in the right way, you can use it to the benefit of patients… Because it's an obvious place to use therapeutic antibodies, it's an obvious area for us to be involved," he explained.
The challenge for the company will be to improve on current checkpoint inhibitors or discover new combinations with small molecules that improve patient outcomes. At our Munich Meetup, he said: "There's a huge amount of work – hundreds and hundreds of clinical trials… I think there will be a bonanza for a long time, certainly the next ten years."
But could combining a new drug with one that is already on the market complicate the commercialization process, for example, in terms of pricing. Moroney doesn't believe so: "If one part of the combination is already marketed, it comes with its own price tag… Regulatory bodies are interested in efficacy and safety. There's a different question of what should society be paying for? I would say that depends on how significant the difference is from what exists on the market already." 
MorphoSys IPO'ed back in 1999 and had to stay strong when the Neuer Markt collapsed in 2002. Speaking to us in Munich, he explained that the company has benefited from "deep-pocketed, supportive American investors,"  as well as a number of their European counterparts.
He also set out the benefits going public: "Our stock market listing doesn't make a huge difference for us at this point – that is if we're listed on Nasdaq or Frankfurt… It is important that we're public: The bigger you are, the more liquid your stock is, so the easier it is for investors to get in and out." In addition, a public company has the relative freedom to launch fundraising, as MorphoSys did following the result of the US election, which saw it raise €115M in a private placement within 3 or 4 hours.
One thing that MorphoSys is particularly focused on is getting its business model right. It has taken inspiration from companies like Medivation and Seattle Genetics in the US, which aim to develop their technology, build a strong pipeline, and take their own drugs to market rather than "setting goals in terms of market cap." What surprises Moroney is that "very few companies in Europe have followed this path." 
---
Images – Pharmacodia; MorphoSys