An industry-academia collaboration in Spain has developed drinking straws based on a bioplastic produced by bacteria that are expected to enter the market in the next few months.
The collaboration includes the company Ocenic Resins and the academic institutions Jaume I University and the Institute of Agrochemistry and Food Technology, all based in Spain. The straws are made from a plastic called polyhydroxyalkanoate (PHA), which is produced by bacteria such as Bacillus megaterium when they are stressed. 
Bioplastics based on PHA are more sustainable alternatives to conventional plastics for making single-use food packaging because PHA can be fermented from microorganisms without using petrochemicals. In addition, PHA is biodegradable, and waste PHA can be fed back to the bacteria to recycle it. This could provide a way to reduce plastic pollution of marine ecosystems. 
"As a reference, our straws complete their biodegradation in less than three months under controlled composting conditions," Luis Cabedo Mas, the leading researcher in the project based at Jaume I University, told me.
Ocenic Resins is now manufacturing the drinking straws, with the aim of commercializing them. "There are several supermarkets interested," a representative from Ocenic Resins told me. "We calculate that the straws will be commercially available in approximately two months."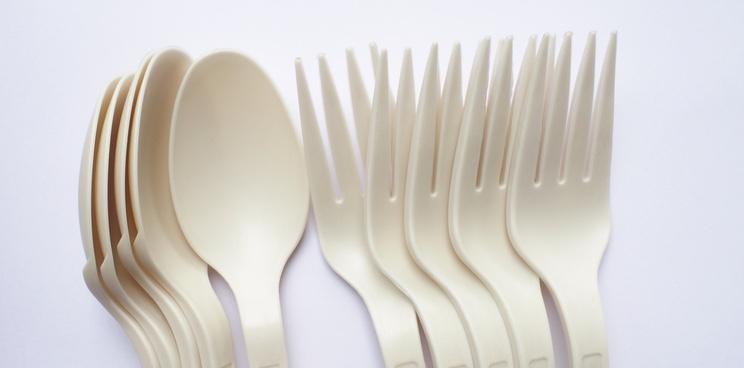 PHA polymers on their own generally have poor thermal stability and need additives such as starch to make them usable. To overcome this challenge, the partners take PHA from external suppliers and mix it with undisclosed additives that mean the drinking straws can resist hot liquids better than paper straws can. 
This latest collaboration is part of a thriving movement of companies developing bioplastic products. For example, the Dutch company Avantium recently opened a demonstration plant to produce bioplastics for use in drinks bottles and textiles. The French biotech Carbios recently raised money to open its own demonstration plant producing 100% recyclable plastic bottles. In addition, the Scottish company CuanTec is developing a fermentation method for producing bioplastics from the discarded shells of seafood.
Although bioplastics such as PHA are more expensive than conventional plastics, European markets such as the food packaging and hygiene product sectors might increasingly welcome them. This is because the EU recently took steps to ban the use of certain single-use plastics completely by 2021. However, some caution that the definition of single-use plastics in the legislation is ambiguous, which could leave many wary of adopting items made from PHA plastics.
---
Image from Shutterstock