SkinBioTherapeutics has raised £4,5M in its IPO on the London Stock Exchange to advance its probiotic technology for skin health applications.
SkinBioTherapeutics, a spin-out from the University of Manchester, made its debut this week in AIM, the London Stock Exchange's market for smaller growing companies. The £4,5M (€5.25M) raised will be used to continue the development and accelerate clinical development of the company's SkinBiotix technology.
"SkinBiotix is based on extracts of probiotic organisms. There are no live organisms in our technology," explains Catherine O'Neill, CEO of SkinBioTherapeutics. She developed the technology at the University of Manchester in collaboration with Andrew McBain. Together, they "screened for probiotics that would have a therapeutic action on the skin."
The company has already demonstrated in preclinical models that these probiotic extracts can enhance the skin's ability to act as a barrier against harmful agents and improve the healing process. The applications are many, but SkinBioTherapeutics focuses on three main target markets: cosmetics, prevention of infections and eczema.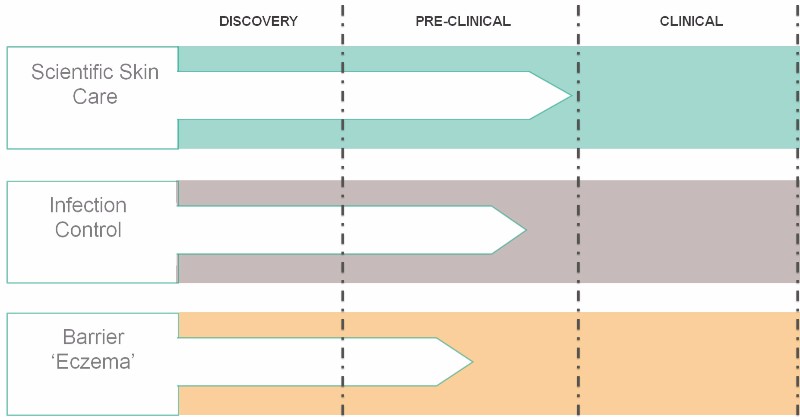 The skin care market alone is expected to be worth a gigantic €168Bn sum by 2022, and the company's technology is exceptionally positioned to provide unprecedented treatments. "We're looking at the sensitive skin market; 45% of people in the UK will report that they have sensitive skin. If we build a better barrier, the skin will trap more water, better hydrate, and better moisturize to help reduce the sensitivity."
In the realm of infection, SkinBioTherapeutics is focusing on preventing healthcare-acquired infections, which spread through skin-to-skin contact and are estimated to cause 99,000 deaths each year. And with the new cash injection, the company is now on track to bring solutions for these indications to the market.
"The funds will take us to the end of 2018," says O'Neill. But in addition to the always welcome cash, the IPO will be essential for the business model of the company. "We're looking to partner with larger industrial partners who can actually take our products and commercialize them, and doing an IPO now raises our profile."
---
Images from angellodeco /Shutterstock; SkinBioTherapeutics