An inhaled drug from British company Verona Pharma has failed to significantly improve lung function in patients with the lung disease chronic obstructive pulmonary disease, though it did produce some benefits.  
The 79 patients in the phase II trial suffered from chronic obstructive pulmonary disease, a condition where inflammation in the lungs restricts the airways and makes it hard to breathe.
Two doses of Verona's first-in-class, inhaled small molecule drug were given to the patients twice daily for three days. The candidate drug was combined with two approved, long-acting drugs for the disease, tiotropium and olodaterol, and compared with a placebo plus the two drugs. 
While the lowest dose of Verona's candidate drug improved lung function over placebo by the morning of the third day, this improvement wasn't statistically significant. The drug, therefore, failed to meet the primary endpoint of the phase II trial.
In contrast to this failure at the morning time point, both doses of the treatment significantly increased lung function by the evening of the third day. For this reason, the company is still planning to carry out longer-term studies. This mix of outcomes also indicates how difficult it can be to design clinical trials optimally from the outset.
"While we are disappointed that this exploratory phase II study did not achieve statistical significance for its primary endpoint, these data give us clarity on the design, including dose and background therapy, for future long-term studies," stated Jan-Anders Karlsson, Verona's CEO.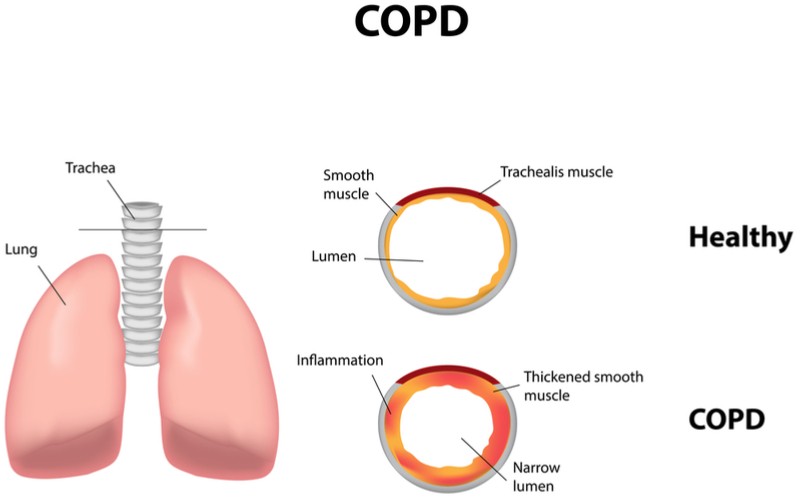 In reaction to the news, Verona's stock price on the London Stock Exchange dropped by over 30% within six hours after opening.
Verona's first-in-class drug inhibits two proteins called phosphodiesterase 3 and 4, which have a wide variety of roles around the body including in the heart and lungs. By targeting the two proteins at once, Verona aimed to reduce lung obstruction by both widening the airways and reducing inflammation in the lungs. Furthermore, being inhalable keeps the drug in the lungs, reducing the side effects often seen with other drugs inhibiting these proteins.
The company is also interested in another feature of its drug, its ability to activate an ion channel protein that is mutated in the genetic condition cystic fibrosis. As a result, the drug is in clinical development for patients with cystic fibrosis, and had positive results in a phase IIa trial last year.
Other companies are working to tackle chronic obstructive pulmonary disease. An oral drug from another UK company, Mereo Biopharma, is designed to reduce acute inflammation in the lungs, reducing the amount of time that patients spend in hospital in a phase II trial in 2017.
The German company Ethris has a different approach to chronic obstructive pulmonary disease, working with AstraZeneca to develop an mRNA-based treatment that could reduce the expression of proteins that contribute to the lung disease. 
---
Images from Shutterstock