Finding suitable laboratory and production spaces has become a laborious task for deep tech companies in the biotech and pharma industry. Here, we look into what factors need to be taken into consideration when searching for a new lab and how to find the most ideal location.
As organizations reach a breaking point within their existing infrastructure, whether due to scaling up their R&D and production facilities or simply outgrowing their current space, the need for larger and more advanced laboratory spaces becomes a pressing issue and a blocker to sustained growth.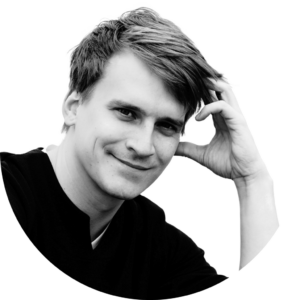 "Finding available lab spaces is particularly challenging to startups and SMEs, who often lack the financial resources and time to construct their own laboratory buildings. We regularly see great ambitious teams and their ideas restrained by not finding access to the lab infrastructure they need immediately," highlights Jérôme Lutz, founder and CEO of Smart Lab Architects (SLA), a lab planning consultancy specialized in supporting high-tech startups across Germany and the EU. "Be it small founder teams, startups or established companies – when it comes to finding new laboratory space, most face the same challenge. Our core work is to plan, build and equip laboratories, but more often than not, we support our clients in finding a lab space first.
Market situation
As more and more companies work on creating a better future through (bio-)technology, they compete for relatively few lab spaces. The market supply of such real estate, although now in the process of catching up, has just not been able to grow at the same rate in recent years, driving up rents and values. Especially in attractive locations, where talent, funding and network concentrate, studies find a considerable supply and demand imbalance.
With only few sources of lab location listings available (read more about SLA's Lab Location Database that tackles this information gap at the end of this article), even the search process may take six months or more, creating further pressure on companies with ambitious roadmaps.
Upgrading existing commercial buildings to lab spaces
With the lack of readily available lab locations, many companies turn to upgrading other commercial spaces into laboratories as a viable short-term solution. Although the Smart Lab Architects have supported many companies in taking this approach, Jérôme Lutz cautions: "Yes, we can upgrade many commercial spaces to host laboratories, however, not every building is suitable and there are a lot of details to take care of. The complexity should not be underestimated. We often see teams set out to "DIY" a lab, just to be surprised by the complexity and costs of such a project. This is why you would always want a lab planner in your team who knows what to look out for."
The below chart from SLA's "discovery workshop" held with new clients lays out the different routes that can be taken when searching for a location to build a lab and some of their implications. The complexity and challenges vary in each scenario and available properties have to be evaluated accordingly.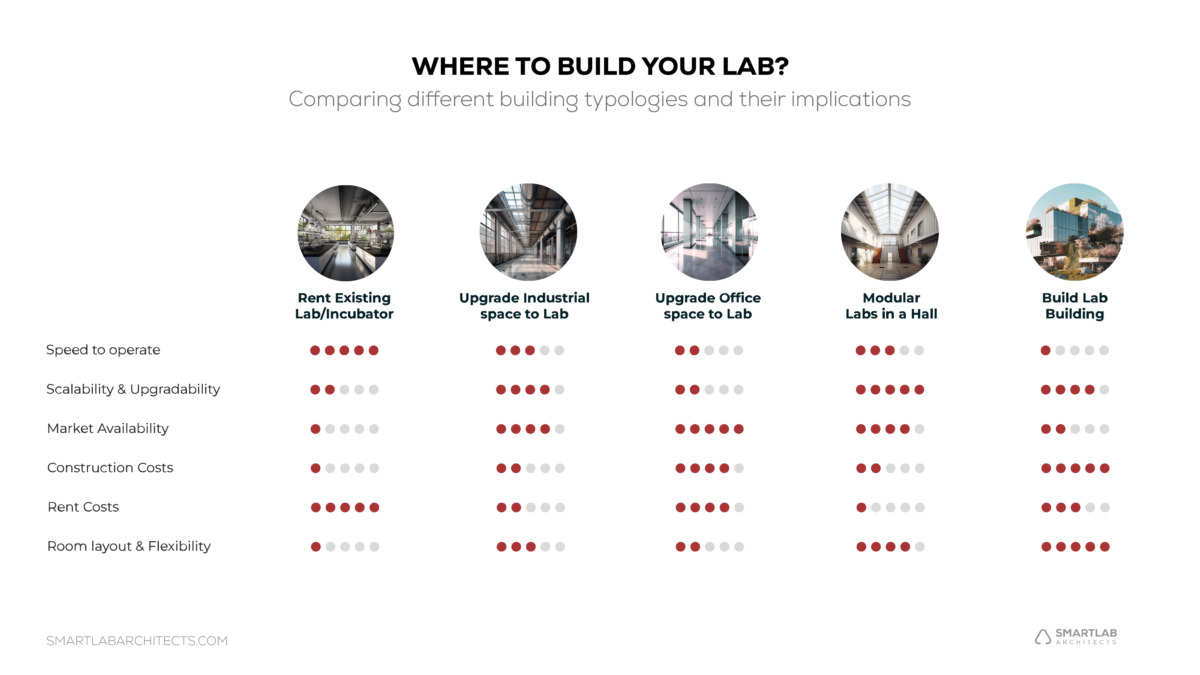 What makes a good lab location?
At its core, a "good" lab building has to support the research processes growth goals of its tenants, thus finding a lab involves assessing prospective sites for very technical parameters.
For example, sufficient ceiling height is necessary to accommodate proper ventilation, power distribution, and media management; where heavy equipment is being deployed, adequate floor weight capacity, spacious entryways and freight elevators become key factors. Then, technical building services need to be taken into consideration: Sufficient power supply for various "always-on" machines and IT infrastructure is just as essential as appropriate ventilation, plumbing, gas-supply and fire-protection systems. After all, a lab must be able to meet regulatory compliance guidelines to operate.
Beyond the laboratory spaces, a good lab location would also provide rooms for offices as well as access to storage, logistics and production areas, if such are needed on site. Especially in the growing alternative protein market, bioprocessing capacity needs to be available at scale, which, even if outsourced to a different location, becomes a challenge analogous to finding lab space.
Finally, it's important to remember that finding a new lab is always just one part of a larger growth strategy, which can not be neglected in assessing location fit.
"Whenever we support a client in finding a new lab, the first thing we want to do is nail down the vision for the next steps of their journey. This helps to identify long-term technical and process requirements, so that we can consider these in the location search and later in our planning process," Lutz elaborates, also hinting at the planning, construction and setup work that comes after finding and leasing a lab space.
Finding a lab is just one step in the journey
Once a suitable laboratory space has been found, every team needs to plan and equip their laboratory to their needs, which usually means an entire project in itself. Between renting a lab and taking up operations lies a lot of work. From deriving a process-optimized lab layout to planning and coordinating construction works, addressing project financing considerations, furnishing, procuring equipment and finally moving existing lab infrastructure into the new location, many complex tasks are to be solved. A journey that Smart Lab Architects, framing themselves as "full-stack" lab planners, takes on with their clients in close partnership.
Lutz highlights that he believes one reason why his company manages to guide many clients into operational labs within only 6-9 months, despite having to navigate all these milestones, lies in beginning partnerships so early on in the process of finding labs: "Being part of the lab location search, we often have a first draft of the floor plans done in the week our clients first visit a lab and we can begin with detailed planning as soon as our clients have decided on a location."
When and where to start
In conclusion, given the current market situation, in which good laboratory spaces for rent are scarce, the best time to start searching for new lab spaces is as soon as the need to outgrow existing infrastructure becomes apparent. Teams planning to grow should be clear about their own requirements, the technical parameters they need to look for in real estate and what it entails to make any lab property they move into operational.
Involving a lab planner early on in this process will not only help to ask the right questions and develop a vision for this new chapter: As experts in the field, Smart Lab Architects have established an extensive and deep contact network with real estate developers, brokers, incubators and innovation hubs.
Smart Lab Architects' "Lab Location Database" can be a great resource to find available lab spaces
Having gone through the lab search process many times, SLA has compiled a database of hundreds of available laboratory buildings and incubators across Germany and the rest of the EU, including technical building details, thereby being able to give their clients a massive head start in their hunt and significantly streamline the search for a new laboratory.
If you are planning to scale, you can reach out to Smart Lab Architects to find a lab space by filling a simple form here and request an extract of their curated lab database, tailored and evaluated to your specific needs.
Jérôme Lutz adds, "We are always happy to help great teams that we want to see succeed – that doesn't necessarily mean starting a big project, it can be sharing data or a simple introduction. But we need to know you exist to be able to help, so don't hesitate to reach out!"
Images courtesy: Smart Lab Architects