Today, we're taking a look at Anima Biotech, an Israeli company that is developing a new class of drugs that target protein translation to combat a range of diseases, including lung fibrosis, cancer, and Huntington's disease.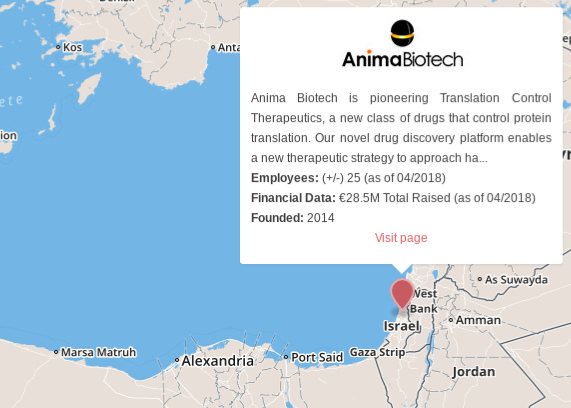 Mission: Since 2010, Anima Biotech has been targeting disease-causing proteins with a new class of drugs that control protein translation. Its Protein Synthesis Monitoring Technology can track the location and rate of protein synthesis in real time using a novel, patented technology platform. Anima can then test molecules to see if they accelerate or inhibit the synthesis of proteins involved in diseases.
After screening the molecules, the company then uses an interdisciplinary approach combining biology, chemistry, and bioinformatics with machine learning analysis to generate around 20 million images that show the exact timing, location, and quantity of protein synthesis that occurs in response to the tested molecules. Anima is using its technology to identify molecules that could treat fibrosis, viral infections, lung cancer and Huntington's disease.
Comment: I am excited by Anima's approach that targets protein translation and uses machine learning algorithms to identify proteins with therapeutic potential. This creative mindset has led to partnerships with international collaborators in academia and industry, including Duke University in the US and the University of Oxford. However, Anima's drug candidates have yet to enter preclinical testing. It will be interesting to see how their technology continues to develop.
---
Images by JekLi/Shutterstock