Today, we're in Granada, Spain, to visit Neol Bio. The biotech recycles waste to produce oils for biofuels, nutritional supplements and cleaning detergents by culturing microorganisms with waste.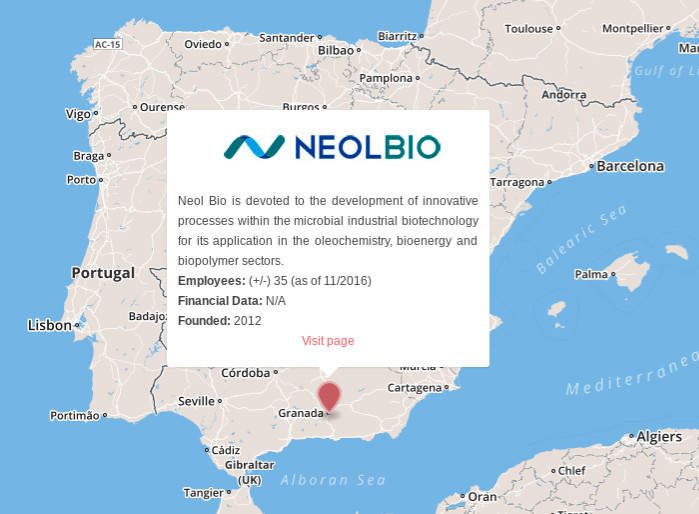 Mission: Neol Bio develops sustainable ways of producing oils for a wide variety of applications, from food supplements to cleaning detergents and bioenergy. The company uses high-throughput screening to search its collection of 9,000 bacteria, fungi, yeasts and microalgae for microbes that could be used for industrial applications.
The company's technology platforms can then use the microbes for different purposes, such as converting sugars or crude glycerine into oils for biodiesel. The microbial oil can also be used as an alternative to fish oil to produce omega fatty acids for nutritional supplements via fermentation. On the industrial side, the optimized microbes can produce polymers that are biodegradable.
Since its founding in 2012, Neol Bio has kept busy. The company has filed four patent applications for its technology in total. In 2015, Neol Bio was listed on the Spanish Alternative Stock Market. And in the following year, the company began a collaboration with the US National Laboratory to develop microorganisms that can produce alcohols from sugars.
Comment: Global demand for oils is expected to increase as they are being used more for industrial purposes in addition to food. This rising need cannot be met by oils derived from vegetable crops alone without affecting animal and human food sources. I am excited by Neol Bio's potential provide a sustainable way to help carry this load while simultaneously producing oils for a wide variety of applications.
---
Image by Victor Baril/Shutterstock
Explore other topics:
Spain