This week we're in Leiden, the Netherlands, visiting VarmX. The biotech develops therapeutic proteins based on a peptide found in snake venom to restore blood clotting in patients with acute bleeding.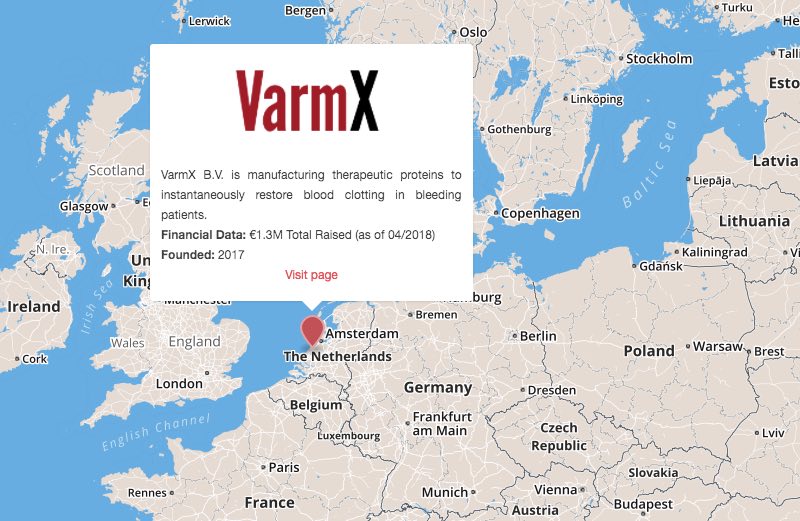 Mission: Founded in 2016 as a spin-out from the University of Leiden, VarmX aims to restore blood clotting in patients with acute, internal bleeding after taking blood thinners for deep vein thrombosis.
The company's lead product is inspired by a blood-clotting protein found in the venom of the Australian brown snake, one of the most poisonous snakes in the world. VarmX modifies certain amino acids in a human blood clotting protein called Xa to make it resemble its snake-counterpart. When given orally, the modified protein can prevent and treat internal bleeding in patients who have taken blood thinners.
What we think: As cardiovascular diseases continue to become more prevalent in Western countries, the awareness for the therapeutic benefit of blood thinners is growing as well. For example, Bayer's oral blood thinner Xarelto (rivaroxiban) is the 9th best-selling drug worldwide and acts by inhibiting blood coagulation factor Xa.
While modern blood thinners are very effective at combating blood clots, they put users at risk of internal bleeding and, as a result, reliable antidotes are needed to manage these side effects. VarmX's technology could provide another important contribution to this group of therapeutics. Although the technology is still in preclinical development, using VarmX's technology after treatment with blood thinners may eventually lead to thrombosis treatments that are more effective overall.
---
Image by Mihai-Bogdan Lazar/Shutterstock