Silence Therapeutics and Alnylam have reached a settlement that puts an end to a legal dispute between them resulting in Silence receiving some royalties on Onpattro, the first RNA interference drug.
The lawsuit started last year, when Silence went to the UK courts claiming that Alnylam was infringing on its intellectual property. As part of the agreement, Alnylam is getting a global license to all relevant patents from Silence Therapeutics. In turn, the British company will get low levels of royalties on sales of Onpattro — ranging from 0.33% to 1% — until the end of 2023, and only in the EU.
Both companies develop medicines based on RNAi, a technology that disrupts the activity of mutant genes without modifying the DNA of the patient. Onpattro (patisiran), approved this year in the EU and the US, is the first and so far the only RNAi drug in the market.
The settlement comes not long after the appointment of David Solomon as the CEO of Silence Therapeutics in July. 
"I knew that the best path forward is to settle this matter for the simple reason that our job is to develop fine medicines," Solomon told me. "We are satisfied that this case is behind us and we can now focus on developing our very competitive and differentiated medicines."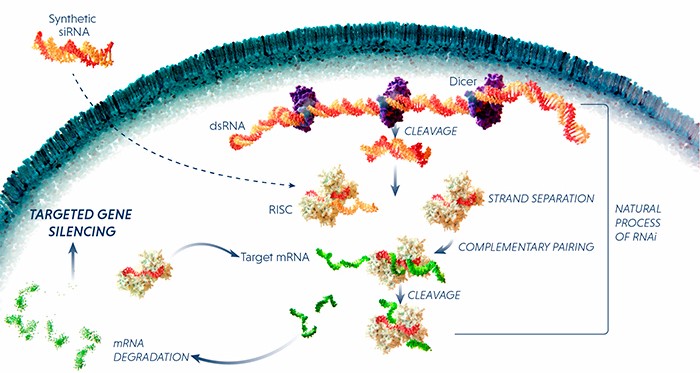 Alnylam notes that the settlement does not admit the validity of Silence's claims. "While we believed we would prevail before the courts, patent litigation is inherently unpredictable, highly technical and the risks of uncertain outcomes are unavoidable," a spokesperson from Alnylam told me.
"We've reached a settlement of this matter with Silence on terms we consider to be extremely favourable to Alnylam. Settling allows us to avoid the expense and distraction of multi-country litigation on two continents."
According to both parties, the settlement is intended to end all disputes, and the non-exclusive license granted to Alnylam covers all RNAi products in its extensive pipeline, regardless of whether Alnylam or a partner commercializes them.
Although the litigation also extended to the US, the agreement settles all litigation there. Silence will get royalties on EU sales but not on US sales of Onpattro.
"I can't predict what the royalty payments will be, because that's based on the performance of Alnylam and Onpattro," said Solomon. "If royalties come in that's nice but that's not a revenue stream we need or rely on."
"I'm excited for Onpattro's potential in Europe and in the US. Onpattro is the first RNAi medicine, it paves the way for RNAi medicines to become a new class of medicine in the future. There will be many, hopefully from us as well, and this is what is exciting right now," he concluded. 
---
Images via Shutterstock; Alnylam