Blincyto (Blinatumomab) is the first bispecific antibody construct from Amgen's BiTE proprietary platform to be granted clinical and regulatory validation so far…

After the acquisition in 2012 of Micromet, the Munich-based company that first developed Blinatumomab, Amgen kept revealing the potential of this powerful protein… Blincyto was then approved by the FDA as an orphan drug in December last year for use in Philadelphia chromosome-negative (Ph-) precursor B-cell Acute Lymphoblastic Leukemia (ALL).
Used as a monotherapy to treat this ultra-rare form of blood cancer, it showed a complete remission within two cycles of treatment in a clinically meaningful number of target patients. Amgen is now moving a step further, and getting closer to approval of the drug in Europe…

Blincyto has been granted positive CHMP (Committee for Medicinal Products for Humans) opinion in September, following results of two Phase II trials (MT103-206 and 211) for adults application. The evaluation of the drug by the CHMP is a preliminary step to approval by the EMA. This is great news for European patients who could soon benefit from this new kind of treatment!
It is estimated that there are about 600 adults with relapsed or refractory Ph-B-cell precursor ALL in Europe, and a Phase I/II pediatric study (MT103-205) is also ongoing to evaluate the administration of Blinatumomab to children and teenagers.
Blinatumomab is a bispecific antibody construct, meaning it is able to recognize two targets at once (CD3 & CD19) acting as a bridge to bring the T cells closer to the cancerous cells to form an immunological synapse. Then, the T cell just needs to do its killer job, and trigger the cancerous B-cell to die by apoptosis.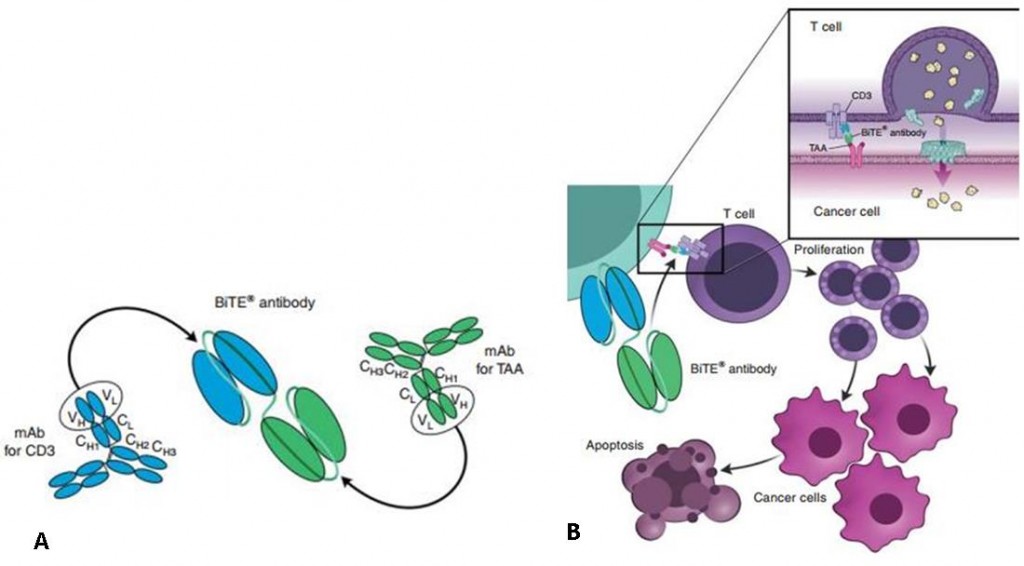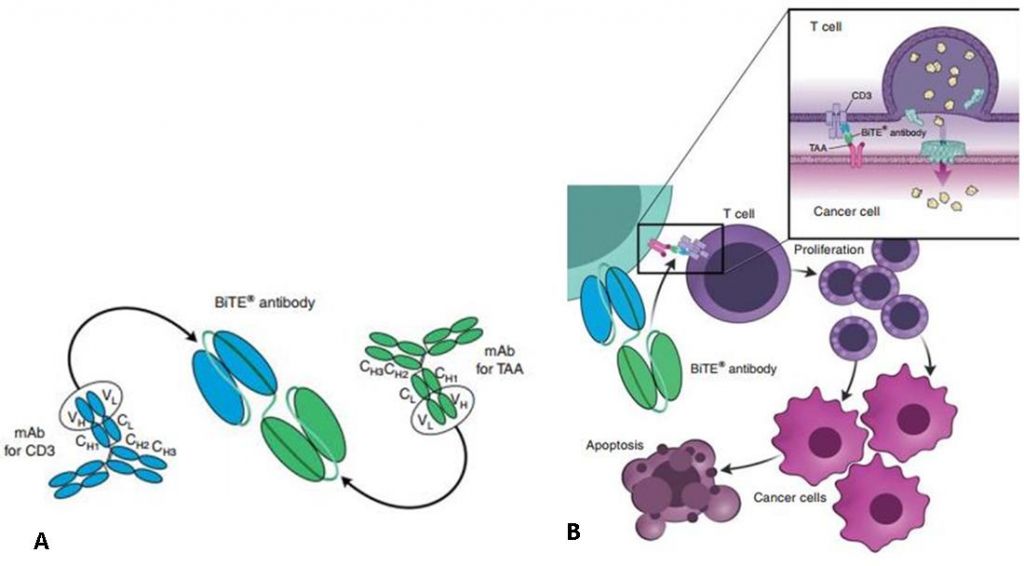 Although it is often worth the risk, treating a patient with Blincyto comes with a price. There are tough side effects, such as cytokine release syndrome (CRS) or neurological toxicities. In addition to these issues, there is also a high treatment price (at €168K for a standard course of treatment), making Blincyto one of the priciest drugs in the USA…
The one-of-a-kind BiTE platform has not shown all its potential yet and can be adapted to various cell surface targets. Amgen is currently running trials to widen Blinatumomab indication into a range of B-cell malignancies, as well as investigating other oncology applications (breast, gastric and prostate cancers).
Perhaps with time other indications for this bi-specific antibody will therefore also arise…