WHO?
ImmunoGen is a biotechnology company that develops targeted anticancer therapeutics using its state-of-the-art antibody-drug conjugate (ADC) technology. The Company's uses tumor-targeting antibodies to deliver an ImmunoGen cell-killing agent specifically to cancer cells. The first product with ImmunoGen's ADC technology is Roche's Kadcyla. ImmunoGen has three wholly owned product candidates in clinical testing with additional compounds in clinical testing through the Company's partnerships with Amgen, Bayer HealthCare, Biotest, Novartis and Sanofi.
Located in Osaka, Takeda Pharamaceutical is a research-based global company with its main focus on pharmaceuticals. As the largest pharmaceutical company in Japan and one of the global leaders of the industry, Takeda is committed to strive towards better health for people worldwide through leading innovation in medicine.
WHAT?
ImmunoGen will receive €18.4M from Takeda upfront in return for exclusive rights to use its ADC technology against two undisclosed cancer targets. Progress against each target is tied to €193.5M in milestones, putting ImmunoGen in line to rake in €405.4M plus royalties if both programs succeed while Takeda foots the bill for development, manufacturing and marketing of any resulting products. Takeda also has the right to license the ADC technology for use against a third target for an additional upfront fee.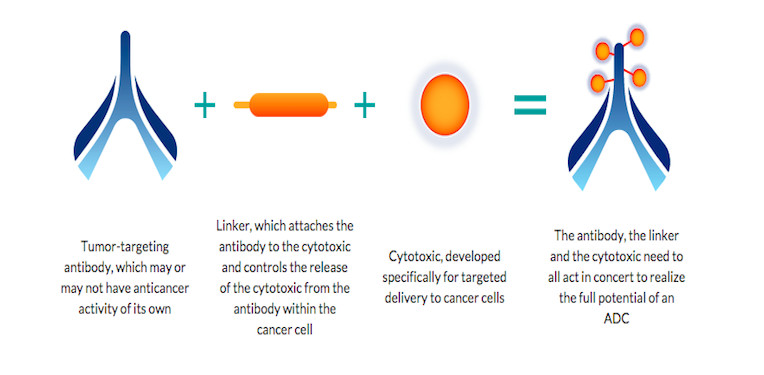 WHY?
An ADC consists of a monoclonal antibody that binds to a target found on cancer cells with a cancer-cell killing agent, or "payload," attached. The antibody serves to target the payload specifically to the cancer cells and the payload serves to kill these cells. In some cases, the antibody also has meaningful anticancer activity. ImmunoGen has established a deep portfolio of ADC technology to enable the development of an optimal ADC design for each cancer target, including a selection of potent payload agents and engineered linkers.
ImmunoGen's cell-killing payload agents have been developed specifically for delivery to cancer cells using a targeting vehicle: they are more potent than traditional chemotherapy agents and can be attached to the targeting vehicle via ImmunoGen's engineered linkers.
ImmunoGen's engineered linkers are designed to be stable while the ADC is traveling through the blood stream to the cancer cells and then optimize payload release and antitumor activity. The Company has established a rich portfolio of intracellularly cleavable and non-cleavable linkers.
If you like #BioFigures, share it on Twitter and tell us about your own incredible Figures on Biotechs.