Where are bioplastics going? Last week, 300 experts came together in Berlin to "rethink Bioplastics" and their role in the much-hailed circular economy.
The diversity of speakers and exhibitors at the 11th edition of the European Bioplastics Conference offers, in itself, an overview of the different fields and players that make up the bioplastics industry. Participants ranged from the producers of the biobased chemical "building blocks" and biopolymers like Biotec, which uses potato peels to make biodegradable plastics, to famous brands like Renault.
Outside this normal "supply chain", representatives for politics, certification, academia, waste management and even the traditional chemical industry found their way to the conference.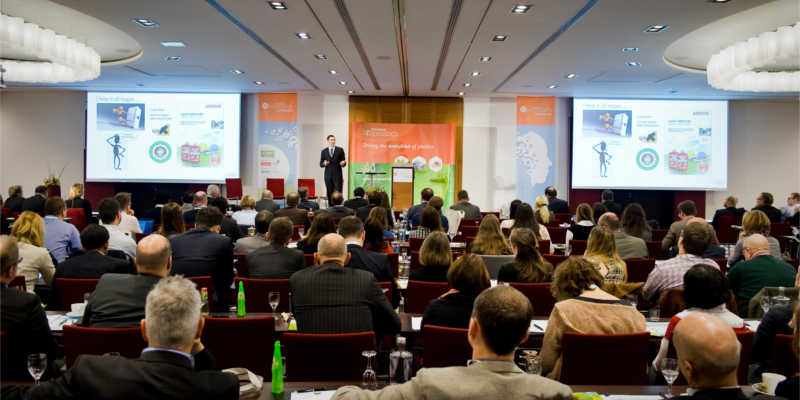 How are Bioplastics doing now?
The conference organizer, European Bioplastics, took the opportunity to disclose the latest market data. The core message was clear: despite the low prices of oil, the production capacity for bioplastics is growing. Maybe this isn't so surprising. As it was mentioned during last Labiotech Refresh's Global Bioenergies fireside chat, the low price of fuel made companies shift away from biofuels and into added-value chemicals. For example, Neste (Finland) is a leader in renewable fuels but is now expanding to biobased materials – most famously with its Ikea deal.
Globally, bioplastics production reached 4.1 million tons in 2016, growing 5% from last year. Similarly upbeat are the predictions for the next 5 years. Production capacity should go up 50%! Kristy-Barbara Lange, who presented the data, stressed that more and more materials are gaining a market share and that there's a demand for material innovation. There's also a growth of bioplastic in areas requiring performance materials, such as construction.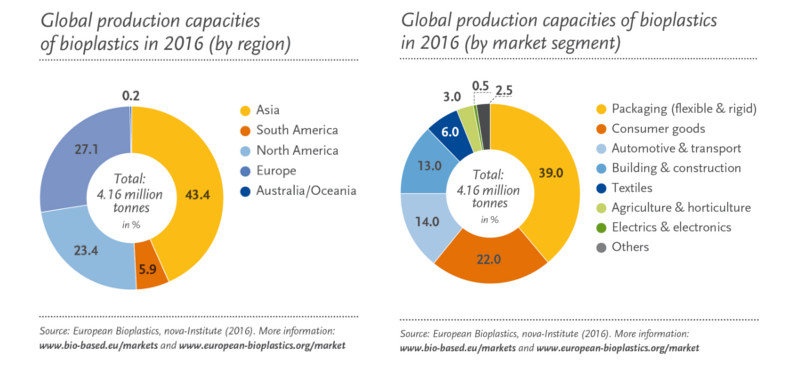 Policies and Challenges for Bioplastics Future
Policy played a big role in the conference, with the first keynote presentations going over the EU's new environmental agenda and Circular Economy package, which defined plastics and biobased products as priorities. The key politic motivation is job growth and investment, and closely related fields like industrial Biotech have good numbers to show.
One of the pervading discussions was the food vs. feed topic, for the use of first-generation feedstock like sugars. In his introduction, François de Bie (Chairman of European Bioplastics) provided some context on this problem, arguing that, even in the most optimistic scenarios for bioplastics' success, the land use would only amount to 0.02%. However, representants from the European Commission were more cautious. While bioplastics remain a tiny fraction of plastic production, the field's ambitions are big. If they are to become reality, land use must be considered. From the industry players, I got the feeling that they mostly regard food vs. feed as a public perception problem, rather than a true logistic issue.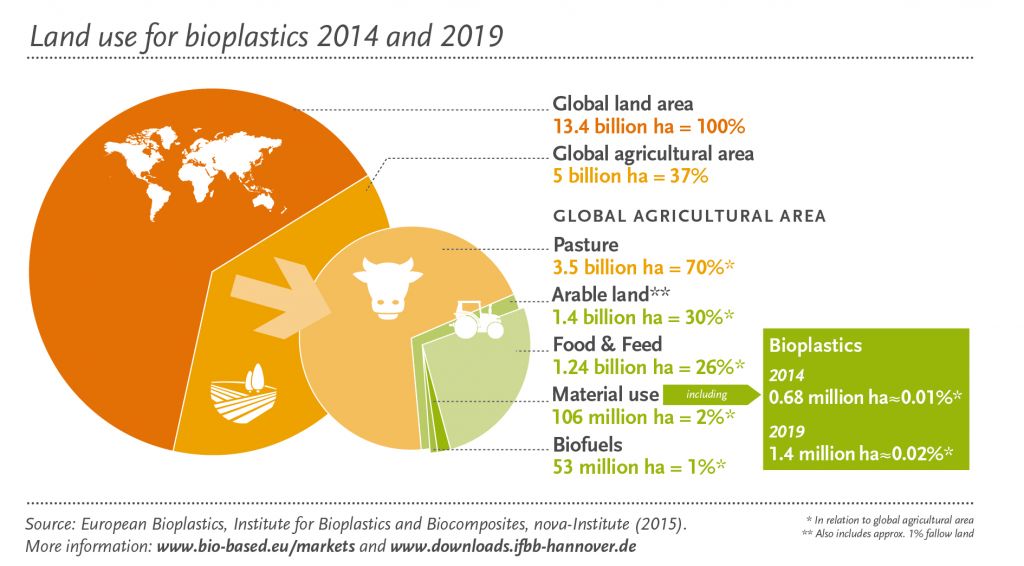 Another popular point of debate was recycling. This appears to be one of the main challenges for the introduction of novel bioplastics, like the versatile PLA or Avantium's PEF, of Coca-Cola fame. Because these plastics are relatively rare, it's not economical to recycle them and they can even "clog" the facilities. For these reasons, bioplastics can end up on the wrong side of environmental policies. This dynamic favors "drop-ins", biobased versions of already popular plastics like PET. However, Steve Davies (from NatureWorks) warns that this mindset blocks innovation and superior alternatives like PLA and PEF. Maybe the solution can be different approaches to recycling, such as Carbios' enzymatic separation, or specialized companies like Looplife (Belgium), which even partnered with Summer festivals to recuperate PLA cups.
Surprisingly (for me, anyway), biodegradability and compostability were also a controversial topic. On one hand, they are hailed as a great solution for food packaging, which proves hard to recycle. On the other hand, there's the concern that such characteristics favor single-use plastics (not the most Circular solution) and littering.
The conference also featured lessons from the US, with a presentation of the American Biopreferred program, and Brazil, during which Yuki Kabe (Braskem) stressed the necessity of evaluating sustainability case-by-case, with tools like Life Cycle Analysis. Also coming from the US, the Green Sports Alliance made an interesting case for using sports as a conduit for environmental awareness and a showcase for bioplastics. Sports reach a large audience, including those typically unengaged with environmental matters, as well as conservative sectors – an important leverage in the days of Brexit and Trump.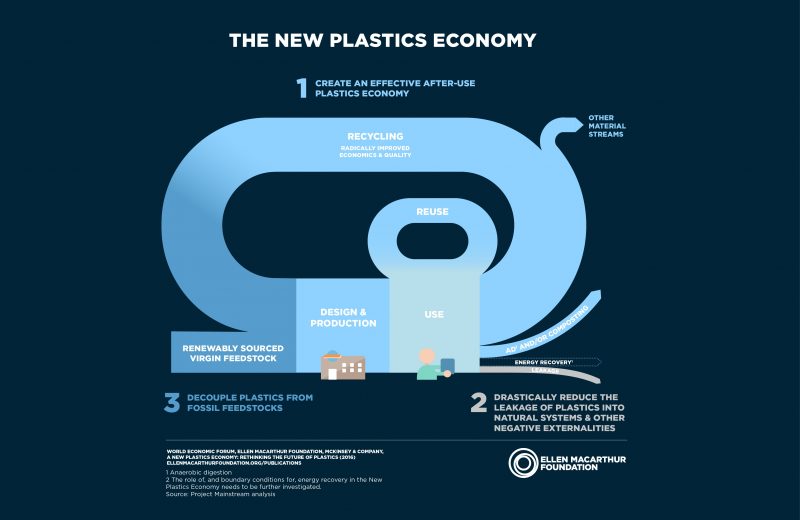 Who's doing what in Bioplastics
Alongside the bird's eye view, there were several talks about innovation. From Sweden, Sekab presented its "Locally Grown Plastics" project, which looks into making polyethylene from forest residues. The demand for this biomass has gone down, argued Ylwa Alwarsdotter, and consumers are interested. As an example, she cited hospitals wanting to reduce carbon footprint, which is largely due to plastics.
FKuR Kunststoff (Germany) shared its work on developing partially biobased PP, a cheap polymer with a huge market, and the niche polymer TPE. Patrick Zimmerman added that what bioplastics often offer is product differentiation, something hard to get for many consumer products.
BASF showcased the many uses of ecovio, a blend of corn-based PLA and a fossil-based biodegradable polymer. This year's star application seems to be a styrofoam-like material, sold to its industry buyers as an expandable bead – behaving somewhat like popcorn.

DuPont, in a joint venture with the British Tate&Lyle, is producing biobased propanediol (Susterra) from a type of industrial corn that isn't used for food, and using engineered bacteria. Another interest is synthetic leather, which can be made entirely with biobased layers. This is used, for example, in the "vegan" shoes of Berlin-based FreiVon.
This year, Corbion decided to highlight its PLA root trainer as an ideal example for bioplastics' market opportunities. The root trainer is a plastic cone used in young rubber plants. Unlike the conventional PE piece, Corbion's root trainer decomposes in the soil and doesn't need to be removed when the rubber plant is transplanted, reducing damage to the roots and significant losses in plantations. Corbion's product has completely overtaken this niche market.
There were also inspiring presentations from the plastic-using industry. For example, Alexis Roma (from Renault) offered a perspective on the use of bioplastics in the car industry. Renault doesn't advertise its use of bioplastics, yet uses it to replace other heavy materials and have better fuel economy. She notes that performance bioplastics, with specific properties, are easier to introduce in the internal politics of companies than drop-in bioplastics, the differences of which are only the price.
There seems to be a case for bioplastics with its own "character", competing with fossil plastics via their innovative properties. This is in line with market predictions of a bigger role of high-performance industries. As for packaging and disposable plastics, the question of how bioplastics could integrate a less wasteful Circular Economy remains open.
---