Cell Medica's next-generation CAR-T cell therapy has resulted in 'extensive tumor regression' in a child with high-risk neuroblastoma, one of the deadliest types of childhood cancer.
Only available to cancer patients for the last couple of years, CAR-T cell therapy has had impressive results in treating patients for whom other available options do not work. However, the therapy is still only available for rare forms of blood cancer, as infiltrating into solid tumors is a big challenge. It also comes with very severe side effects, including neurotoxicity.
London-based biotech company Cell Medica is working on a next-generation treatment called CAR-NKT cell therapy. Where conventional CAR-T therapy genetically engineers the patient's immune T cells to attack cancer cells, Cell Medica makes use of natural killer T (NKT) cells, a type of immune cell that can more easily infiltrate into solid tumors.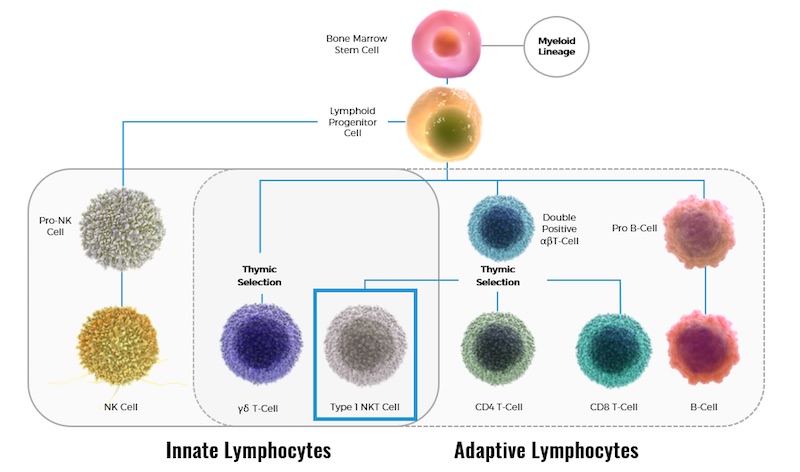 At the American Society of Gene and Cell Therapy Annual Meeting, the company reported early data from a clinical trial in relapsed or refractory high-risk neuroblastoma. This form of cancer mostly affects children below 5 years of age and has a median survival of only 1 to 3 years.
Results from two patients that were treated with the lowest dose of the therapy showed that the engineered cells can multiply and infiltrate the tumor. In one of the patients, this resulted in 'extensive tumor regression' 4 weeks after the treatment, with further regression seen after 8 weeks. No significant side effects were reported.
The NKT cells were genetically engineered to target a molecule called GD2 that is present on neuroblastoma cancer cells. The cells were also modified to induce the production of interleukin-15, a protein that is thought to help NKT cells stay in the tumor for longer, which could boost the treatment's efficacy.
This is the first time this next-generation therapy is being tested in humans. It's too early to determine whether the therapy works and is safe, as higher doses of the treatment are still to be tested. However, the results indicate it might be possible that this therapy could work in solid tumors with lower risk than conventional CAR-T therapy.
For the therapy tested in this trial, Cell Medica is using the patient's own cells to manufacture each treatment. In the future, however, the company plans to test an off-the-shelf version that is obtained from donors and could therefore skip the long waiting times of manufacturing individual treatments, which can take around one month.