Cellectis is developing a new type of chimeric antigen receptor that could improve the production and safety of CAR-T cell therapies generated from both patient and donor cells.
Cellectis, a French biotech focused on developing CAR-T therapies from donor cells, has published a study in the journal Scientific Reports describing technological advances that could improve the safety of CAR-T cell therapies.
The technology, called CubiCAR, makes it easier for CAR-T cells to be detected and purified in the production process. Additionally, it allows CAR-T cells to be killed with the FDA-approved antibody Rituximab if the cells become toxic to non-cancerous tissue. Cellectis believes these properties will improve the safety and efficacy of future CAR-T treatments.
Cellectis is developing CubiCAR in partnership with US-biotech Allogene Therapeutics.
"We plan to evaluate this CubiCAR approach and other novel CAR T engineering developed in partnership with our colleagues at Cellectis across our extensive CAR T pipeline," said Barbra Sasu, Chief Scientific Officer of Allogene.
Cellectis has been the first to test off-the-shelf CAR-T therapies, with results showing an 83% cancer remission rate. Additionally, the company raised $164M (€132M) earlier this year to continue the clinical development of its CAR-T treatments.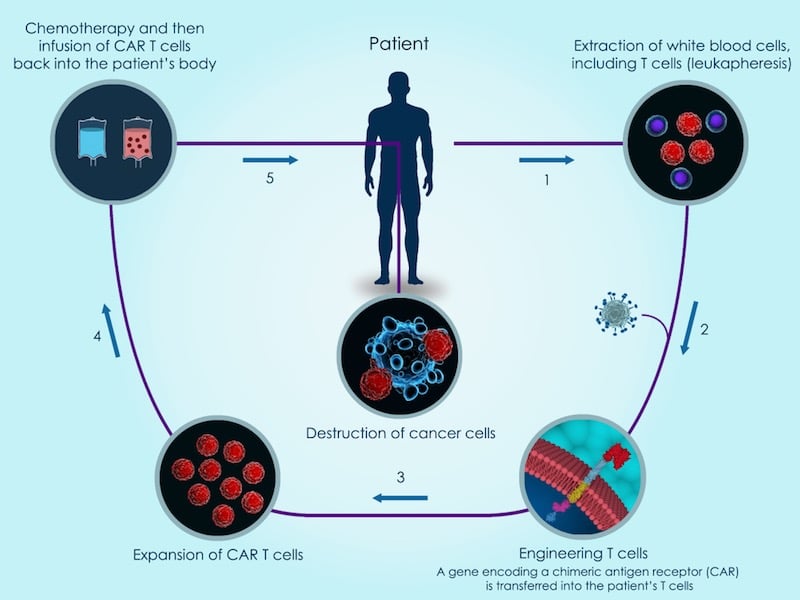 Nonetheless, Cellectis has also faced setbacks. For example, the FDA placed a hold on another one of Cellectis' Phase I trials after the death of a patient that may have been caused by side effects of the CAR-T treatment. While the hold undoubtedly delayed the development of Cellectis' CAR-T technology, it was lifted after several months.
Cellectis' suicide-switch technology is competing with Poseida Therapeutics and Belliicum Pharmaceuticals. Poseida is developing a small molecule-based suicide switch. Bellicum is using two engineered proteins inside the CAR-T along with a small molecule that kick-starts the CAR-T cell's suicide.
While CAR-T cell therapies have resulted in impressive cancer remission rates of up to 83%, the technology still has a long way to go before becoming a widely used treatment option. To live up to its full potential, biotechs focussed on CAR-T treatments will have to address issues such as toxicity and pricing, and develop the technology to target a broader range of cancers than it currently does.
---
Images by Meletios Verras/Shutterstock