Cinfa Biotech announced trial results for a biosimilar of Amgen's Neulasta, a multi-billion blockbuster to treat chemotherapy-induced neutropenia.
Cinfa Biotech is a Spanish company specialized in developing biosimilars. The biotech has announced positive results from the second clinical trial evaluating a biosimilar version of Neulasta (pegfilgrastim), Amgen's second top-selling drug. It brought the big pharma €4.2Bn in sales in 2016.
This second trial run by Cinfa Biotech has demonstrated that its candidate is comparable to Amgen's Neulasta in terms of pharmacodynamics, immunogenicity and safety. Consequently, the company is preparing to submit an application for EMA approval in the second half of 2017.
Pegfilgrastim treats neutropenia, a severe side effect induced by chemotherapy that causes the depletion of neutrophils in the blood. The drug is a pegylated granulocyte colony-stimulating factor (G-CSF) receptor agonist that stimulates the bone marrow to produce more neutrophils and protect patients from infections.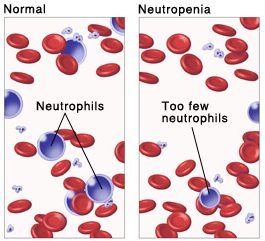 Amgen's Neulasta has been very successful given the growing numbers of patients that undergo chemotherapy. Although many are working hard developing alternatives to such a toxic treatment, it will be long until it can be safely replaced with better alternatives.
Amgen's patent for Neulasta expired in 2015 in the US, while in Europe the patent will be valid until August this year. Cinfa Biotech is now ready to jump in and file for approval as soon as the patent protection lifts, and the situation could not be better for the company.
Competition is commonplace with biosimilars, but Novartis' Sandoz withdrew its application to the EMA for its Neulasta biosimilar this January. It couldn't prove its concentration in blood was comparable and lacked a good manufacturing practice certificate for the manufacturing site. This withdrawal will let Cinfa tap the €3.3Bn market of chemotherapy-induced neutropenia without competing with one of the biggest biosimilar firms in Europe.
---
Images via Kateryna Kon / Shutterstock; Fairview Health Services