Curetis is drastically reducing the time required to test for severe infectious diseases. The newest incorporation is expected early next year and could soon substitute the hospital standards.
Curetis is a German biotech that commercializes diagnostic technologies for infectious diseases. After a very successful IPO last year, the company is advancing its Unyvero platform for fast diagnostics. The latest news is excellent results in a trial comparing Curetis' technology to microbiology culture, which is currently the standard diagnostic tool for lower respiratory tract infections. The company expects to receive feedback from the FDA in the first half of 2017.
The Unyvero technology consists of three pieces of equipment that run everything from sample preparation to data analysis. The samples are loaded into individual cartridges where multiple markers are analyzed simultaneously by PCR and array hybridization.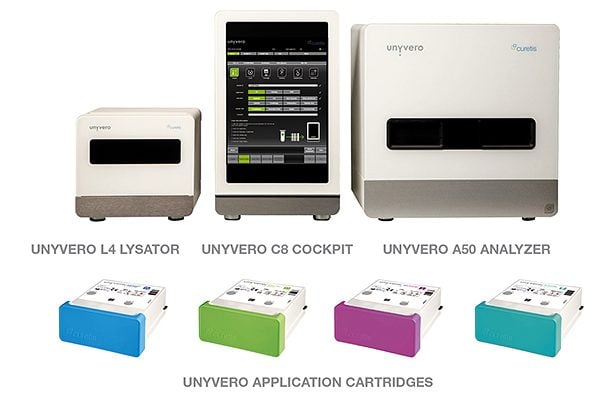 Currently, there are three cartridges available: one for the simultaneous detection of pathogens and resistance markers in pneumonia, another to identify pathogens in bloodstream infections and a third to test for biofilm-forming microbes in implant and tissue infections. If everything goes well, the new cartridge for lower respiratory tract infections will be added next year.
The main advantage of Curetis' technology is its capacity to run tests in a few hours instead of days, which is the current hospital standard for most diagnostics. This can help to tackle the infection promptly with the right treatment, which reduces the recuperation period and benefits hospital finances.
We interviewed Oliver Schacht, Curetis' CEO, after the company made a very successful IPO as the only German Biotech IPO in 2015, and the company seems to be doing extremely well. The World Health Organization (WHO) expects infectious diseases to kill more people than cancer by 2050. The company also deals with circumventing antibiotic resistance, another huge problem in infections. And of course, investors seem to love it.
---
Featured image: Pretty Vectors/shutterstock.com
Figure 1 courtesy of Curetis
---