DBV Technologies has shown in a Phase II trial that its skin patch could desensitize over 60% of children with strong milk allergy.
DBV Technologies, one of the largest public biotechs in France, is developing a skin patch technology to treat several forms of food allergies. The company has released new, promising data on its milk allergy treatment during the European Academy of Allergy and Clinical Immunology Congress.
The data comes from a Phase I/II study that aimed to find the optimal dose and target population for DBV's milk allergy immunotherapy. The study found a dose at which, after one year of treatment, 55% of children aged 2 to 17 were able to tolerate a cumulative dose of milk protein 10 times higher than at the beginning of the trial. The effect was heightened in children aged 2 to 11, with 62.5% responding to the treatment.
The treatment being developed by DBV consists of a skin patch that contains the milk protein that causes allergy. The patch is applied once a day on the skin, where it releases the allergen protein. Immune cells in the skin known as Langerhans cells uptake the protein and promote the reduction of an allergic reaction against it.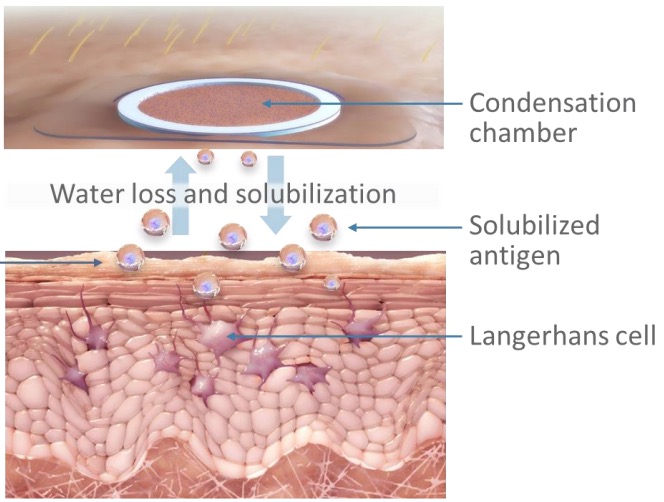 The next step for DBV will be to discuss with regulatory agencies the design of a Phase III trial to confirm these results and support the approval of the therapy. The company is currently preparing an application to the FDA for the approval of a similar treatment for peanut allergy, despite it having a lower performance in late-stage trials than it was initially expected.
"There is nothing FDA-approved for any food allergy," Todd Green, VP of Medical Affairs at DBV Therapeutics, told me. "The current standard of care is avoidance [of the allergen], which is not where we want to be."
Indeed, DBV's immunotherapy treatments could be the first to address food allergies that can be life-threatening, especially for children that might accidentally be exposed to the food they are allergic to. In the case of milk allergies, it has been reported that 40% of allergic children suffer accidental reactions each year.
---
Images via Shutterstock; DBV Technologies